Bike Enthusiasts Propose Pump Track for Newport
Wed, 05/07/2014 - 12:54
RCN Newsdesk
Bike enthusiasts want to see the area's first public pump track installed in a Newport Park.
Dave Huff and Brady Delong of Riding Forward, a nonprofit dedicated to enhancing youth excitement in cycling, presented their plans to the Newport City Commission this week.
"We want to get youth more involved in wheeled sports. It felt like a good time to introduce something to the Newport area," Huff said.
A pump track is a continuous loop of dirt berms and smooth dirt mounds where bikers make the rounds without pedaling. According to Team Town Cycle, the name derives from the pumping motion used by the rider's upper and lower body as they ride around the track. The activity is appealing to kids and adults, supporters say.
"It doesn't matter how young or old. You can be three or sixty or seventy and you could really just enjoy riding the trails and having fun," Huff said. "It's a safe way to do so."
Riding Forward concocted a plan with Fire Chief Gary Auffart who had been working with a resident committee about ideas. After evaluating all of the green space options in Newport, Huff and Delong targeted Veterans Park on Caroline Drive.
The pair said they wanted to pick a park where the removal of green space would have the smallest impact on young users. "We started looking at all the existing parks and which ones had the most green space so when we add a feature it doesn't take away from anything else in the park," Delong said. They ruled out Buena Vista Park because kids often play ball in the green field. 
Chief Auffert recommended Veterans Park. "We went and looked at it and for a long term big picture plan, it definitely fit the bill a little bit better," Delong said. "If this goes to plan, there are other opportunities for more trails and to make it a little mountain bike Mecca."
In fact, the plans created by Riding Forward would call for the pump track to be installed between Grandview Avenue and the swimming pool at Veterans Park. A second phase would include a one mile trail loop through the nearby wooded area. The volunteer team that would include kids and members of the community would start by removing the honeysuckle in the area.
Tables, benches, and signs would also be installed.
Huff and Delong view Veterans park as a central location in Newport with close proximity to Southgate, Ft. Thomas, Covington, and Cincinnati. "It would work well with after-school programs, riding and skills clinics, take-your-kid-mountain-bike-riding day, a competition venue, fundraiser site, bike demos for local bike shops," Delong said.
"During the building phase it gives kids the opportunity to be involved and give them a sense of ownership and pride in their creation," he said. "It introduces kids to a new and exciting activity." It could also spark the growth of the local cycling community, he said.
Currently, the wooded area around the park is occasionally used for illicity activity. "Bring the trails in and create a space and it eradicates those issues," Delong said.
"It would bring some more traffic into those woods and keep some riff raff out of there," Huff said. "There's a lot of litter and things in there from kids just hanging out. It's been my experience with park projects, even to the point that I've gone into a park closed down for bad activity, put in some bike trails, and it's flourishing. People are using it on a weekly basis."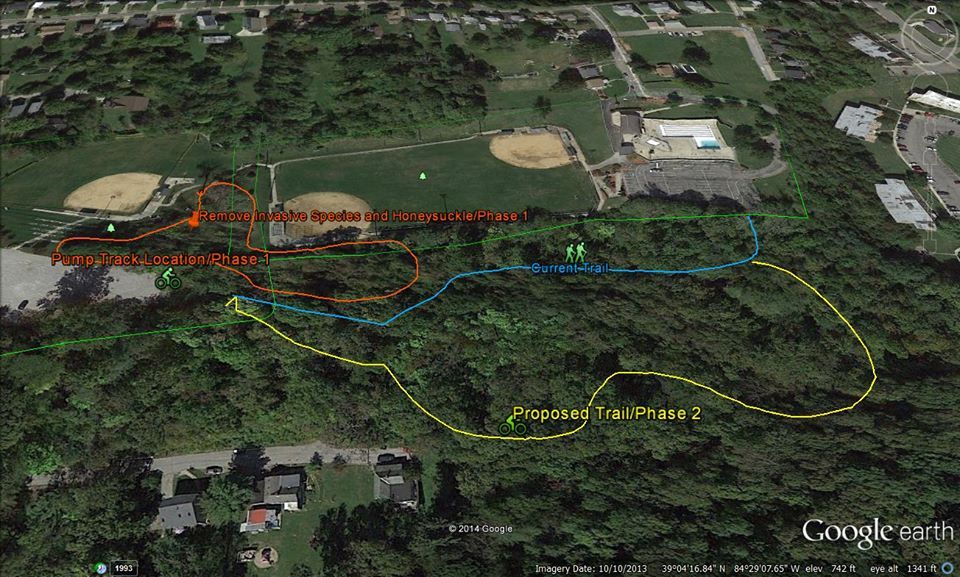 City likes concept, not sold on location
Mayor Jerry Peluso said he loves the idea but he and members of the city commission are not certain that Veterans Park is the ideal location. He cited the funding given to the city in the 1970s to install the pool there. 
"Over the years we found out the knock on that pool is that it was too far for the kids to go to," the mayor said, adding that most city kids live in the Westside neighborhood. "By putting this bike trail there, will it be utilized? Is it too far for the kids to go? Is there enough parking?"
Delong argued that the park's central location is appealing in that it would bring kids from neighboring cities together. He grew up in Ft. Thomas. "When the Ft. Thomas kids started coming down and playing with the Newport, Southgate kids, it created a better community with those kids," he said. "We feel like that's one of the reasons it's such a good location. You get the intercommunity mix. It is a little away from the majority of youths in Newport. We understand that. It's on us to make sure we market and advertise it."
Commissioner Tom Guidugli mentioned that there were once plans for a pump track in Devou Park where a bike trail system is growing in popularity, but those plans were later abandoned. Huff and Delong have been avid volunteers at the Devou Backcountry Trails. 
"The pump track wasn't going to work in one location," Huff said. Ludlow wanted to use the space for something else so it never went to the table. The other location just wasn't a good fit. There was no city water close, which is something we would need to water it on occasion, especially during the building process to get the dirt to pack the way you want it."
Guidugli also raised concerns about funding and parking. "When there are games, those lots can become quite full," he said. 
Riding Forward estimates the cost of the pump track and the second phase to be approximately $15,000, funds that would be raised privately. The organization would not ask the city for money.
"The relationship we would have would be to the tune of nothing," Huff said. "We want to be the ones that make sure this project happens with permission of the city."
Huff also said that feedback from neighbors has been positive.
Commissioners Frank Peluso and Beth Fennell raised concerns about the safety of the nearby streets. City solicitor Dan Braun said liability issues on the track would also have to be worked out.
Mayor Peluso said that the community would be better served if the concept were adapted for the basin area near the river somewhere. "I'd like you to go back and look at the entire basin again," Peluso said. 
Fennell suggested working out a relationship with Corporex and its Ovation site which is a sprawling piece of green space slated for development but currently sitting empty.
Riding Forward agreed to join the fire chief in re-evaluating all options.
"We like the concept," Mayor Peluso said. "Go back and do some due diligence and we'll go from there."
Written by Michael Monks, editor & publisher of The River City News
Photo: Brady Delong explains the pump track in Newport/RCN