Covington Blue Sox Celebrated in New Documentary, Caps
Wed, 05/14/2014 - 14:39
RCN Newsdesk
Though the team lasted just a couple months, the Covington Blue Sox have seen a resurgence of interest in recent years.
In 1913, owners of the team constructed Federal Park in Downtown Covington to host the Federal League team, a major league baseball club, only to see attendance decline after the exciting launch. The club packed up and moved to Kansas City shortly after they first took the field in Covington. They were re-named the Packers in Missouri.
Over a hundred years later, though, Covingtonians are celebrating their professional baseball history.
Had the Blue Sox survived the century, what would their jerseys look like today? That was the topic of an NKU student's art project last year.
Last summer, flow - a shop for men launched its "Roots Collection" and a limited edition Covington Blue Sox cap. A second edition was released in the fall. They sold out both times.
Jerod Theobald, the shop's owner and managing editor at The River City News, announced Wednesday that a third edition of the cap is now available (flow - a shop for men is located at 621 Scott Blvd.).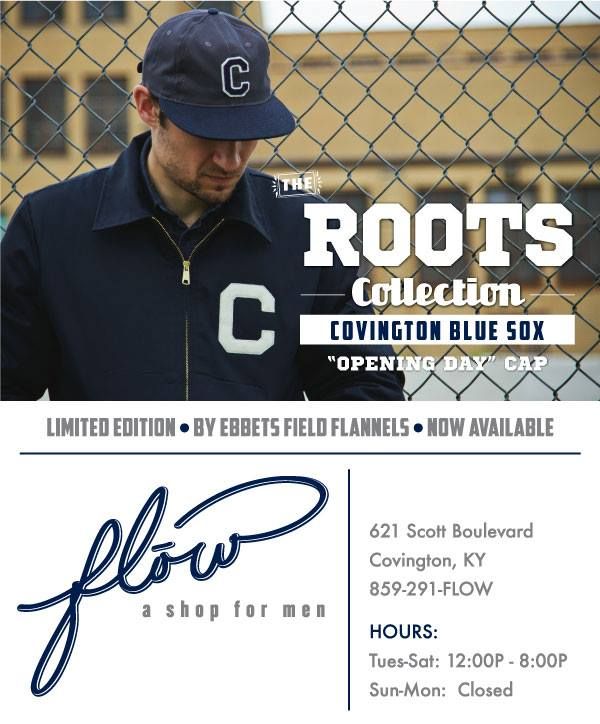 The caps are so popular that Cincinnati Magazine named it one of twenty-five "top gift choices" last Christmas. Theobald also released in the spring a limited edition Blue Sox grounds crew jacket.
Theobald also hopes to commemorate the Blue Sox with a bronze home plate at the site of the long-gone Federal Park. He won funding from an anonymous local philanthropy group earlier this month.
The latest Blue Sox project, though, comes from local filmmaker Cam Miller. He is in post-production on Our True Blues: The Story of the Covington Blue Sox.
Miller released a trailer on Wednesday for the film that he expects to debut in July: