Rick Robinson's Second Time Around: Springtime at the Capitol
Mon, 06/02/2014 - 07:34
RCN Newsdesk
Northern Kentucky author & attorney Rick Robinson is back in Washington, DC where he spent years on the staff of then-Congressman Jim Bunning. As a busy staffer on the Hill, it's easy to miss the beauty of our nation's capital. And that's what happened to Rick. This time, he vows to take it all in - and share it with you in "Second Time Around".
DC is at its best in the spring and this year was no exception.
About a month ago, I had about an hour between meetings on the Hill and, rather than grabbing a cup 
of coffee in the basement of a Congressional office building, decided to relax outside on the bench of an 
arbor on the Senate side of the Capitol site.
Stopping to smell the roses is an overused phrase, but for an 
hour I did just that – taking in beauty of spring in DC. 
When water starts flowing through the city's fountains, the bitter cold of a coastal winter becomes a 
bad a memory. And thoughts of dealing with the dreaded heat and humidity of summer in the city is not 
yet on anyone's radar screen. Spring brings out the best of DC.
Top Photo 
A benched arbor on the Senate side of the Capitol was recently my box seat to spring in DC.
This fountain between the Senate side and Union Station is surrounded by a colorful garden. In 
the 20's the site contained a cluster of temporary buildings known as "Government Hotels" which were 
torn down to make way for a fountain, reflecting pool and garden. Water has been flowing here since 
1932. It is located directly above underground parking, and bears the uninspired name of the Senate 
Garage Fountain. It has unique lighting which makes it stunning at night.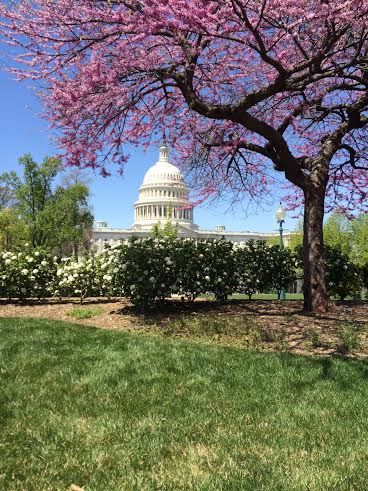 The House and Senate are connected by a series of underground tunnels that allows people 
to move from one side of the grounds to the other without ever going outside. Although, with views like 
these along the perimeter of the grounds, I wonder why anyone would want to use the tunnels.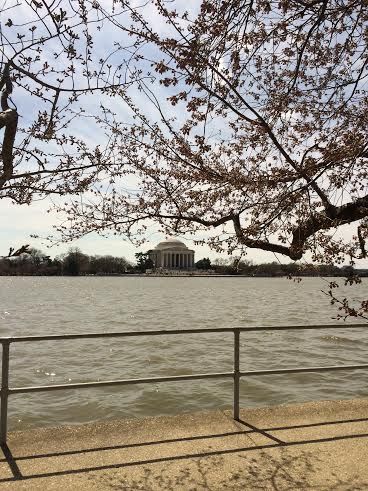 One of the rites of spring in DC is blooming of the cherry blossoms. One woman's 25 year quest to 
have flowering cherry trees planted around the Tidal Basin nearly died in 1910 when the first trees given 
as a gift from the Japanese government had to be burned because they were infected with invasive 
insects. This year the peak came during beautiful weather conditions.