Former Covington Finance Director Bob Due Sentenced to Prison
Thu, 06/05/2014 - 15:33
RCN Newsdesk
Former Covington Finance Director Bob Due is headed to prison after hearing his sentence on Thursday from Kenton County Judge Gregory Bartlett.
An examination by Kentucky Auditor Adam Edelen revealed that Due stole $793,000 from the city coffers over the course of a dozen years. After multiple delays in the sentencing date, Due was sentenced to ten years in prison.
Due pleaded guilty in March to one county of abuse of the public trust in excess of $100,000, one count of unlawful access to a computer, one count of theft by unlawful taking, and twelve counts of criminal possession of a forged instrument.
According to Edelen's report, Due, 64, stole the money through the issuance of sixty-eight checks written to himself through fake vendors or relatives without their knowledge.
During the proceedings on Thursday, Due's attorney, Tim Schneider, called Due remorseful and caring. The former finance director could ultimately spend fewer than three years in prison if paroled and credited for time served.
"While I respect the judge's authority and opinion, I'm disappointed in the outcome because I don't think a theft of almost $800K in tax payer funds warrants the minimum possible sentence," said Kenton Co. Commonwealth's Attorney Rob Sanders. "I'm afraid this will perpetuate the public's misconception that government officials aren't held to the same standards as the average person. I'm sure there are a lot of folks in Covington who will be shocked at and unhappy with this outcome and I certainly understand their sentiments.  
"Nevertheless, Mr. Due is still going to prison for a lengthy sentence and that's what is most important.  He will not be released from parole supervision until restitution is paid in full. I doubt Covington will ever receive the entire amount that was stolen so this means Mr. Due will likely be forced to live with the consequences of his actions for the rest of his life."
Since Due's arrest in August, the city has been rocked by internal squabbles over who else may have been responsible and by Due's own multiple attempts at suicide.
Below is a timeline of events from Due's arrest to his sentencing on Thursday:
August 6 The city commission recognizes Due for being awarded the Certificate of Achievement of Excellence in Financial Reporting for the finance department and for his own honor of being given the Award of Financial Reporting Achievement from the Government Finance Officers Association of the United States and Canada.
August 23 News breaks that local police agencies are investigating alleged improprieties in the City of Covington finance department. A news conference is called. It is announced that Bob Due is the suspect and has been suspended on suspicion of stealing roughly $300,000 from the city coffers, dating back to 2007. By the time the ball is kicked off at the crosstown rival football game between Holmes and Holy Cross, news breaks that Due has been booked into the Kenton County Detention Center.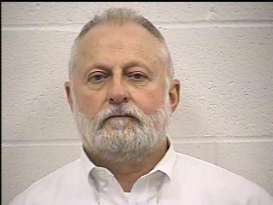 Due's first mugshot
He is charged with theft by unlawful taking (over $10,000), unlawful access to a computer (first degree), official misconduct (first degree), criminal possession of a forged instrument (second degree) and is held on a $50,000 bond.
August 24 The River City News highlights the many examples in which Due was the bearer of bad financial news at Covington City Hall
August 26 Due bonds out of jail after pleading not guilty via video in a Kenton County courtroom. He is placed on home incarceration. The River City News learns and reports that Due's alleged theft may be larger and date back farther than originally announced.
August 27 At a special meeting scheduled prior to Due's arrest, the city commission votes to fire its finance director. City Manager Larry Klein suggests that a special task force be formed to look into Due's actions and to make recommendations on how to prevent similar activity in the future. "I cannot and will not tolerate the deception that has transpired. The public trust has been violated, and that is the highest crime that can be committed in government," Klein said at the time. It is also noted for the first time that Kentucky Auditor Adam Edelen would be asked to investigate.
The River City News reports that plans for the proposed task force are approved by a commission vote of 3-2. Commissioners Mildred Rains and Michelle Williams voted against it with Williams upset that members of the city administration and city commission would be part of the task force's advisory committee. Rains said a task force would be premature before details from an audit could be released.
The task force's leader would be former Kenton County Judge Douglas Stephens and would include a member of the audit committee, the finance director in Florence where a greater theft transpired a decade ago, a resident, and a former Covington finance director. Mayor Sherry Carran and Commissioner Steve Frank would also serve on the task force with support from Klein and Assistant City Manager and City Solicitor Frank Warnock serving as support staff along with Police Chief Spike Jones.
"I was shocked and confused and now I'm angry," said Warnock at the time. "I feel betrayed, like a good friend hit me below the belt when I wasn't looking."
August 28 A petition credited to Commissioner Rains implicates fellow commissioners and city staffers in Due's alleged crimes. "What was their involvement, if any, with Due's embezzlement?," asks the petition, designed to bring Auditor Edelen into the fold.
The petition, launched by a group dubbed Covington Citizens for Ethical and Transparent Government, would seek 100 signatures.
"The majority of the city commission, which is blindly supportive of the city manager, has refused to invite the state auditor to review the books, practices, and finances of the City of Covington, despite a call to do so by two commissioners - instead trying to whitewash the gross breach of trust with a "task force" made up of the city manager, assistant city manager, mayor, Commissioner (Steve) Frank, and others who failed to prevent, and possibly allowed, and condoned, the theft by Mr. Due," the petition read.
City Manager Klein had said the day before, in the presence of Rains, that the auditor's office was being engaged. A spokesperson at the auditor's office said any such petition would be meaningless in prompting a state examination.
August 29 Fewer than a dozen people show up to sign the petition during a rally at Goebel Park.
August 29 Due attempts to kill himself by using carbon monoxide poisoning in the garage of his Independence home. He was taken to the St. Elizabeth Hospital psychiatric ward in Edgewood.
August 30 At a special meeting of the city audit committee, it is revealed that Due's alleged theft was likely closer to $600,000.
Later that day, the City of Covington announces a lawsuit against Due, his family, various banks, auditing firms, and others as an attempt to regain all the stolen funds.
September 4 Due is released from the hospital following his suicide attempt and faces a Kenton County judge. He is returned to home incarceration.
"I know your world has been turned upside down," Judge Douglas Grothaus said to Due. "Maybe the revelation of this has been one of the biggest reliefs of your life after carrying that guilt around."
"If you care about your family, I think you will continue with your mental health treatment and (abide by) court orders," the judge continued.
September 5 Auditor Adam Edelen announces that he will be launching a special examination of Covington's finances.
"We have to make sure these things don't happen in local government and that when they do, those responsible are held accountable," Edelen said.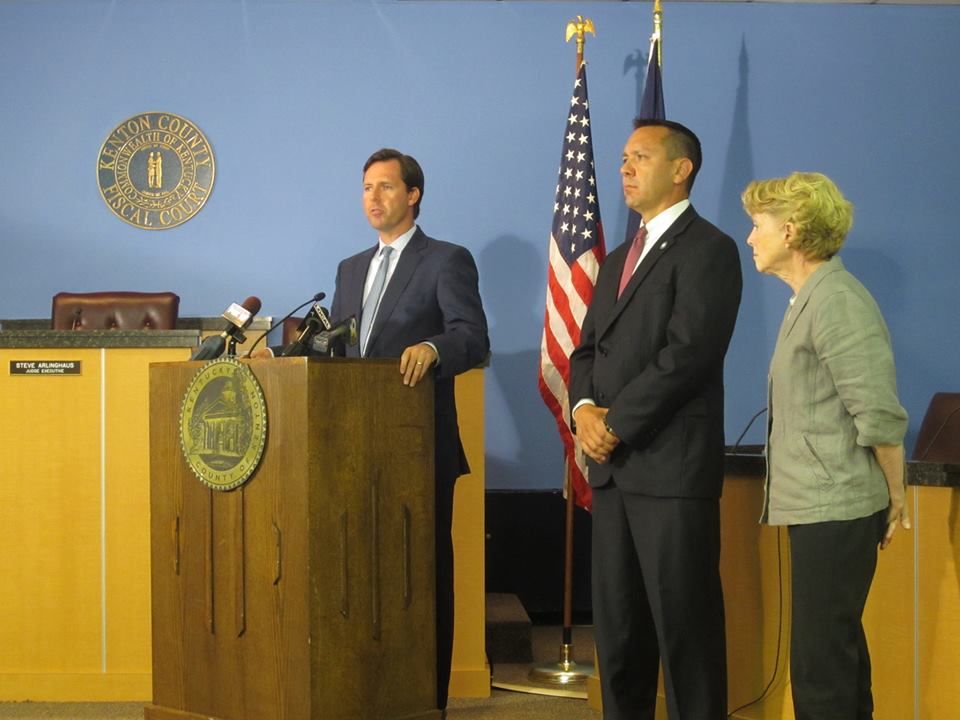 Edelen appears with Commonwealth's Attorney Rob Sanders and Mayor Sherry Carran
September 10 Former Kenton County Treasurer Ivan Frye is hired as interim finance director, though he had already been placed on the job without formal commission approval.
A second suicide attempt is reported at Due's Independence home, this time by multiple stab wounds. He is rushed to University of Cincinnati Medical Center.
September 11 The River City News reports that Commissioner Williams is upset about the order of events in which Frye was hired. Jerome Heist, a staffer in the finance department, had been promoted immediately after Due's firing but did not want to assume the interim position for any long period of time, it was said.
With Due, Heist, and now Frye, and eventually a permanent hire, "In a short period of time we will have had four people with their hands in the pot," Williams said.
September 12 The first special task force meeting ended with Williams and Commissioner Chuck Eilerman shouting at each other in the middle of Seventh Street.
Williams and Rains were apparently upset over not being permitted to sit at the table with the task force members and were instead seated with the public, as was Eilerman.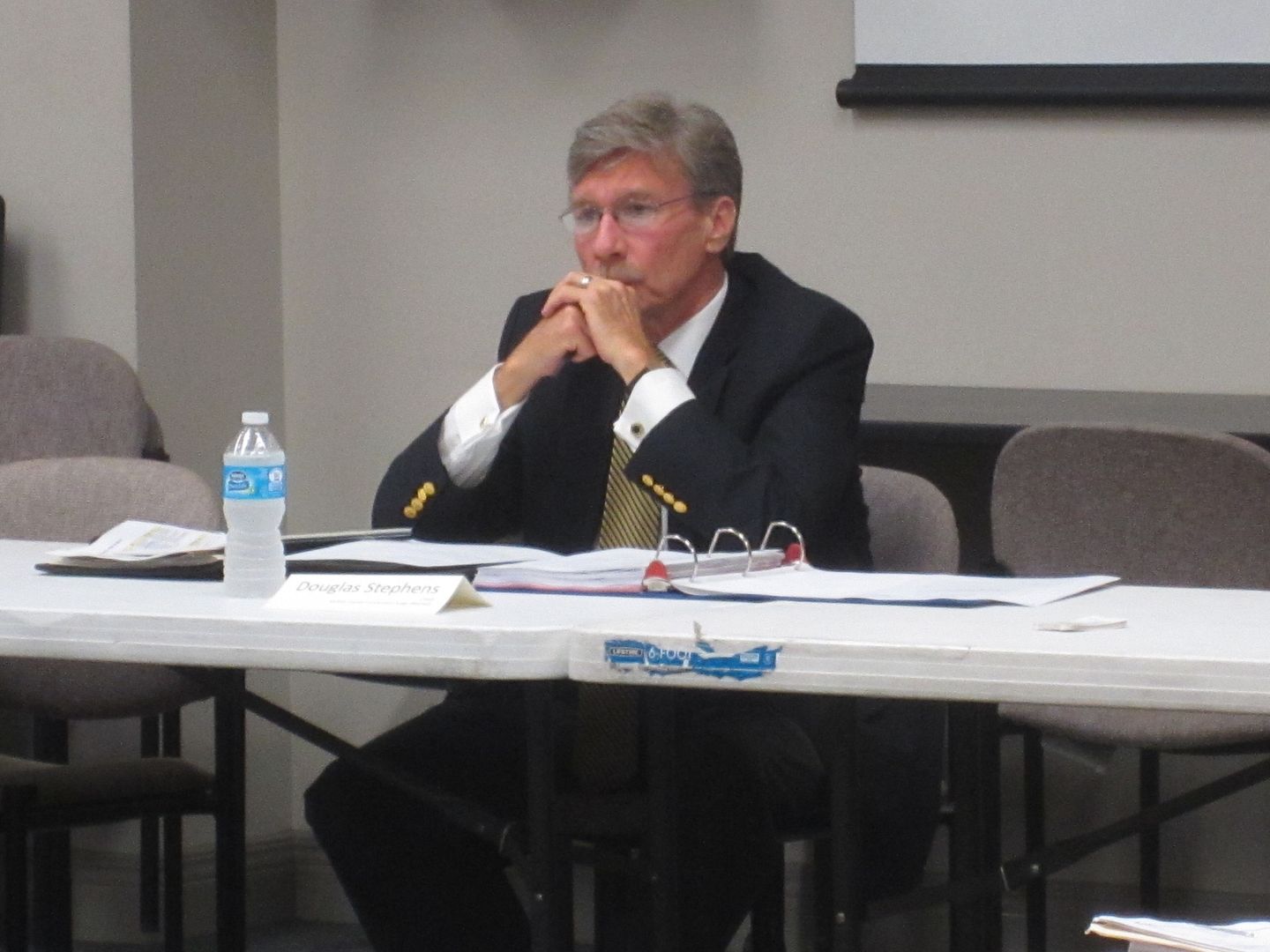 Judge Douglas Stephens
September 13 An email obtained by The River City News contradicts claims by Williams and Rains that they were not notified of Ivan Frye's hire as interim finance director
September 20 Due is ordered by a Hamilton County, Ohio Probate Court judge to remain in the hospital for further evaluation following his second suicide attempt.
September 27 Due returns to a Kenton County courtroom and this time is sent back to jail. The 63-year old talked about his attempts to kill himself.
"I was still in that state of feeling I was in the bottom of a black hole," Due said, calling it "self-denial". "This most recent stay allowed me to shed that cloak of of denial."
"I've come to accept what I've done and who I am. All the secrets and lies are out and now I can look to the future."
Due (R) and attorney Tim Schneider face Judge Douglas Grothaus
October 29 State Senator Chris McDaniel (R-Taylor Mill) announces that he will pursue legislation preventing convicted embezzlers from collecting their government pensions.
November 14 Due is formally indicted by a Kenton County Grand Jury and it is revealed that the theft may be closer to $700,000 and date back to 2002.
Due was indicted on fifteen counts, including abuse of public trust over $100,000, theft by deception of over $10,000, unlawful access to a computer, and twelve counts of criminal possession of a forged instrument. He is ordered to remain in jail on a $500,000 cash bond.
December 2 Due pleads not guilty to all fifteen counts.
The City of Covington announces that it will hire an internal auditor.
December 13 Lisa Goetz is hired as Covington's next finance director and Ivan Frye leaves the position.\
January 16 In an exclusive interview with The River City News at his mother's Hebron home, Auditor Adam Edelen says the results of his office's examination will be "significant".
"This isn't just about being able to quantify a number to totally capture his degree of larceny, which we are going to do," Edelen said. "It will also highlight where the system broke down that allowed it to happen."

"We're talking about the fifth largest city in the state, a community known in every corner of the state. You have to have good government here."

"(The report) will not only fully capture his criminal abuse of office, but will also capture where the system broke down and how to fix it," Edelen said.
February 13 Edelen releases his report during a new conference at Covington City Hall. It is revealed for the first time that the amount stolen was $793,000 through the issuance of 68 checks.
February 17 Covington Firefighters union, Local 38, calls on the City of Covington to restore out-of-service pumper eliminated during budget cuts recommended by Due.
"How can we continue to rely on anything Bob Due reported on over the past 10 years" asked Covington Professional Firefighters Local 38 President Jimmy Adams in a news release. "It's time to put Pumper One back in service for the safety of citizens and firefighters."
February 19 City Manager Klein and Finance Director Lisa Goetz present their Corrective Action Plan in response to Edelen's report.
March 4 Klein survives a backroom plot to remove him from his job to be possibly replaced by former State Senator Joe Meyer.
March 11 It is announced that Due has scheduled a change-of-plea hearing.
March 13 Due admits his guilt. "He's sick to his stomach over what he's done," Attorney Tim Schneider said of his client, who, Schneider claims, often had to be held back from taking responsibility before his attorney could complete his due diligence in the case. "He's a wonderful man who has done a bad thing."
"He loves the City of Covington."
Sanders recommends 15 years in prison. Schneider said that he would request a more lenient sentence of 10 years. In all, Due could serve fewer than three years.
March 13 Covington Fraternal Order of Police issues statement, saying there is no accountability in City Hall. The union's beef was with cuts made in the police department. "The members agreed to these cuts as a way to help the City of Covington recover from the crisis it was facing. Mr. Due presented these statements, all the while knowing that these were not accurate because he was stealing money and placing it into his own account. The money that Mr. Due deprived the City of Covington could have assisted the city in meeting the needs of its citizens and employees without the drastic cuts that took place," the union wrote in a statement.
March 24 Moody's downgrades Covington's credit rating, specifically citing the Due scandal.
April 2 The annual audit of the City of Covington's finances leads Mayor Carran to say that she is beginning to feel more comfortable with where things are, as the city continues to recover from the theft and changes the organization at City Hall through new hires and strategies.
June 5 Due is sentenced to 10 years in prison.