TANK Discusses Changes to #12, #23 Routes in Dayton, Bellevue, Newport
Fri, 06/06/2014 - 13:17
RCN Newsdesk
The Transit Authority of Northern Kentucky (TANK) is considering changes to
their
#12 route through Newport, Bellevue, and Dayton, and held a public forum Wednesday night to gather public opinion.
The current #12 route runs between the Covington Transit Center on Scott Blvd between Third Street and 
RiverCenter Blvd., through downtown Cincinnati, over to Clark St in Dayton, via Dave
Cowens
Dr. in 
Newport and Fairfield Ave in Bellevue.
TANK is proposing and seeking feedback on two possible re-routings of the #12. Both re-routes 
would impact the #12 in Newport and Bellevue. Instead of moving through Newport via Fif
th
St and 
Dave
Cowens
, both re-routes would instead enter Bellevue via Six
th
St. Then, option A would turn 
north toward Fairfield Ave via Taylor Ave, while option B would connect via Riviera Ave.
The recommended re-routing comes from TANK's most recent Network Study, an internal 
evaluation of services and efficiency that occurs roughly every five years. The study evaluates route 
effectiveness and ridership across all TANK routes, looking to maximize value to TANK patrons and 
generate a five- to ten-year strategic plan.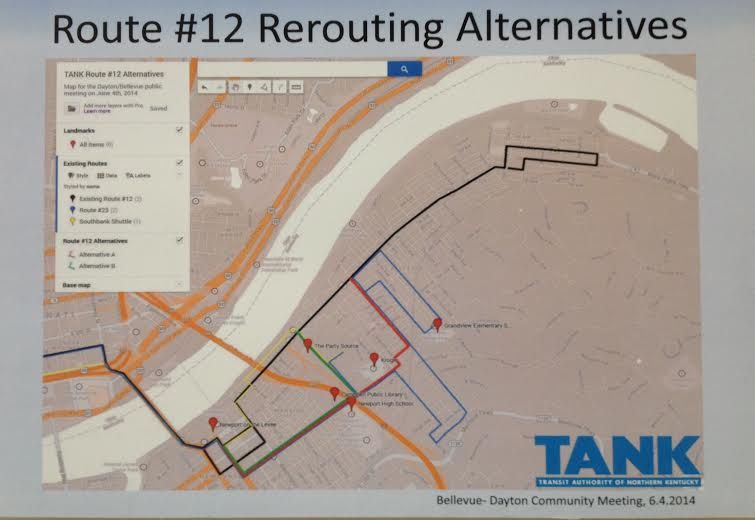 Among other trends, the study found another current Newport/Bellevue/Dayton route, the #23, to 
have extremely low ridership and, according to TANK General Manager Andrew
Aiello
, has proven 
unprofitable. The #23 currently runs only during peak hours (think rush hour traffic), while the #12 
runs all day, with above average ridership rates, the study shows.
"The 23 cannot be sustained long-term," Aiello said, reporting TANK's plan to discontinue the route. 
The proposed changes to the #12 are meant to pick up stops currently serviced by the #23.
Additionally, Aiello said, the proposed re-routes could provide service to more Bellevue businesses, 
as both routes run adjacent to the
6th
St shopping center, which contains numerous restaurants, 
storefronts, and the city's newly renovated Kroger.
Residents did raise some concerns about each of the routes, though. 
One resident wondered how the bus will maneuver the tight turns at Taylor, Grandview Ave., 
and
Donnermeyer
Blvd., while another pointed out the lack of a turn lane at Fairfield and Taylor, 
which would impede inbound traffic heading west on Taylor. For option A, both issues would need to be resolved.
TANK officials present were also curious about how steady, consistent bus traffic might be
intrusive
in
a residential area like that which runs up and down Taylor Ave.
Option B, while possibly less intrusive, would also serve a significantly smaller residential population. 
One Bellevue woman was concerned about how neither re-route retains service on Dave
Cowens
Dr. She uses the #12 frequently, she said, often to reach a destination at Dave
Cowens
and Linwood 
in east Newport. 
Currently, the Southbank Shuttle, which also serves Dave Cowens, does not stop as frequently as 
the #12, and with either re-route, TANK service to Dave Cowens would diminish.
"There isn't a clear yes and no here. There are clear pros and cons to each of these things" Aiello 
admitted Wednesday night. "There will be a trade-off."
An impromptu straw poll of Wednesday night's audience found roughly a third in favor of option A via 
Taylor, a third in favor of option B via Riviera, with the final third abstaining. 
Aiello and his team hope the feedback they gathered Wednesday night will help them accommodate 
the elimination of the #23 in a way that benefits the most riders as possible.
"It's your community," Aiello said, "and we want your input."
While Aiello did not give a specific timeframe for any of the recommendations and proposed 
changes to go into effect, he said it would not be until November at the earliest.
Written by Pat LaFleur, RCN contributor
Photo: TANK meeting at Bellevue's Callahan Center/RCN