NKU President Announces Recipients of Lincoln Awards
Wed, 06/11/2014 - 08:04
RCN Newsdesk
Geoffrey S. Mearns, president of Northern Kentucky University, announced this week the recipients of the 23rd annual Lincoln Awards.
This year's honorees include Chuck Brown, Marty Butler, and Mark and Rosemary Schlachter who will receive the awards at a ceremony on Tuesday, June 24, at the NKU James C. and Rachel M. Votruba Student Union Ballroom.
"It is an honor to recognize Chuck, Marty, and Mark and Rosemary for their professional and civic contributions to our region," Mearns said in a news release. "I've had the pleasure of working closely with all of them and they are all generous, dedicated leaders who have enhanced the quality of life in our community."
 
In 1992, the NKU Office of the President established the Lincoln Award to honor residents or former residents of Kentucky, Ohio and Indiana who exemplify the qualities of outstanding citizenship, notable achievement and distinguished service in their professions and contributions to the region.
Charles "Chuck" H. Brown
 
Chuck Brown is vice president of accounting and finance and secretary of Toyota Motor Engineering & Manufacturing, North America, Inc. located in Erlanger. TEMA supports Toyota's engineering and manufacturing operations in North America. Brown was named vice president in June 1997 and appointed secretary in 2003. He is responsible for all areas of accounting and finance. He began his career with Toyota in 1987.
Chuck Brown/provided
Brown was appointed director of the Cincinnati branch of the Federal Reserve Bank of Cleveland for 2013 and also served on its Business Advisory Council. He has served as treasurer of the National Underground Railroad Freedom Center Inc.; on the board for the Center for Respite Care Inc. and the Urban League of Greater Cincinnati; and, since 2002, has served as honorary co-chair of the Northern Kentucky NAACP Annual Freedom Fund Gala Dinner.
 
Brown is a member emeritus of the NKU Board of Regents. He was appointed to the board in 2000 and reappointed in 2006. He served as chair from 2004-06. He also served on the NKU Strategic Planning Committee and the presidential search committee that hired Mearns. He served on the NKU Foundation Board from 2003-10.
 
Brown graduated from Princeton University with a degree in economics. He later earned an MBA from Stanford University. Originally from Youngstown, Ohio, Brown lives in Northern Kentucky and has two children, Dominique and Christopher. His late wife, Sadie, earned her bachelor's in organizational studies from NKU in 2009.
Martin "Marty" Butler
 
Marty Butler is a partner at Strauss & Troy, a Greater Cincinnati law firm of 50 attorneys representing local, regional and national interests for manufacturing and service companies, builders, developers, financial institutions, partnerships, charitable organizations, families and individuals.
Marty Butler/provided
Butler's practice consists of commercial and residential real estate, including general commercial transactions; corporate law; commercial lending; commercial litigation; corporate organizations; zoning; and probate, trust and estate planning and administration. He is a member of the Cincinnati, Ohio State, Kentucky, Northern Kentucky and American bar associations.
 
Butler has served on the board of The Life Learning Center and is the former chair of the Northern Kentucky Fine Arts Fund Campaign. He is also past president of Northern Kentucky Habitat for Humanity and has served on the boards of the Parish Kitchen and Senior Citizens of Northern Kentucky. He also served on the advisory board of the Southbank Fund.
 
Butler is a member emeritus of the NKU Board of Regents. He was appointed to the board in 2002 and was reappointed in 2007. He served as chair in 2012. He served on the NKU Foundation Board from 2004-08 and has served on the NKU Capital Campaign Assessment Task Force. He is also a former member of the Chase Alumni Association.
 
Butler graduated from Thomas More College and earned his juris doctor from the NKU Chase College of Law. He and his wife, Sandra, live in Covington. They have four children: Amanda, Emily, Erin and Bryan.
Mark and Rosemary Schlachter
Mark Schlachter is an active sculptor, theater designer, teacher, librarian and writer in the Greater Cincinnati area. Rosemary Schlachter has worked as a fund-raising consultant and development officer since 1980, specializing in major gift solicitation, planned giving development and training.
She leads 25th Hour, a fund-raising firm that counsels numerous nonprofit clients regarding their annual capital and planned giving efforts. Mark spends time creating abstract metal sculptures and his work ranges from diminutive desktop pieces to 10-foot forms for outdoor display. His work can be found throughout Kentucky, Ohio and Indiana.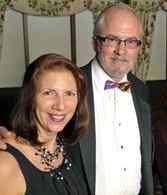 Mark & Rosemary Schlachter/provided
Rosemary chaired the Foundation for Resource Enhancement and in 2010 was secretary for Oak Hills Educational Foundation. She has also served as president of the Cincinnati Symphony Association and Madcap Productions. She has served on the board of Enjoy the Arts, United Way, Cincinnati Opera Guild, the National Society of Fund Raising Executives, Historic Southwest Ohio, the American Heart Association, Cincinnati Area Senior Services, the Northern Kentucky Arts Council, and others.
 
She has chaired numerous Greater Cincinnati fund-raising events. She wasCincinnati Enquirer Woman of the Year in 1993 and a recipient of the 1995 Post-Corbett Award. She received the Spirit of Mercy Award in 2008 for her work with the Sisters of Mercy.
 
She is former assistant vice president for development at NKU and is a member emeritus of the NKU Friends of Steely Library. She received the Commonwealth Society Award from the NKU Foundation in 1995.
 
The Schlachters live in Cincinnati. They have four children: Abby, Kurt, Kameron and Max.
From Northern Kentucky University