Dear, Internet: There Was No Walrus Found in Kentucky River
Thu, 06/12/2014 - 09:24
RCN Newsdesk
Photoshop and Facebook have joined forces once again to fool people into believing some unlikely wildlife is roaming around Kentucky.
The latest joke involves a walrus that reportedly washed up on the banks of the Kentucky River near Carrollton. The photo (seen above) showing a beached walrus has been shared on Facebook hundreds of times. 
The caption reads, "Talk about a long journey! A friend of mine from KDFWR (Kentucky Division of Fish & Wildlife Resources) sent me this pic he took this morning. A walrus (Yes, you read that correctly) sitting on a beach near Carrollton. They're guessing he was a stow away on a barge traveling the Ohio River and "jumped ship" going through the Markland lock. They are hoping to rescue him later today and bring him to the Salato Center in Frankfort. I'll try to keep everyone posted on the progress. What are the odds?!? Amazing."
The creator of the image later fessed up to the joke and Dave Baker with the Kentucky Division of Fish & Wildlife told The River City News that he will be adding this one to his wall of internet hoaxes.
That wall includes many instances of mountain lion spottings, including one from Kenton County in March: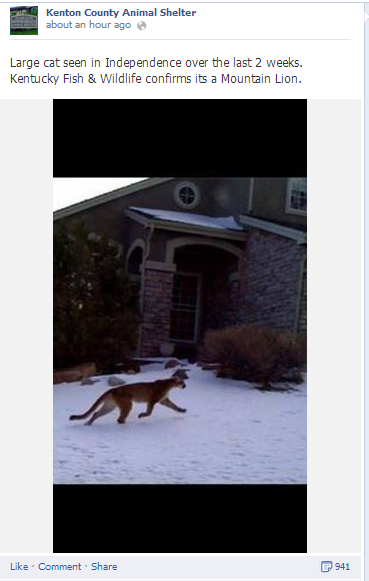 There was no mountain lion, but it caused quite a stir!
That image, which was reportedly taken in front of an Independence home, was actually from Colorado.
There are also no sharks in Lake Cumberland, Baker said.
The walrus image making the rounds this week is a clever Photoshop, but look closely at the tail. That's the giveaway.