Accused Heroin, Meth, Marijuana Traffickers Busted in Multi-County Investigation
Fri, 06/13/2014 - 11:56
RCN Newsdesk
A Covington man is among those taken into custody this week after a drug round-up in Carroll, Trimble, and Gallatin Counties.
The investigation was conducted by the Kentucky State Police, the Carrollton Police Department, and the US Marshal Fugitive Task Force and involved the serving of 13 arrest warrants for suspects indicted on charges of trafficking heroin, methamphetamine, and prescription drugs. A three-month undercover investigation preceded the round-up.
In all, eighteen people were arrested including the 13 subjects with warrants and five others on other charges.
At a residence in Gallatin County, troopers arrested three people in addition to the subject being arrested on the indictment warrant. Jill Beers, 35, of Warsaw, was arrested as part of the drug roundup. When approaching her home, troopers found several marijuana plants growing in pots outside of the home. A search warrant was obtained and troopers located $5,000 cash, six grams of methamphetamine, three grams of heroin, ten firearms, 32 marijuana plants, and 105 marijuana seedlings.
The three other individuals arrested were Jennifer Webster, 37, of Sparta, Jeffrey Eggleston, 44, of Covington, KY, and Richard Marksberry, 37, of Warsaw. All four individuals were charged with Manufacturing Methamphetamine, Unlawful Possession of a Meth Precursor, Trafficking Methamphetamine, Trafficking Heroin, Cultivation of Marijuana – Greater than Five Plants, and Controlled Substance Endangerment to a Child.
Additionally, Marksberry was charged with Resisting Arrest and Terroristic Threatening. Two children living in the home were released to family members.
Of the original 20 indictment warrants, seven individuals have not been located. All but one of those arrested were lodged at the Carroll County Detention Center. Jay Bush is in the Kenton County Detention Center.
Follow The River City News on Facebook, Twitter, or email us!
-Staff report
Above photo: Jeffrey Eggleston via Carroll Co. Detention Center
Jill Beers/Carroll Co. Detention Center
Richard Marksberry/Carroll Co. Detention Center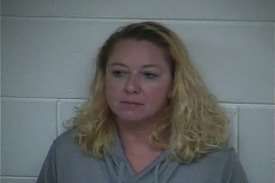 Jennifer Webster/Carroll Co. Detention Center