Rick Robinson's Second Time Around: Theodore Roosevelt Island
Sun, 06/15/2014 - 07:18
RCN Newsdesk
Northern Kentucky author & attorney Rick Robinson is back in Washington, DC where he spent years on the staff of then-Congressman Jim Bunning. As a busy staffer on the Hill, it's easy to miss the beauty of our nation's capital. And that's what happened to Rick. This time, he vows to take it all in - and share it with you in "Second Time Around".
Located in the Potomac River between Georgetown and Roslyn, Theodore Roosevelt Island is possibly 
the most unique 88 acres in Washington DC. Accessible from a walking bridge from the Virginia side, the 
island was dedicated as a tribute to one of America's great conservationist. The trail/boardwalk around 
the perimeter of the nature preserve is just over a mile long and takes you along the riverbank and 
through a marsh. 
The interior paths through the highland lead to a memorial plaza containing a 17' statue of our 26th 
president. Congress authorized the memorial in 1932, but didn't actually appropriate the funds to have 
it built until 1967 – proving Congressional gridlock is not a new concept. 
Before being donated to the United States, the property was privately owned. Native Americans lived 
there in the late 1600s. Union troops were trained on the island during the Civil War, including an 
African American regiment. During that time the island was also used as a freedman's refugee camp.
If you take the family to Roosevelt Island, check out the educational material offered on-line by the 
National Park Service.
Above photo
Regulars along the boardwalk told me it is not uncommon to share this fishing area with an eagle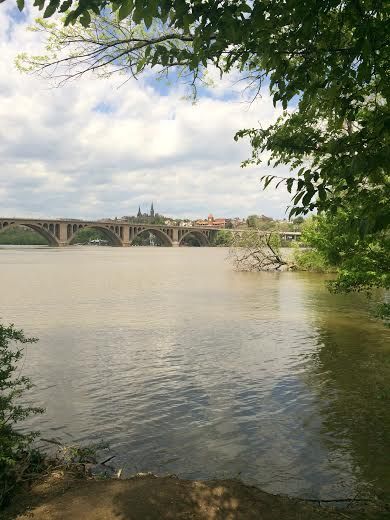 The Potomac was up a bit when I was there, but this is about the place where President James Madison landed while escaping the British occupation of DC during the War of 1812.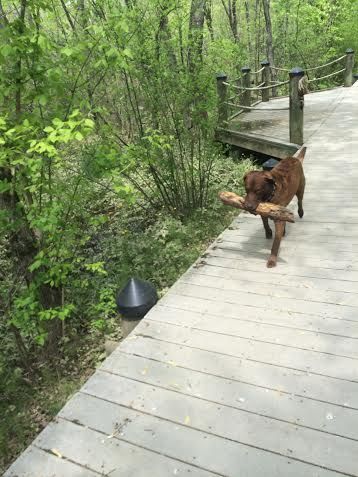 Getting into the spirit of things by carrying a big stick.
Yes, that's Watergate.