New Sign Recalls When Covington Street's Name Was Changed Amid Anti-German Hysteria
Tue, 06/17/2014 - 09:11
RCN Newsdesk
In a neighborhood where hundreds of thousands of visitors pay homage to the region's German heritage, lies a street who name is not original.
Right in the middle of Mainstrasse Village's business district is the now familiar Pershing Avenue. But a new sign placed at the corner of Pershing & Main Street will let visitors know that there was a time in which being German was no cause for celebration here.
When World War I broke out and Germany became an enemy of America, hostility towards Germans also developed on the homefront. In Covington, Newport, and Cincinnati, three cities with a great deal of debt to its large German immigrant population, incivility grew so much that the native language was ejected from the public schools, church services were no longer offered in German, and the names of banks and streets were changed.
According to writings by longtime Kentucky Post columnist Jim Reis, Dayton Public Schools eliminated German in 1917 while the public pressured Ft. Thomas, Bellevue, and Newport schools to eliminate the instruction of that language as well. In Covington, a group known as the Citizens Patriotic League would see its membership rise to more than 1,000, with a main goal being the elimination of German and all modern foreign languages removed from elementary schools.
Newport changed the name of German Street to Liberty Street and the German National Bank became the American National Bank. And in Covington, Bremen Street, named for the German port city that saw off many of its emigrants headed to America, the last piece of Germany many ever saw, was given a new name: Pershing, in honor of the general leading American forces in the Great War.
Though time has erased many of those anti-German memories and the region has returned to celebrate its German roots with large festivals surrounding its brewing heritage and even its German-centric food staple, goetta, Pershing Avenue remains. The German-American Citizens League of Greater Cincinnati wants people to remember.
"It's important to remember the anti-German hysteria of the first World War which included the changing of street names, the elimination of German instruction from public schools, harassment of people of German descent in the area," said Dr. Don Heinrich Tolzmann, the organization's president. "It's important especially this year as it is the one hundredth anniversary of the outbreak of the first World War."
Tolzmann, whose organization helped lead the placement of markers along streets whose names were changed in Cincinnati during the same era, contacted Covington City Commissioner Chuck Eilerman to inquire about doing the same for Bremen Street. Covington Historic Preservation Officer Beth Johnson coordinated the effort at City Hall and a sign was produced by the Department of Public Improvements after the placement was approved by the Mainstrasse Village Association board of directors. The sign reads: "FORMERLY BREMEN STREET. Renamed during World War I because of anti-German hysteria."
The sign is already in place but a dedication is planned for July 26, two days before the 100th anniversary of the first shots being fired in the Great War. "It's a really fitting time for this to take place," Tolzmann said. "Today we celebrate and honor the German heritage which is appropriate because every other person, about half the population has some German ancestry some place in its family tree."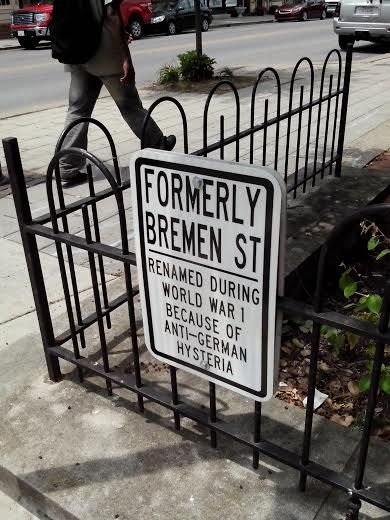 That includes Eilerman whose great-grandparents moved to the area from Hamburg and Hanover in the old country. They were married in the old St. Mary's Church in Over-the-Rhine in 1861 before crossing the river and opening a clothing store in Newport in 1886 and then another in Covington in 1892. "We've been involved in the history for a long time," Eilerman said. He said he was intrigued by Tolzmann's idea because of his own heritage and because of the importance of Bremen as a port city. "You can see why it was named (Bremen). It's an interesting piece of our history and ties in with what we're trying to do in Covington and Mainstrasse."
Mainstrasse is home to large Maifest and Oktoberfest celebrations every year as well as the Original Goettafest. A celebrated glockenspiel clock tower is the neighborhood's most recognizable structure. One hundred years ago, such accoutrements of German patriotism would have been suddenly unwelcome. Tolzmann shared stories of how the hysteria amid World War I even filtered into the churches. The German Reform Church on Willard Street changed its name to Grace United Church of Christ and when Father Goebel at St. John's on Pike Street offered services in German, an angry mob attacked him. "What's significant about that there, if they would do that to a man of God, a man of the cloth, you can imagine what they were doing to other people," Tolzman said. 
Tolzmann said he has been in contact with Newport Mayor Jerry Peluso who is also interested in making such a designation at the former German Street, now Liberty.
"In the long run, the behavior of that time period, it was overwhelming. Some of these things stayed in place and were not changed or removed," Tolzmann said. "So I think it's good to show respect for the German heritage and the time period and what people had to go through at the time. I think it will be good for the Mainstrasse area. German heritage here, they celebrate it but I think they take it for granted."
Story & photos by Michael Monks, editor & publisher of The River City News