McConnell, Grimes Propose Rival Options for Bridge Project, Covington Leaders Underwhelmed
Fri, 06/20/2014 - 15:26
RCN Newsdesk
Moments before Senator Mitch McConnell arrived at the Northern Kentucky Chamber of Commerce to announce his plan to fund projects such as the one for the $2.6 billion Brent Spence Bridge corridor, his Democratic opponent in November's election, Secretary of State Alison Lundergan Grimes issued her own plan.
Despite the three days' worth of community build-up and speculation about what McConnell might propose, when the moment finally came on Friday afternoon, Covington leaders were underwhelmed and no more optimistic about the project's future than they were prior.
McConnell's plan: Repeal the Davis-Bacon Act of 1931 and use the $13 billion in savings over a ten year period as estimated by the Congressional Budget Office to fund infrastructure improvements. Projects would compete for money from the pool collected by the repeal and the Brent Spence Bridge would receive an objective evaluation at the federal level. McConnell will introduce the Emergency Interstate Bridge Safety Act in Washington next week, he said.
McConnell called te Depression-era legislation "even older and more obsolete than the Brent Spence Bridge".
"We all know that Northern Kentucky is one of the vital economic hubs of our state," said McConnell, who will be seeking his sixth six-year term in the Senate in November. "Honestly, I don't know where we'd be without the commerce and jobs and economic activity going on here on a daily basis. Unfortunately, it's also home to obsolete infrastructure which ties up traffic and creates an unacceptable strain on the local economy. One reason is the outdated, inadequate Brent Spence Bridge. It's long past time to rebuild this bridge."
The Davis-Bacon Act established the requirement for paying the local prevailing wages on public works projects for laborers and mechanics, according to the Department of Labor.
75Meanwhile, Grimes claims that her proposal would saves $75 billion over ten years. The plan limits corporate deductions on excessive executive stock options, closes loopholes for companies shipping jobs overseas, closes the corporate jet loophole, forces companies managed and controlled in the US but registered at a PO Box overseas to be taxed by American standards, and ends the so-called John Edwards/Newt Gingrich loophole.
In a statement, the Grimes campaign characterized that loophole named for the former North Carolina Senator and Speaker of the House from Georgia as allowing some wealthy business owners to mischaracterize income as business profits instead of salary to avoid Medicare and Social Security payroll taxes."
"As your next Senator, I will be a relentless advocate for the Brent Spence Bridge project and will work across party lines in support of a plan that can make it happen," Grimes said in a statement. "We can cover the looming short term shortfall in the Federal Highway Trust Fund and as a part of that effort ensure that the Brent Spence Bridge project is fully funded by closing tax loopholes that benefit millionaires and billionaires and ending tax breaks that encourage companies to ship jobs overseas."
Grimes said McConnell's plan would "sink like a stone" in Washington while McConnell said Grimes's plan raises taxes.
Neither plan fully impressed Covington leaders who serve a city directly impacted by the bridge that connects it to Cincinnati. Ohio legislators have already taken the necessary steps to allow the bridge to be tolled; that bill was signed by Ohio Governor John Kasich in Cincinnati just days ago. Kentucky Governor Steve Beshear has also said publicly that tolls would be the only option to fund the project but during the General Assembly session in the winter, legislation to allow it was defeated.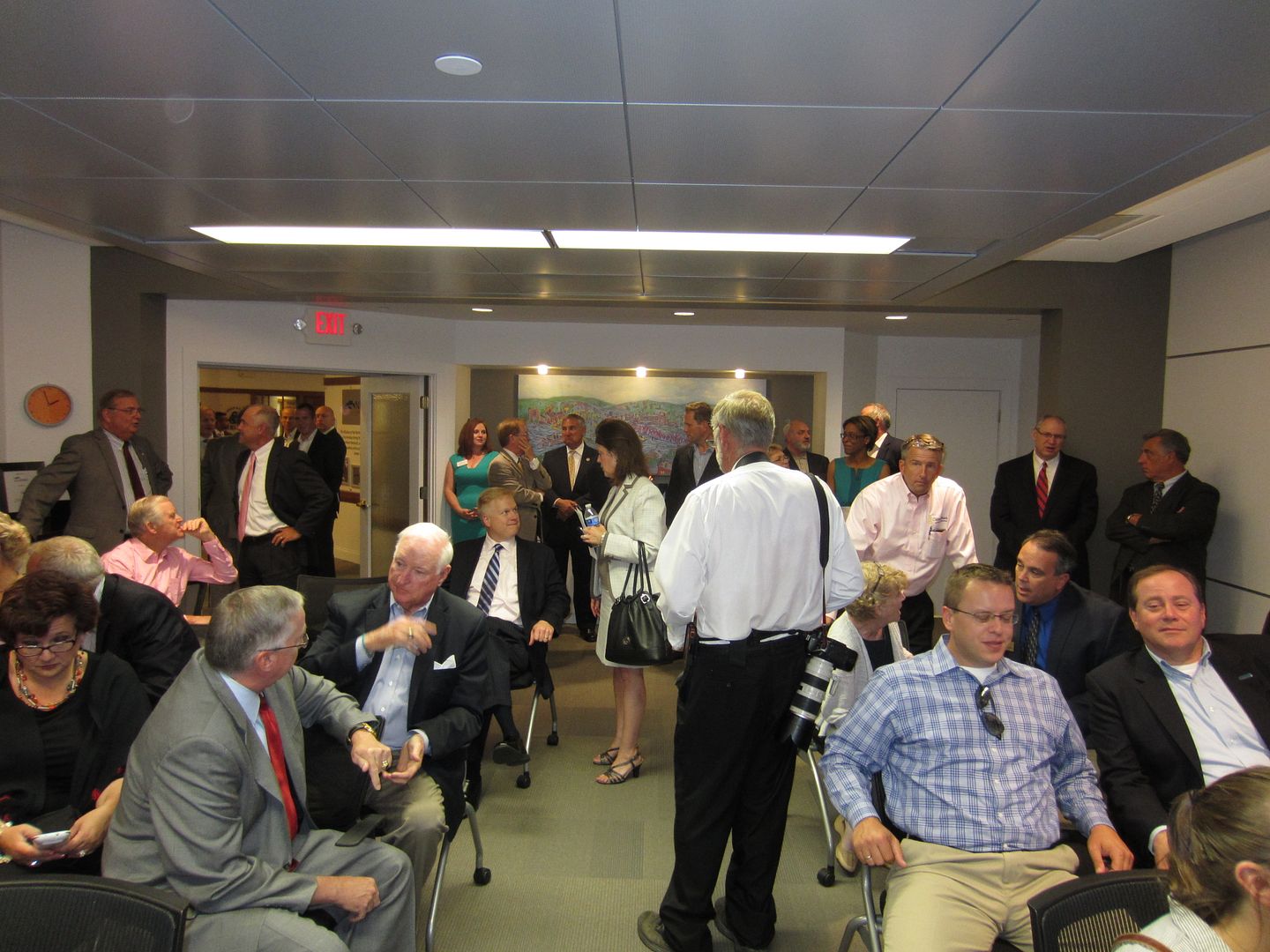 Crowd awaits arrival of Sen. McConnell/RCN
Covington City Commissioner Steve Frank, who has dubbed himself "the lead opponent to tolls", was not optimistic following McConnell's remarks.
"I'm a little underwhelmed," he said, calling the proposed funding from the repal of Davis-Bacon "a drop in the ocean". "There has to be fundamental reform at the national level if we're going to improve our infrastructure. The chance of getting Davis-Bacon erased is zero to none."
As for the Grimes plan, Frank said it would face the same odds in Washington. "It's political nonsense," Frank said. "I applaud the concept of a dedicated fund but can we please get past the partisan nonsense? We'll be sitting here a long while with that bridge. I pretty much guarantee you, it's not going forward unless there's serious money coming from somewhere that ain't tolls."
Mayor Sherry Carran said that she is concerned that McConnell's proposal may take the discussion off track and she also isn't optimistic. "It's a discussion that people have brought up but realistically, I don't think it has a chance," Carran said. The mayor was the lone member of the 5-person city commission not to oppose tolls as an option to finance the bridge.
She was more favorable to Grimes's plan. "I think she's covering a lot of areas so I think there's more opportunity to get some of those items accomplished whereas (Davis-Bacon) has been there a long time," Carran said. "I like that she's proposed options." Carran admits that she has mixed feelings about prevailing wage. "I think part of the thing is prevailing wage needs a closer look, so what is a realistic prevailing wage and I think that's where it needs to be changed. I think there needs to be a whole study on that and that may result in some benefits and positives for both sides."
The location of the Chamber of Commerce for McConnell's announcement was significant. The Chamber has been the most vocal supporter of the bridge project and has taken the position that all options, including tolls, should be on the table. McConnell said straightforwardly on Friday that he opposes tolls, and Brent Cooper, the Chamber's interim president, said that he is grateful that the conversation has turned to where the project is being acknowledged as a project of national significance.
"What we have been saying all along is that all options have to be on the table and that everyone at all levels needs to acknowledge that this is a project of national significance," said Cooper, who will step down at the beginning of July when former Secretary of State Trey Grayson takes the reins. "I think (McConnell) has helped with that today and helped advance the conversation."
Cooper said that without seeing the bill he could not predict whether it would pass in DC. "We're grateful for the conversation and grateful for the fact that we're again drawing attention to this critical project."
The last time the Brent Spence Bridge received significant federal dollars, Republican Geoff Davis represented the region in the US House. Davis attended Friday's announcement. 
"This is the most credible proposal I've heard of," Davis said. Could the legislation pass? "Any well-crafted piece of legislation has the opportunity to pass."
Story & photos by Michael Monks, editor & publisher of The River City News