NKU Student's Inspiring Video Goes Viral, Wins International Contest
Thu, 06/26/2014 - 11:24
RCN Newsdesk
Douglas Gautraud knew he'd made something special, something with deep themes that could resonate with others.
But he never knew his short film would get nearly 1.4 million views on YouTube (so far) and become winner of the Peoples' Choice Prize in the Rode Microphones My Rode Reel international film contest.
"I didn't think it would be this popular," says the 24-year-old video producer from California, Ky. "The inspiration came from the events that actually happened in my life."
Douglas, who is also a junior marketing major at NKU, created a five-minute movie entitled My Mom's Motorcycle. In it he describes his feelings after his grandfathers died, and how their possessions symbolized who they were. Douglas then tells how he was inspired to buy a motorcycle, which his mother loathed.
By the end of the film, he realizes why he was so inspired by his elders.
"I love and respected them for what they gave to others," he says.
On a deeper level, the movie says much about our current "false realities," and the culture in which we live.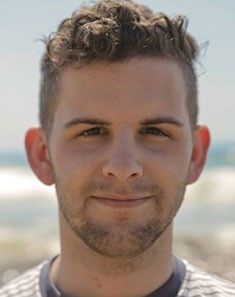 Douglas Gautrad/via NKU
The short film contest was sponsored by the Australian company Rode Microphones, and after Gautraud's entry went viral, he was able to garner the most votes in the People's Choice category, voted on by the public. That brought him a prize of more than $20,000 worth of film gear.
The rules for the competition were only that the video be between one and five minutes long. And the only direction, Douglas says, was to tell a good story.
More than 1,100 entries came in from 76 countries.
"I wanted the viewer to follow my entire train of thought — from my reasons for buying the bike all the way to my reasons for selling it," Douglas says. "I knew the lesson I had learned was of great importance to me and I believed it would resonate with others. I also wanted to share with others the wonderful lives of my grandfathers. I had a lot to communicate and because the time limit was five minutes the final video ended up being very fast-paced."
Douglas says the entire process was life-changing.
"It took over a year for me to feel the need to buy a bike after my grandfathers passed and it took me another six months to decide to sell it," he says. "A year went by before I really started to write the story. This long process has changed my outlook on many things such as legacy, greatness, sacrifice, love leadership, family, and motorcycles."
And how does he feel now, as a winner?
"I am thankful for all the support and am deeply humbled by it," he says. "I believe truth is one of the most powerful ways to resonate with people no matter what the medium is. I am passionate about producing videos that will resonate with others; I believe winning this competition will enable me to do more of that."
From NKU, written by Ryan Clark, Web Marketing & Communications
WATCH THE VIDEO: