UpTech Company Makes Pitch Before AOL Founder
Thu, 06/26/2014 - 19:09
RCN Newsdesk
Eight local start-up companies made a big pitch to AOL founder Steve Case, who was in Cincinnati to award $100,000 to the winner. One of the start-ups was 3DLT, a 3D printing service from Covington's UpTech, start-up accelerator. 
Cincinnati is one of four cities (the others being Detroit, Pittsburgh, and Nashville) being recognized for a wave of entrepreneurship and activity in the Midwest. Case's Rise of the Rest Roadtrip celebrates entrepreneurship and the advancement of it.
I was there this morning at Taft Law Firm as the United States Secretary of Commerce Peggy Pritzker talked about the importance of entrepreneurship to the US economy and job creation. You could tell very quickly she wasn't just spouting off statistics and soundbites, but passion for a movement she actually believed in!
And it isn't just about Cincinnati it truly is regional. Just look at who was tweeted out nationally today:
Matteo del Ninno, the founder of Inteo, a revolutionary educational software is from the second UpTech class.
Later in the day, the bus moved on to the main event: a pitch competition at Know Theater in Over-the-Rhine. The companies pitched, including 3DLT, were Petbrosia, Beam Brush, Frameri, Keego, Ahalogy, and Repp.
They all did a fantastic job! The house was packed. Tell me the last time any other economic development-themed event had a standing ovation at the end or a packed house for that matter?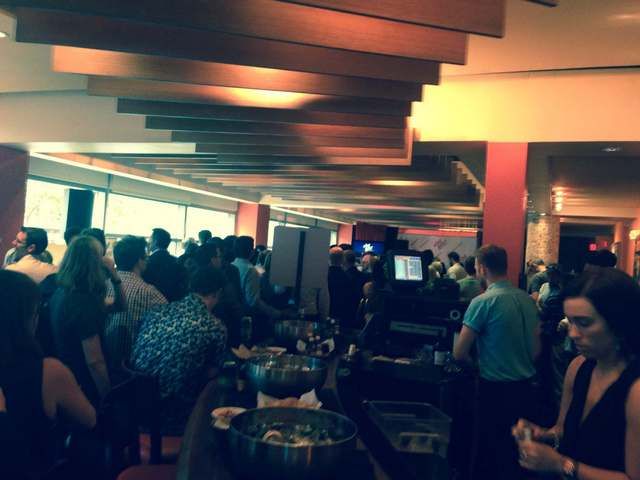 Investing in your peers, people, creates an excitement that cannot be duplicated by buying and selling paper securities. On top of that, to think the end results could change the very community you live in for the better is inspiring!  
It was hard to tell if there was a crowd favorite or not as each pitch received a loud roar both upon introduction and completion of their pitches! They all only had four or five days to prepare, only five minutes to pitch and three minutes of questioning, so it was an amazing amount of effort put in by these entrepreneurs. The companies themselves ranged from Pet Food, sushi, tooth brush technology, new eyeglass frames, translation, 3D printing, social media, and online identity management. Truly diverse companies and diversity among founders.  
At the end of the day, 
Frameri
took home the prize and the $
100K
 that came along with it! Even though they didn't win,
Uptech's
entrant,
3DLT
did a fantastic job and certainly engaged the judges with a litany of questions at the end! T
his Rise of the Rest tour across A
merica
certainly will raise awareness for a new waive of economic development and investing and not to mention, plenty of fun along the way.
Brad Zapp is the fund manager for UpTech, a co-founder of Legacy Financial, and a contributor to The River City News