Historic Preservation Guidelines Updated in Covington
Mon, 06/30/2014 - 17:00
RCN Newsdesk
The City of Covington has updated its Historic Covington Design Guidelines for the first time since the document's creation in 1988.
During a presentation earlier in June, Historic Preservation Officer Beth Johnson said the previous version was outdated, was a scanned PDF, and had no way to be quickly updated.
A committee was formed that included architects, the urban design review board, developers, and owners of historic properties before the changes were presented to the city commission on June 10 and then adopted by that body on June 24.
"The conclusion of this group as a whole was that there's already a good balance of strengths and flexibility," Johnson said. "We wanted to make sure that what is on the streetscape is treated the most strictly, and to have some flexibility on the sides and in the rear."
The guidelines are a comprehensive reference for property owners of historic buildings focusing on every external facet, from windows to soffits, and advise the reader on a variety of approaches and best practices. The new edition is more reader-friendly, less technical in its language, and has more helpful illustrations. It also incorporates the recent trend known as the 'Green Movement' and its effects on historic properties.
The update is significant, according to a news release from City Hall. Covington is known as having one of the largest collections of intact brick Italianate houses in the country. The City's effort to keep the architectural and historical integrity of buildings has made a huge impact to its own cultural identity, but also on its economic development and housing development efforts.
The guidelines tell property owners of buildings within Historic Preservation Overlay (HPOs) zones what is permitted and not permitted. It offers suggestions on how to perform work in a way that complies with historic accuracy. For example, historic brick was softer than the modern brick available today. As a result, the mortar also was softer. Heavy lime-based mortar mixture is needed for older bricks because if newer and harder mortar is applied, it could cause the older bricks to crack and spall during freeze and thaw cycles.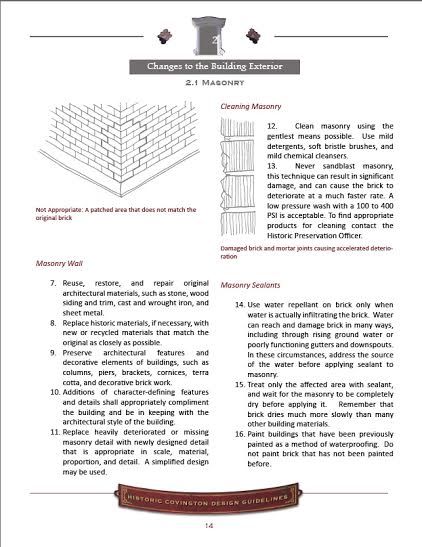 Page from the new manual
"It's a very attractive, user-friendly, and sensible document," said City Commissioner Chuck Eilerman, who in 1973 published Historic Covington: Proposed subjects for registration and historic markings. Eilerman was an original member of the city's urban design review board.
The city's historic preservation overlay zones include the central business district, Licking Riverside, Mainstrasse Village, Mutter Gottes, Pike Street, and Old Seminary Square.
This newly adopted and updated manual will be useful for homeowners and developers working on historic homes in those areas. "It will give you advice how to do it, provide insight on how it was done in the time when the buildings were constructed and help guide you through the process. Whether you are a homeowner, architect, or developer, this guide will help you," Johnson said.
The process to revise the guidelines included Johnson attending neighborhood association meetings within historic districts to go over the guidelines, explain the changes and get feedback. "The feedback I received was a big part of the process and a lot of it led to some really great additions and modifications in the content." she said.
Highlights of New Features & Changes
Rain barrels and rooftop gardens.
Murals and public art
Modern and compatible materials and technologies.
Green technologies
User friendly layout and terminology with lots of helpful graphics
Why Support Historic Preservation?
Local historic districts create an investment environment that attracts both public and private dollars, which often results in property value appreciation significantly greater than the surrounding areas. City Officials, staff and resident preservationists maintain that historic preservation has positively impacted property values and has driven people to want to live in areas where historic preservation overlay (HPO) zones have been instituted. They also claim it contributes to the unique character of the City and provides a rich sense of place.
The Historic Licking River Neighborhood is a perfect example. Located on the riverfront, the pristine and preserved neighborhood known for its historic architecture and beautiful housing stock was recognized as one of the American Planning Association's Top Ten Neighborhoods in the country. 
Mainstrasse Village, the City's well-known historic entertainment district, has a high density of restaurants, bars and retail businesses on its Main Street and is a good example of a commercial HPO. Mainstrasse brags traffic of approximately 300,000 annually, easily making it one of the City's highest trafficked destinations.
"Our HPO is a big part of the whole ambiance and what people like when they come down here; it really helps to set us apart from other commercial districts," said Kim Blank, Executive Director of the Mainstrasse Village Association. "There is a quaint European feeling that lends itself well to outdoor cafés, walkability, greenspace and more of a village feel versus a homogeneous concrete environment. People love the setting because of the buildings. The Austin Healey Club just confirmed they will be hosting their annual 2016 convention here and they chose us because of the historic setting."
It is common for all communities with HPOs to have historic guidelines. Most communities craft a version that is tailored to their unique building stock, but the foundation of most guidelines, including Covington's, is the Secretary of the Interiors Standards for Rehabilitation, the federally accepted historic preservation guidelines.
The City also plans to send out a mailer to let property owners within HPOs know of the guidelines later this month.
Staff report from original notes and a City of Covington news release