Riverfront Developments Starting to Mount in Northern Kentucky
Wed, 07/02/2014 - 08:43
RCN Newsdesk
For decades – even centuries – riverfront real estate in cities from New York to Seattle meant mostly one thing: shipping, and the industries that relied on it. Even in our most attractive downtown areas, waterfronts were zoned for manufacturing, transportation and heavy commerce.
 
That has rapidly changed in recent years. As the culture's demands have shifted toward vibrant, walkable, dense urban cores, riverfronts have seen a surge of retail, residential and commercial development. Cities that sit on the water are also sitting on a goldmine of "prime real estate," as it is called in places that have long charged exorbitant amounts for property with just the slightest squint of river, lake or sea.
 
Northern Kentucky, nestled along the southern shore of the Ohio River, is beginning to realize the enormous potential of its waterfront. In Newport, Covington and Dayton (Kentucky) alone, billions of dollars in investment are planned over the next two decades.
 
"The riverfront is the most important feature of all these Northern Kentucky cities, as well as Cincinnati," says Dayton City Administrator Michael Giffen. "It's what drew people here a long time ago, and it's what's drawing them back now as they're looking towards more walkable communities with a push towards the urban core. It's up to city planners to make sure we provide them with those amenities."
Riverfront momentum builds Dayton
 
In Dayton, the $400 million Manhattan Harbour residential, retail and entertainment development project has been in the works since 2005, initiated by developer DCI Properties. The project stalled during the recession, but work has resumed in full over the last three years.
 
DCI owns the Manhattan Harbour marina as well as nine acres of land next to it. The company is currently preparing to start on the first phase of construction on the western end of the project site, which will eventually include 41 single-family homes. They hope to have the first homes completed by the end of this year.
Eventually, Manhattan Harbour will include 2,000 new homes, including four floors of high-density luxury condos and apartments. The ground floor will feature a mix of locally-owned restaurants, bars and a boardwalk lined with small shops and cafes. The 460-slip marina will also undergo a significant renovation in coming years.
 
All total, DCI controls 118 acres on the riverfront and their main contractor owns another 18 acres. The city owns the rest of the acreage, which will be sold to DCI in stages as phases of the project are completed.
 
It might be another 20 years before the Manhattan Harbour development is completed in its entirety – but that doesn't soften the short-term impact of the project.
 
"It may be a little slow to take off. It's that process of coming out of the recession and [economic] uncertainty," says Giffen. "But it means bringing more people into Dayton to live. That's our goal: increased investment in homes and the business district and the school system."
 
At one point, over 10,000 people lived in Dayton. Now the population is just over 5,000.
 
"[We lost them] to economic conditions, and the drive away from the urban core to the suburbs," Giffen says. Much of the riverfront property was lost to a floodwall and an industrial park.
"This is a new push to recapture some of the businesses we lost, which is great for economic development and business development in these cores," says Giffen. "We're under the impression this could be a great bedroom community with a revitalized business district. We're recreating the outskirts of Dayton to drive business and commerce in the heart of our city." He says of the two-decade-long development process: "It's worth it in the long run to give the city new life."
Over a million square feet of potential in Newport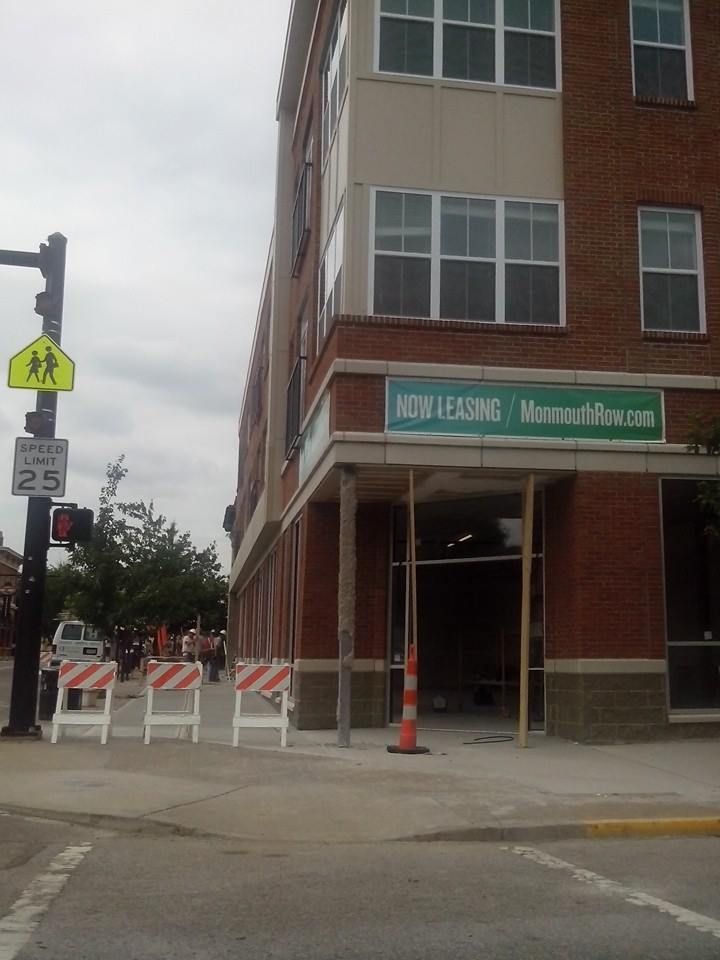 Monmouth Row in Newport/RCN file
Vue 180, a riverfront apartment project in Newport, was completed in late 2013. Within six months, all 93 units were occupied. The $15 million project was the second phase of Capital Investment Group's $200 million SouthShore development, which started with the 65-unit luxury SouthShore Condominiums, also located on the Ohio River adjacent to the flood wall (the "levee").
 
Next up for Capital is an $80 million development located adjacent to the Newport on the Levee retail and entertainment center, just two blocks from Vue 180. The as-yet-unnamed project will include a 230-unit apartment complex, a 150-room hotel, an 820-space parking garage, and 8,000 square feet of ground floor retail space. The project will break ground this fall and take up to two years to complete.
Monmouth Row, a $10 million, 111-unit luxury apartment development located a block from the bridge to Cincinnati and a block from Newport on the Levee, is set to open in the coming weeks. Also in the works is the $1 billion, 20-acre Ovation development, located at the confluence of the Ohio and Licking Rivers, which will include 1,100,000 square feet of office space, over 200,000 square feet of retail space, two hotels, an entertainment complex and luxury condo units. This development is dependent upon the relocation of Newport Route 9 before it can break ground.
 
"Residential development for our downtown area has been a focus of ours for over 20 years," says Tom Fromme, city manager of Newport. "There really wasn't much riverfront development in this area when we started getting interested in it. Officials would go to places like Seattle and see their waterfront development, and we kind of created our own little style."
 
Fromme says the key to success is good old location, location, location. The riverfront developments offer easy access to the interstate highways and high walkability, in addition to spectacular views.
 
"You can walk to downtown Cincinnati – just cross a bridge. You really couldn't ask for a better location," Fromme says. "Being next to Cincinnati has its advantages. We're in different states but Newport, Covington and Cincinnati are all the same downtown."
 
Newport is an active downtown filled with pedestrians and cyclists, and that vibrancy, in conjunction with increased residential development, feeds into the local economy and supports local businesses. People can also walk to neighboring Covington within minutes.
One Northern Kentucky
 
Covington is also making strides toward riverfront development and the creation of urban infrastructure. The city plans on turning 32 acres of riverfront land that spans 1.25 miles into a waterfront promenade with performance pavilions, riverfront walkways, trails for cyclists and pedestrians, a kayak and paddleboard launch, landscaping and public restrooms. The development has been 10 years in the making.
Rendering of hoped-for Covington riverfront
This is all part of the larger Riverfront Commons Project, which includes walking and biking trails in the six river cities of Covington, Bellevue, Dayton, Fort Thomas, Ludlow and Newport, ultimately connecting over 11 miles of path from the Purple People Bridge to trails in Cincinnati, the Licking River Greenway in Northern Kentucky and Devou Park in Covington.
 
Riverfront development initiatives have brought Northern Kentucky cities together as a whole, Michael Giffen says.
 
"Everyone has the same overall vision with different strengths to bring to the table but, as a whole Northern Kentucky community, we share the same goal of creating a sustainable urban core."
 
Learn more about the region's riverfront development and real estate opportunities at NorthernKentuckyUSA.com.
 
Nicole Rupersburg writes for Soapbox Media in connection with Thrive Northern Kentucky, a publication of the Northern Kentucky TRI-ED.
This article first appeared at RCN partner KY Forward as a special