Devou Park Wall Collapse, Historic Property Renovation Top Covington Commission Agenda
Sun, 07/06/2014 - 18:25
RCN Newsdesk
A wall that collapsed in March forcing the closure of one of Devou Park's main roads will finally be repaired.
The Covington City Commission will consider on Tuesday accepting the bid of Great Lakes Construction Company for the reconstruction work on the retaining walls along Devou Drive and Western Avenue. The price tag is expected to be approximately $1,985,000.
At the time of its collapse in March, the wall had long been a source of concern for city leaders and was already in the process of being redesigned.
The commission will also consider the purchase of a sign machine from Advantage Sign & Graphic Solutions which would allow the Department of Public Improvements to undertake sign production in Devou Park and throughout the city, including banners and customized signs which previously had to be outsourced. The $38,500 would come from the Devou Park Master Plan funds.
At Tuesday night's meeting, the City will officially take back the deed to 11 East Fifth Street, the blighted property that was slated to become a boutique chocolate shop. That deal fell through.
Meanwhile, another blighted property will likely receive a property tax assessment moratorium. 617 Bakewell Street was purchased by Paul Weckman and will be turned into a single family home. Weckman and his wife, Emily Wolff, own Otto's in Mainstrasse Village and are currently in the process of renovating another blighted building that was on the verge of collapsing on Main Street, and are the parents of the twin 11-year old boys whose presentation to City Hall kicked off the Make Goebel (Park) Great campaign.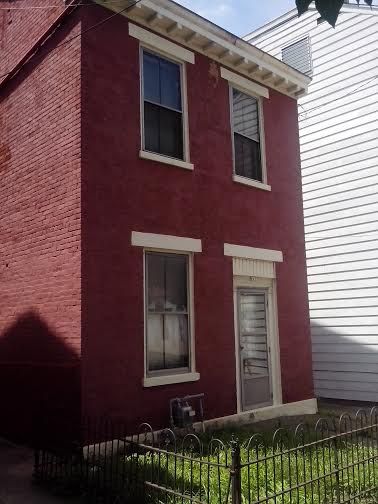 617 Bakewell Street/RCN
As always, The River City News will have the most comprehensive coverage from inside Covington City Hall. Follow RCN on Facebook, Twitter, or email us!
-Michael Monks, editor