Creation Museum: Newspaper Ignored Us in List of Summer Destinations
Thu, 07/10/2014 - 07:59
RCN Newsdesk
The director of the Creation Museum in Boone County is accusing what he calls the secular media of keeping his facility out of the public eye.
Specifically, Ken Ham, of Answers in Genesis, the organization behind the museum and the forthcoming Ark Encounter in Grant County, is targeting The Cincinnati Enquirer.
"Recently our Cincinnati Enquirer newspaper had a list of several "staycation" attractions (i.e., day-trip "mini-vacations" to take in our region) that were presenting "new offerings." Yet the immensely popular Creation Museum, which has opened world-class offerings each year to our exhibits since our opening, was omitted," Ham wrote in a blog post.
Afterwards, a list of "kid-friendly" destinations were published in the Kentucky edition of the Enquirer and again the Creation Museum was left out. An associate of Ham wrote a letter to the editor lamenting these facts that he claims was never published.
Ham wrote that while he is grateful for some fair coverage in the past, "...the editors of some of the paper's departments—especially those oversee the "things to do" in the region—apparently have chosen to ignore us. And such an omission has happened frequently regarding such lists—ignoring an attraction that has drawn well over two million people and brought in hundreds of millions of dollars into the local economy."
But the Enquirer won't be able to ignore Ham and his museum now, he wrote. There is now a large advertisement on the side of a Downtown Cincinnati building just a few blocks from Enquirer headquarters: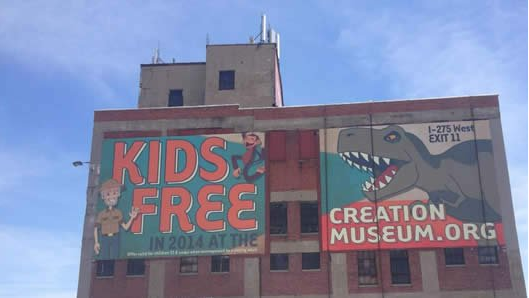 Read Ham's full blog post: Click Here
What do you think? Tell The River City News at Facebook, Twitter, or email us!