Rick Robinson's Second Time Around: Section 16, Jackson Circle, Arlington National Cemetery
Sun, 07/13/2014 - 08:34
RCN Newsdesk
Northern Kentucky author & attorney Rick Robinson is back in Washington, DC where he spent years on the staff of then-Congressman Jim Bunning. As a busy staffer on the Hill, it's easy to miss the beauty of our nation's capital. And that's what happened to Rick. This time, he vows to take it all in - and share it with you in "Second Time Around".
In the previous edition of this column, I posted a photo of one of my favorite monuments at Arlington National Cemetery. The picture caught the eye of Northern Kentucky attorney Rob Craig because it was sculpted by his great-grandmother's uncle, Moses Ezekiel. So this week I wandered back to the far wall of Arlington National Cemetery and took a closer look at Ezekiel's work.
While hundreds of Confederate soldiers were buried at Arlington following the Civil War, families were 
not allowed to decorate the graves. At the time, Arlington was thought of as a Union cemetery. In 1900 
a small circle was set aside for a reburial of Confederate soldiers who died in the war.
Six years later the Daughters of the Confederacy petitioned Secretary of War William Howard Taft to 
place a memorial at the center of Jackson Circle. Taft granted the request and Craig's multi-great-uncle 
Moses Ezekiel was hired to design it. Ezekiel was world known for his work and a Confederate veteran.
The cornerstone for the Confederate Memorial was laid in November, 1912 at a ceremony where 
William Jennings Bryan was the speaker. When the monument was unveiled in June, 1914 (the 106th 
anniversary of the birthday of Jefferson Davis), President Woodrow Wilson spoke.
Two things are unique about the headstones at Section 16. First, the stones are pointed at the top – 

supposedly "to keep Yankees from sitting on them." Secondly, unlike other sections of Arlington, the 

headstones face the center rather than the road.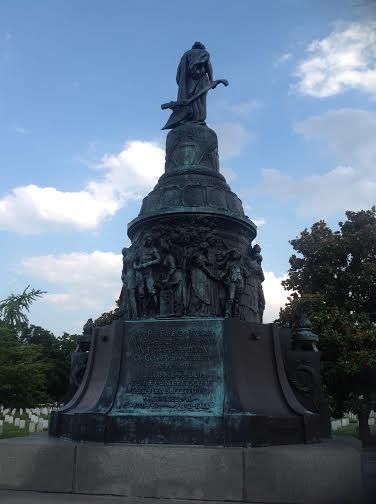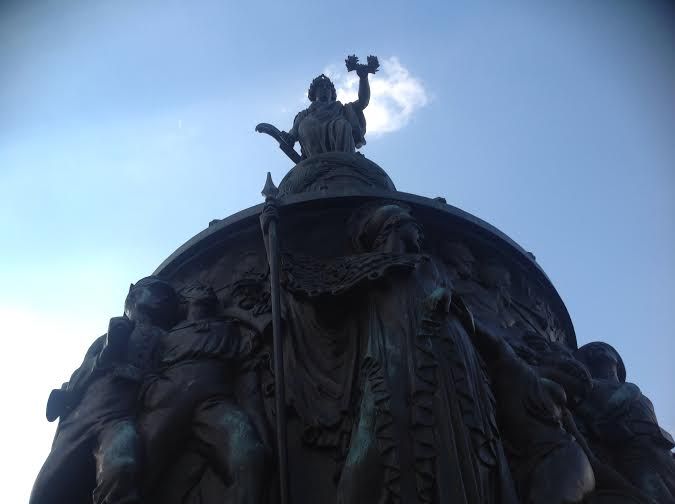 The woman on the top represents the Confederacy and the wreath being offered points to the south. From behind you can see the woman holding a ploughshare. Six vignettes representing the Civil War surround the base of the memorial.
Moses J Ezekiel died in Rome in 1921. His burial ceremony was the first held at Arlington's 
amphitheater. He was buried at the base of the Confederate Memorial in Jackson Circle. For more 
information about the extraordinary life of Moses Ezekiel and his work, click here.
For more columns and stories by Rick Robinson,
click here
.
For more on Rick Robinson's award-winning books, visit his Amazon page here and his website here.