When Injury Kept Her Home, She Started Drawing Her Childhood - From Memory
Sun, 07/20/2014 - 20:01
RCN Newsdesk
She would sing, "Strawberries, get your nice cold watermelon! Get your nice cold apples, potatoes and tomatoes!" Annie or one of her helpers would plug a watermelon for you. She would cut a triangle out of it and then pulled that out with her knife to show you it was nice and ripe. I just loved to watch as she would pull away and the scale on the back of the wagon would go back and forth, making a little clinging noise and of course you would hear the klipity klop of the horse pulling the peddler truck. We didn't like what the horse left, but someone would come out and clean it up. They probably saved it until it was time to put it on their garden.
The sounds, the smells, and the sight of Annie Steenken's peddler truck pulling up her street are all vividly present in the mind of Leanette Pingel Bockweg.
She just didn't know how true that was until a back injury was met with an instruction from her doctor not to do anything. "I just got to thinking about my childhood and thinking about Peaselburg and thought, gee, I wonder if I could draw that from memory," said Bockweg, 75. It turned out that she could draw it from memory. "I did twelve sketches and gained eight pounds."
It's not that drawing is new to the artist. She has long specialized in drawing people's homes and has a collection of some of Covington's signature domiciles. But the street scenes from a youth spent in a Covington neighborhood she hasn't seen much since moving to Erlanger more than thirty years ago, were a new target of her pencils.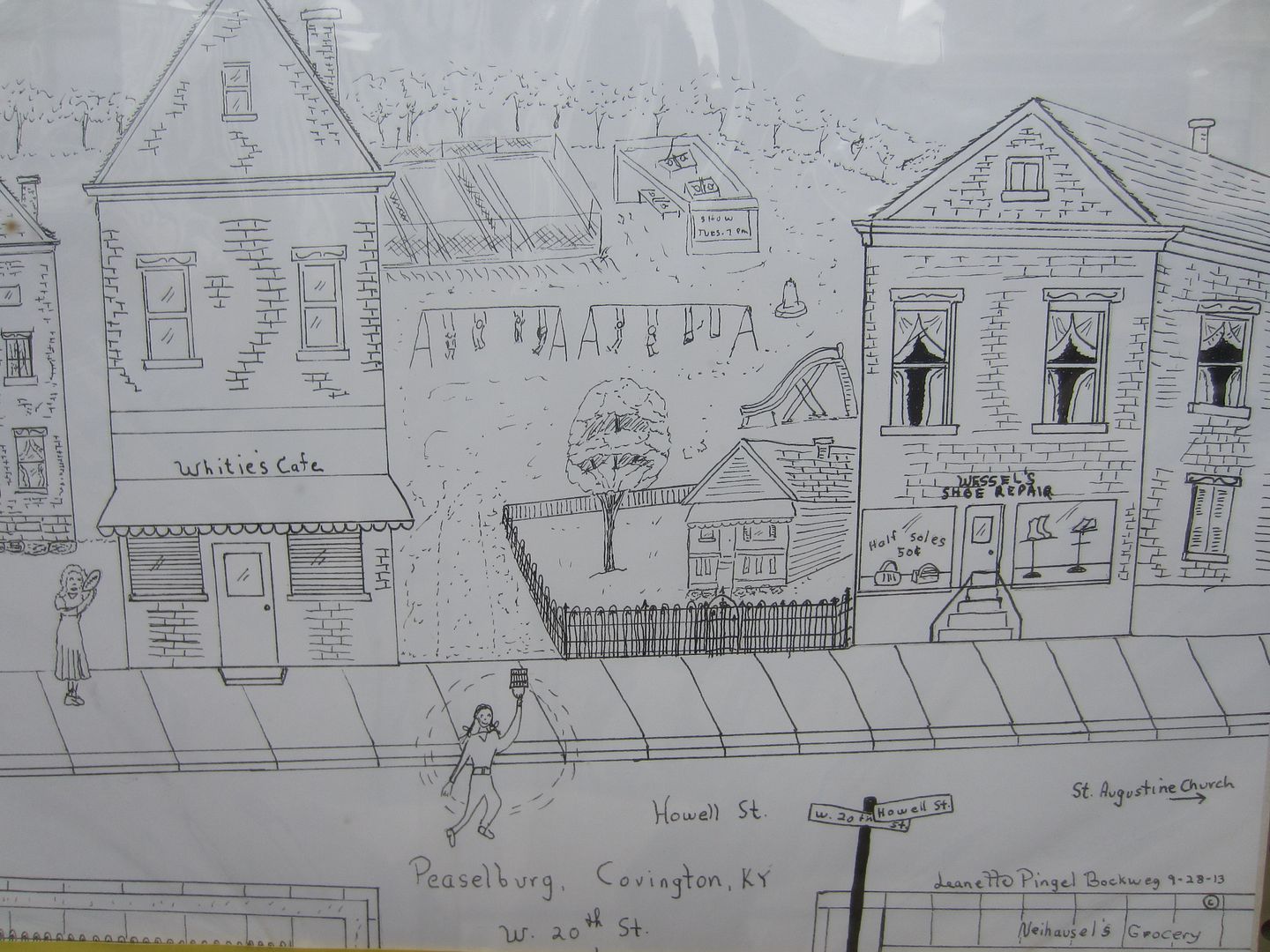 "Dad would send me down to Whitie's Cafe for a bucket of beer. Whitie would fill it up and there I would go up 20th Street swinging that beer around in a complete circle, never dropping a drip. I really didn't like beer, but I sure did like to swing that bucket. The trick was that when you were going to stop, you had to keep swinging it slower and slower just from front to back. Daddy sometimes played pinochle down at Whitie's. Mom would tell us to go tell Daddy that dinner was almost ready. I don't know if Daddy had a winning hand, but he would give us a token that would buy a candy bar. We ate it and went home with Pops and we ate our dinner too! Our Mother was a wonderful cook. Whitie had a mentally challenged daughter who carried a football all the time. No one ever made fun of her. I wish I could remember her name."
While the decades have erased some details, others shine through in the drawings and in Bockweg's words. With each of the twelve sketches she did of Peaselburg, she wrote an accompanying text, a sort of stream-of-consciousness telling of what the viewer sees. What Bockweg saw while growing up was a happy childhood, but not one without occasional longing. Leanette, who typically goes by the name "Lee", and her artist sister, Marita, wanted to take lessons from Peaselburg artist Eileen McCarthy who had studied under famed master and Covington native Frank Duveneck.
Lee's parents couldn't afford the lessons, so Lee was left to watch longingly through the windows as other children took their lessons in the McCarthy studio.
But the girls' mother, Hilda, continued to encourage them to pursue their dreams and their father, Leo, passed on a talent to them, as he himself was an artist of sorts in his career as a florist. Now, Marita works in water colors while Lee sticks to sketching. Typically, she is commissioned to draw someone's home. She'll take the job then pay a visit to the residence to take her own photos from which she will sketch the image. But her Peaselburg project and her drawing from memory is what landed her work on display just feet away from where Covington placed a statue of Frank Duveneck.
The Peaselburg is on special display at Klingenberg's Hardware on the Pike Street side while some of Bockweg's other works are on the Seventh Street side. The collaboration between artist and business was a chance run-in at an office supply store. Klingenberg's bookkeeper Beth Dunn was out to pick up supplies for the store's office when she noticed a woman in front of her ordering a brochure that she had created, and inside was an image of the Anchor Grill.
Dunn asked the woman about it and learned that the brochure was created for Bockweg. And now the memories of a childhood sixty and seventy years ago are on display Downtown.
"It is a way to give back to the city," said John Humpert, owner of Klingenberg's and Dunn's brother. "I see it as a way to connect to COV 200 (the city's bicentennial celebration) preparations and festivities, because of the historic nature of her subject matter."
It was also a good fit for Dunn, a folk artist in her own right who works in the video medium and who wanted to bring more such work into window displays. 
But some of the history remembered by Bockweg and reflected in her art is not recalled fondly.
Jefferson Park was a public park so it was free. We went there every day. It was at the bottom of our street, West 20th. There was one thing that bothered me very much about the park though. There were black children who lived on Jefferson Ave. that led right into the park. They would stand at the entrance and longingly look as we all played... They weren't allowed in the park. I knew this wasn't right and hoped someday when I grew up I could do something about it...
I did find myself back on Jefferson Ave. in 1969. My sister and I volunteered for the Head Start program. We were on that street trying to sign up children for that program. I held a crying black baby so that the mother could enroll her son in the program. I felt so close to God that evening. 
When we were children, the black children would play in the park in the evening even though the swings were pulled together with a chain and padlocked. One or two climbed up on the top of all that and would stand up and swing. As a child, I knew this was wrong...
Other memories are also typical of the time, but happier. They show and tell of visits from the ice cream man, trips to Jump's Candy Store, standing on the old wooden bridge at West 21st Street & Augustine Avenue when a train would blow by underneath. 
For an artist used to drawing from a photo, Bockweg has grown comfortable with doing so from memory. Her next project will focus on memories of the Lewisburg neighborhood where her husband, Dave, was raised and where she moved as a teenager. The Bockwegs raised their five sons in Covington, too.
"There was a place called Huffman's, a store where all the kids hung out," Bockweg said of Lewisburg as she begins to remember. "I used to roller skate down where Glier's Goetta is now. There was a big platform down there and we would waltz on that thing. We could really dance on that thing with our roller skates." She also plans to include St. John's Church and Covington Ballpark. 
Bockweg also plans to keep honing her craft. She had never been much good at drawing faces, but she's working on it now. While drawing them may not be her strength, Bockweg's work is sure to bring smiles to many faces that were young at the same time she was, and can now more easily remember the same sights, sounds, and smells of another time in Covington.
Bockweg's work is on display and for sale at Klingenberg's Hardware, 26 West 7th Street, Covington.