Faced With Tougher Regulations in Ohio, Sweepstakes Cafes Spring Up in Covington
Tue, 07/22/2014 - 16:36
RCN Newsdesk
Nestled between a payday loan center and a methadone clinic, is a type of business new to Covington.
H&H Internet Cafe may have a name that triggers images of a 1990s coffee shop on the west coast, but inside is anything but. To start, there is no coffee shop, though there is freshly brewed coffee, complimentary to H&H's guests. The guests on Monday afternoon were four older women sitting at a cluster of computers.
The rest of the room was full of empty computer terminals, but the shop's owner assured The River City News that it is busier in the evenings and on the weekend.
The computer screens have two rows of familiar icons: Twitter, Facebook, YouTube, CNN, and other websites that someone buying internet time may want to visit. A customer walks in, hands over some cash, gets a receipt with a PIN on it, enters the PIN into the system, and then can browse the internet. Each dollar gets you about ten minutes. If those websites are of no interest to you, though, you can click an icon in the lower part of the screen: PLAY SWEEPSTAKES.
That choice changes the screen into what looks like an electronic casino full of different slot machines to choose from. A player can wager his or her internet time, or points, and can earn more that can be turned into cash when it's time to leave.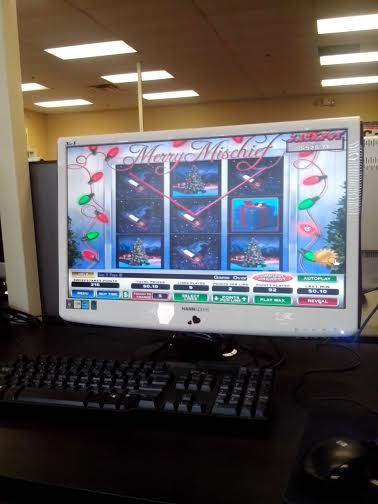 A terminal at H&H Internet Cafe/RCN
"People love these games," Howard, H&H's owner, said. He didn't want his last name used for this article. "I saw this in Cincinnati and thought, wow, this is neat."
But opening what is known as a sweepstakes cafe in Cincinnati has become much tougher in recent years after a statewide crackdown on the businesses. In Ohio, owners are no longer allowed to give out cash prizes worth more than $10. One of the ladies at H&H on Monday has already racked up more than $25 in winnings and added another $10 when she bagged the community jackpot, a sudden, random giveaway that is accompanied by graphics on a flat screen TV and a police siren.
The customers are treated favorably at H&H. Howard and another employee frequently checked on the four ladies, asking if they wanted another free hot dog fresh from the grill, or complimentary chips, cokes, water, coffee. 
H&H Internet Cafe/RCN
The customers are not playing slot machines, Howard said. "These are people who like taking a chance on winning some money," he said. "You're not spinning this (like a slot machine). This is a new technology made to look like it's spinning. The results are already determined."
And that's the difference and the legal loophole that allows sweepstakes cafes to operate in Kentucky: these games are mostly luck of the draw, such as pull tabs sold at a bingo parlor. Howard compared the games to the Monopoly promotion every year at McDonald's. 
"We're not fooling anybody. We're not trying to."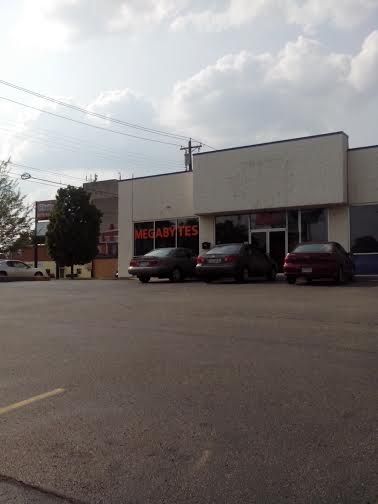 Megabytes/RCN
A block north of H&H Internet Cafe, Megabytes Internet Cafe has also opened up shop, inside the former Blockbuster video store. Like H&H, Megabytes keeps the curtains pulled so the players inside have privacy. Megabytes' owner did not return a call to answer questions.
With two similar businesses springing up within blocks of each other, a call was made to Covington City Hall about the legal status of such operations. Assistant City Manager and City Solicitor Frank Warnock said he spent time researching the issue and discussing it with Kenton County Attorney Garry Edmondson. 
"It certainly looks and smells like gambling to me, but you have to look hard at the state statutes that define gambling and compare that with what they do," Warnock said. "We determined that the use at this business walks right up to the line of what may be considered to be gambling."
Howard agreed with that assessment but maintained that he and other business owners like him were doing nothing wrong. Similar enterprises are open for business in Louisville, Bowling Green, and other Kentucky cities. Interestingly, most of Howard's players are from Cincinnati, former sweepstakes customers on that side of the river before the law made it less appealing not only to operate such a cafe but to be a regular at one. 
"We have 192 people registered. Most are from Cincinnati," he said. The average age, he said, is between 55 and 60. The appeal for that demographic is that they can sit and play casino-like games with a much smaller buy-in and a longer escape. "You can spend ten to thirty bucks and play these games for a few hours. Take twenty dollars to the casino and you're done in five minutes."
Kentucky Revised Statute (KRS) 528 governs gambling in the state. Covington zoning administrator Andy Juengling said that there are clauses in each other sweepstakes cafes' zoning permits that if it is discovered that illegal gambling is taking place on the premises, their permits would be revoked, thus shutting them down.
An attorney for the owner of Megabytes said that the cafe is legal to operate based on the statute. "The winners are pre-determined by the software program, thereby eliminating the element of chance," wrote attorney Jennifer Bush Mackenzie, in an opinion to City Hall. 
With the law seemingly on their side, H&H will continue to offer its players the opportunity to simulate spinning at such games as Wild Bill Hiccup, Buffalo Gals, Cherry Mania, and Merry Mischief. These are slot players and bingo players looking for a different type of fun, Howard said. 
"These are people who like to chance on winning some money."
Story & photos by Michael Monks, editor & publisher of The River City News