Local Officers Graduate from Sergeant's Academy, Basic Training
Tue, 08/05/2014 - 07:37
RCN Newsdesk
Two Covington Police sergeants graduated from the state's Sergeant's Academy while four other local officers completed basic training.
27 officers of Class 456 completed 18 weeks of training, which consisted of nearly 770 hours of recruit-level-officer academy instruction. Major training areas included homeland security, law offenses and procedures, vehicle operations, firearms, investigations, first aid/CPR, patrol procedures, orientation for new law enforcement families and mechanics of arrest, restraint and control. 
Basic training is mandatory for Kentucky law enforcement officers who are 
required to comply with the state's Peace Officer Professional Standards Act of 
1998. The Department of Criminal Justice Training provides basic training for city 
and county police officers, sheriffs' deputies, university police, airport police and 
others.
The four local members of the class include Anthony Seals and Christopher McGreevy of the CVG Airport Police, Joshua Denny of Covington Police, and Trevor Rohe of Kenton County Police. The entire class is pictured above.
The agency also provides in-service and leadership training for Kentucky law 
enforcement officers and public safety dispatch training.
The Department of Criminal Justice Training is a state agency located on Eastern 
Kentucky University's campus. The agency is the first in the nation to be accredited 
under the Commission on Accreditation for Law Enforcement Agencies' public 
safety training program designation.
DOCJT
also earned accredited through the 
International Association for Continuing Education and Training in 2013 – making 
it the nation's only law enforcement training academy to achieve dual accreditation 
by two independent accrediting organizations.
Covington Sergeants Complete Work at Academy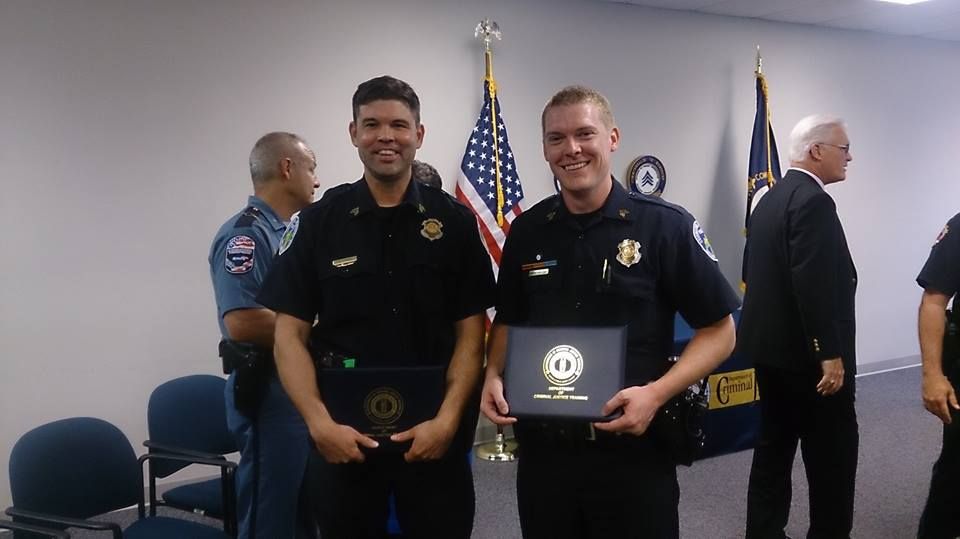 Sgts. Bryan Frodge (left) and Justin Wietholter
Covington Police Sergeants Bryan Frodge and Justin Wuetholter were among nineteen from across Kentucky to complete the state Academy of Police Supervision.
APS, also called the sergeant's academy, is a three-week, 120-hour training 
program targeted for newly promoted sergeants or officers who are on 
their agency's promotion list to become sergeants. 
While in APS, students participate in classes focusing on the role of a 
supervisor, as well as leadership, resolving conflict, managing diversity, 
monitoring officer performance, professional image, legal issues for 
supervisors, ethics, interpersonal communication, effective written 
communication, making decisions, solving problems, managing critical 
incidents, public speaking, emotional survival, budgeting, media relations 
and others.
The graduating class is the 57th to complete APS since the program began 
in 2003. 
Georgetown Police Department Chief Michael Bosse served as guest 
speaker. 
Matthew
Thomerson
with the Louisville Metro Police Department served as 
class speaker.
APS is a stepping stone to DOCJT's Kentucky Leadership Institute, which 
consists of a series of three progressive leadership courses aimed at 
developing and shaping future and current leaders in law enforcement 
agencies across the commonwealth.