Rick Robinson's Second Time Around: The Family Plantation from 1600s
Wed, 08/06/2014 - 09:45
RCN Newsdesk
Northern Kentucky author & attorney Rick Robinson is back in Washington, DC where he spent years on the staff of then-Congressman Jim Bunning. As a busy staffer on the Hill, it's easy to miss the beauty of our nation's capital. And that's what happened to Rick. This time, he vows to take it all in - and share it with you in "Second Time Around".
My dad, Robert "Bucky" Robinson, was always interested in trying to figure out who was the first Robinson to come to America. As best as Dad could tell from his research, his ancestors had been living in Boone County since it was a part of Virginia. It was Dad's grandfather who broke the trend and moved the Robinson family to the big city of Ludlow. Still Bucky always wanted to know where we came from.
In my political thriller Writ of Mandamus, one of the characters uses Ancestry.com to determine the background of one of the bad guys. At that time, a friend of mine showed me how easy Ancestry was to use by quickly tracing back the Robinson family tree. I had forgotten about the work he had done on the Robinson family tree until I started working in DC last year. I took a couple of nights and expanded the research. It led me to my 7X great-grandfather, Christopher Robinson, who crossed the Atlantic in 1668 from England.
About a decade later, Christopher Robinson purchased 300 acres just outside of Urbanna, Virginia, and established Hewick Plantation – named after his family's estate in England.
This weekend, I visited Hewick Plantation. I had goose bumps as I walked the grounds, knowing I had completed my dad's quest. The photos below are the closest thing to a selfie I'll ever publish in RCN. 
But I have renamed my house - Hewick on the Ohio. My wife is objecting to placing an illuminated crest 
on the driveway.
(
Pictured above: 
The historical marker just outside the entrance to Hewick)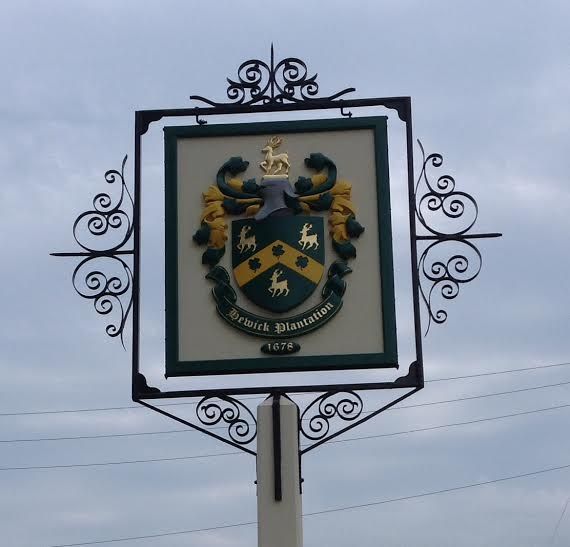 Today Hewick Plantation is a wedding reception venue marked by the family crest. Interestingly, Dad 

had discovered the crest via his research.
For more columns and stories by Rick Robinson, click here.
For more on Rick Robinson's award-winning books, visit his Amazon page here and his website here.