County Clerk Draws Challenge from Libertarian Candidate
Wed, 08/13/2014 - 11:14
RCN Newsdesk
There will be a competitive race for Kenton County Clerk in November.
Libertarian Chris Robinson, of Covington, collected and submitted more than the necessary number of signatures and will challenge Republican incumbent Gabrielle Summe.
"I just think we can do things better," said Robinson, 41. "I'm all about being transparent to the people. Let's actually show what transparency means."
"She was running unopposed and I want to give people a choice. ...Why are we limiting ourselves to a two party system? I don't care if you're a Communist, get out there and get on the ballot."
"We're providing the choice," said Ken Moellman, Chairman of the Libertarian Party of Kentucky, who accompanied Robinson to file his candidacy papers on Monday. "The bulk of the people would have no say because it was decided in a primary."
Most of the Kenton County-wide races were decided during the Republican primaries in May. No Democrat ran for Judge-Executive, any of the three county commissioner seats, or County Attorney. Independents and third party candidates have until later in the year to file, the deadline for which was Tuesday. 
Robinson plans to be competitive. "I think we've got a tremendous shot," said the IRS employee who lives on Banklick Street. He expects support from Democrats and from tea party-oriented Republicans angry with Summe over their effort to dissolve the Northern Kentucky Area Planning Commission (NKAPC). Summe's office said that it could not verify the acceptable number of signatures to place the dissolution on the ballot.
"I think we have a real opportunity to win," Robinson said.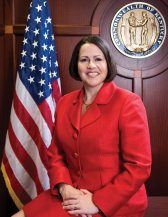 Summe/provided
Summe, meanwhile, plans to run a competitive reelection campaign of her own.
"I've done it before," she said Tuesday. Summe points to her efforts to scan six decades worth of deed records and will soon follow up with mortgage records, the scanning of marriage licenses all the way back to 1840, and her increasing the hours and services available at the Independence location of the clerk's office.
"People are utilizing Independence more because easier to get to because of (the area's growth)," said Summe, currently finishing her first four-year term. She added staff and extended morning hours each day and evening hours on two days of the week.
"We've made some substantial changes," Summe said. 
Not only does a county clerk have to run for election, the position is also responsible for handling local elections. That's another task Summe points to as a success during her tenure, with better training for poll workers and with both offices working as troubleshooters on election day.
Written by Michael Monks, editor & publisher of The River City News
Photo: Chris Robinson (front right) files his candidacy at the Kenton County Clerk's office with Ken Moellman/RCN