That One Time in the 1990s Where We Almost Had Passenger Rail from Covington to Blue Ash
Thu, 08/14/2014 - 13:12
RCN Newsdesk
The Commonwealth wants to hear from you about the Kentucky Transportation Cabinet's draft 2014 Kentucky Statewide Rail Plan, a highlight of the state's current passenger and freight rail connections and plans for the future. 
Documents attached to the request for feedback show just how close Northern Kentucky came to being connected by light rail passenger service to Blue Ash, north of Cincinnati, and also to Louisville and Lexington.
As the region grapples with its largest transportation issue, possibly ever, in the $2.6 billion Brent Spence Bridge Corridor Project, it is difficult not to wonder if congestion on the critical interstate artery would not have been alleviated by such a rail proposal.
The documents created by KYTC's Division of Planning, Multimodal Programs Branch, which partnered with consultant Parsons Brinckerhoff in their creation, don't lay ou tmuch in the way of ambitious recommendations.
But just a decade and a half ago, government officials were thinking big in terms of passenger rail.
Perhaps too big. Projects that would have impacted Northern Kentucky were deemed to costly or too financially risky to proceed.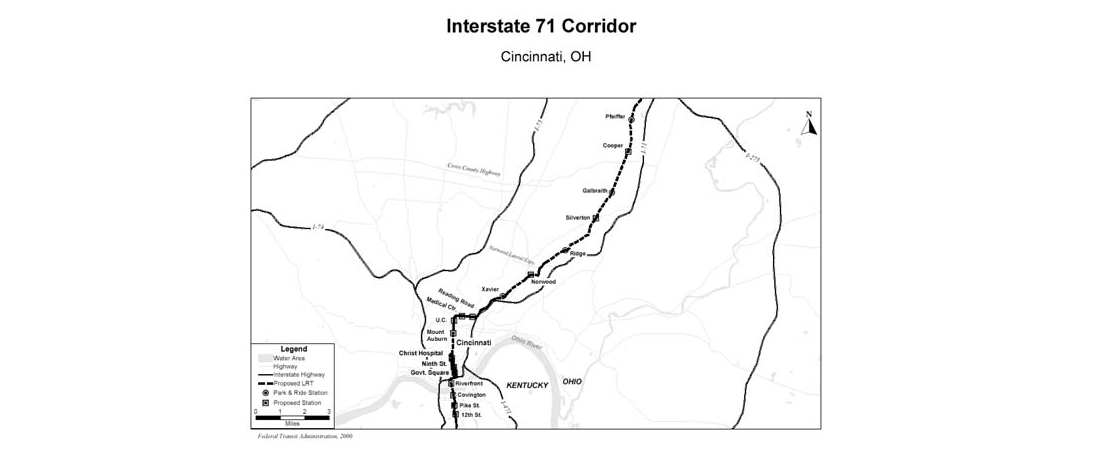 It was March of 1998 when the Ohio-Kentucky-Indiana Regional Council of Governments (OKI) completed what was known as the I-71 Major Investment Study (MIS), selecting the Locally Preferred Alternative that recommended a 43-mile Light Rail Transit (LRT) system that would have included a 19-mile Minimum Operating Segment (MOS) stretching from Twelfth Street in Covington, north to Downtown Cincinnati, ending at Grooms Road in Blue Ash.
There would have been 24 stations.
OKI included the project in its long range transportation plan and its conforming transportation improvement program. Using $5.8 million in federal dollars from the US Department of Transportation, the Southwest Ohio Regional Transit Authority (SORTA) purchased several portions of active and abandoned railroad right of way for the proposed LRT project, according to the report released by KYTC.
The Federal Transportation Authority in December 1998 approved the initiation of preliminary engineering and a Draft Environmental Impact Statement (DEIS) for the MOS between Covington and Blue Ash. Dubbed the "Cincinnati/Northern Kentucky Northeast Corridor", the project was authorized for final design and construction. The United States Congress appropriated $9.75 million through Fiscal Year 2001 for the effort.
However, further analysis by the Federal Transportation Authority concluded that that the project was not cost effective, that there was no transit-supportive land use policies in the corridor, and that there was no local financial commitment to building and operating the proposed system.
The FTA rated the project as "not recommended", and with no more federal dollars, it was abandoned.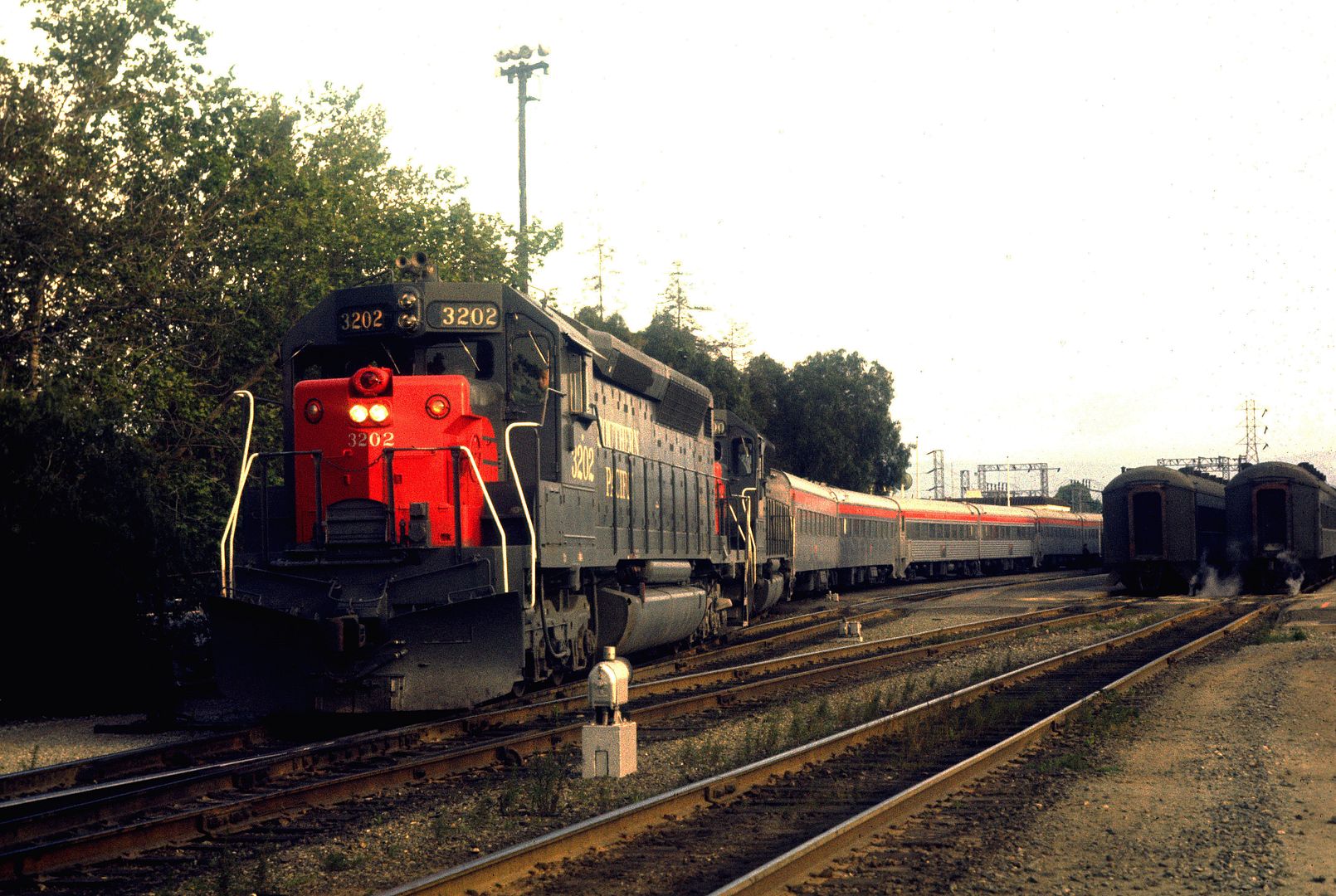 Via Wikipedia
That project from 1998 was not the only proposal that would have connected Northern Kentucky to a new rail line.
A year later, in 1999, the Kentucky Transportation Cabinet performed a review of high-speed rail services, proposals, and a preliminary assessment of the potential for high-speed rail transportation between Lexington, Louisville, and Covington. Connections to Frankfort and Cincinnati were included in the study.
The estimated $5.48 billion project was expected to bring 94,000 passengers annually with operating costs of roughly $40 million each year. Annual revenues were expected to be between $5.5 and $7.7 million with fares set at $34.50 to and from the cities of Cincinnati, Lexington, and Louisville. A passenger could have gone to and from Lexington and Frankfort for $6.50. 
With those fares, the project would have only returned 15-percent of its operating costs, the study concluded. Additionally, the adjacent and parallel highways were determined to offer faster travel times and speeds, making it difficult to attract sufficient ridership to support operating costs.
Again, a local rail project was abandoned.
KYTC, however, reports that it may be desirable to re-examine the proposed service if the Cincinnati to Chicago leg of the Midwest Regional Rail Initiative to become a reality and prove to be successful. KYTC reported that the project has not been pursued beyond the study stage.
So, what do you think about passenger and other rail issues in Kentucky? View the full plan by clicking here. You have until September 16 to offer comments to:
KYTC Division of Planning
Freight, Rail and Waterways Coordinator
            200 Mero Street, Frankfort, KY 40622
Email: [email protected]
Fax:  502-564-2865
And let us know, too, in the comments below or at The River City News Facebook page, Twitter feed, or in our email inbox!
Written by Michael Monks, editor & publisher of The River City News