Threat of Violence Inspired by Movie Creates Internet Chaos in Louisville
Sat, 08/16/2014 - 08:52
RCN Newsdesk
Louisville was the top trending topic on Twitter for most of Friday night.
Why?
Because widespread media attention gave credence to a teenager's joke that the city would be caught in the grips of a "purge", inspired by the 2013 film The Purge in which society is free of emergency services for twelve hours and crime runs rampant.
There was no official purge scheduled, but hilarity ensued on social media. Lots of Twitter users tapped into their inner comedian:
And here is #LouisvillePurge trending nationally: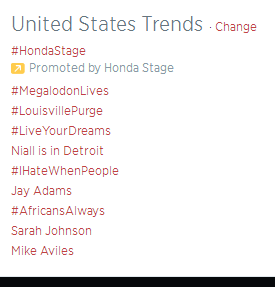 But all kidding aside, some people were really freaking out. #PrayingForLouisville was a hashtag used by Twitter folks asking for divine intervention as they believed the streets of Louisville were running red with blood.
#LouisvillePoliceScanner was also a trending topic on Twitter as the nation listened in to all the police calls. Anything phoned in on Friday night began to be discussed as the fake purge unfolded, including a woman in a wheelchair being hit by a vehicle, an incident at a Taco Bell, and, apparently, a sexual device being thrown at someone's window:
But seriously, it wasn't all a joke. Louisville Police were taking the Purge threats very seriously. It even affected a local high school's planned scrimmage football game in Louisville. Simon Kenton was supposed to play St. Xavier, but the game was canceled over the Purge threats. Seriously:
(Kenton County Schools Spokesperson )Jessica Dykes said the school district made the decision because student safety is its number one concern.

"We had heard via social media about 'The Purge,' and we were in conversations with St. X all day and all morning," said Dykes. "Ultimately we made the decision based on what was best for our kids and the safety of the students."
The game is now going to be played at Simon Kenton in Independence at 11:30 a.m. on Saturday. Hopefully, #IndependencePurge doesn't cause that one to be canceled.
Meanwhile, all this started with one post online by one Louisville teenager:
"It was originally supposed to be just a fun thing, I never thought it'd get as serious as it did," the student told the paper. "I was really shocked the first time I saw local media covering it."
If nothing else, it sure earned Louisville some national attention, for better or for worse.
We'll end this post with a video, allegedly from the scene of the #LouisvillePurge:

Follow The River City News on Facebook, Twitter, or email us!