Company Celebrating 15 Years with Party in Downtown Covington
Sun, 08/17/2014 - 18:49
RCN Newsdesk
It was 1999 and the technology world was facing an international news and industry event: Y2K.
When the clock ticked upon midnight on the first day of the new millennium, would everyone's computer crash? 
It was a busy time to be in information technology. Brent Cooper founded his company out of an office in his Ft. Thomas home and spent the daytime servicing his clients and the evenings billing them. In the first year, the entrepreneur who had worked in systems management after graduating from the University of Kentucky brought in $280,000 in sales.
After tackling Y2K and bringing on an employee, the pair that made up C-Forward rented its first office. Though they were experts in Windows, the tiny rented room didn't have any. That was OK, though, because neither of them was able to spend too much time there. They were too busy. 
In year two, C-Forward had $600,000 in sales. 
After developing a relationship with Casey Barach and Tom Prewitt and their new Northern Kentucky eZone, Cooper and his company began offering seminars at the new Covington technology hub, helping people understand how best to use their technology. C-Forward generated many new customers through the seminars, but most importantly, Cooper met a fellow entrepreneur, Norm Desmarais of TiER1 Performance Solutions which was housed at the eZone.
Together, they bought a building at Fifth Street and Madison Avenue and shared working space. Not long after, TiER1's growth forced them to find new space and the company has now grown into a major presence inside the River Center towers.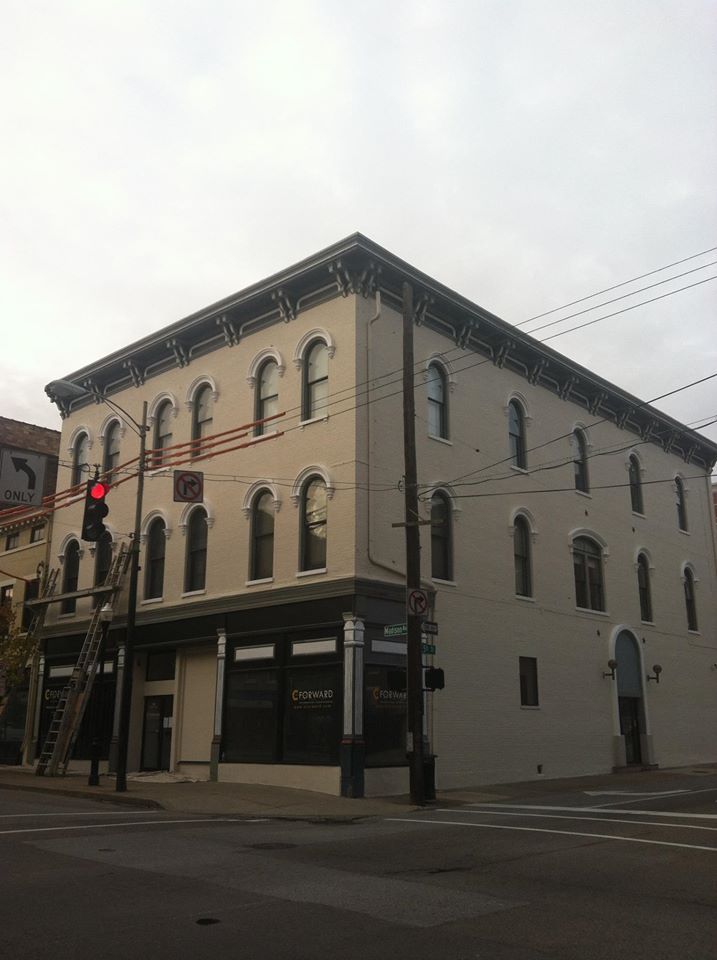 C-Forward's home during a paint job last year/File
Meanwhile, back at 5th & Madison, C-Forward was left with room to grow. Though it welcomed other entities like the Covington Business Council to share the space, C-Forward has grown into every corner of the building and now has 34 employees. It maintains impressive year over year growth, with a 16% increase in sales in 2012, a 28% increase in 2013, and now 30% this year.
It is a $4 million company.
"We've tripled in size since we moved to Covington," Cooper said. And that's cause for celebration.
On Friday, August 22, C-Forward will throw a party in its parking lot. Creative Services Specialist Jeremy Schrand said there will be live music, food trucks (and booths from Downtown food businesses), and remarks from Mayor Sherry Carran, Covington Business Council executive director Pat Frew, and Northern Kentucky Chamber of Commerce Chair Debbie Simpson. 
There is much to be said about the company that grew out of a home office. Its building's walls are adorned with the many news articles written about it and the awards the company and Cooper have been given. Every major business award in Greater Cincinnati is among the honors inside the building.
The biggest trophy for a company that cares so much for its community is seen through its windows. When C-Forward moved to 5th & Madison, the Odd Fellows Hall across the street had just been destroyed by fire. It is now rebuilt and is an important part of a Downtown in the midst of a serious renaissance. 
"I think it's symbolic that we're having our fifteenth anniversary the same week that the Marx Building opens, and UpTech announces its third class, and Bad Girl Ventures is coming in," Cooper said. "We've got some real momentum."
The C-Forward team frequents the new Blend coffeehouse and has the cafe cater the company's Friday meetings. 
C-Forward's growth is also shared bythe company. Those employees and Cooper have given back nearly $600,000 to the community through donations, sponsorships, and in-kind hours. "I'm really proud of that," said Cooper, who recently completed a stint as interim president of the Northern Kentucky Chamber of Commerce, is chair of the United Way annual campaign, and is an advocate of early childhood education.
Cincinnati Enquirer article about C-Forward hangs inside company/RCN
The company will also have a new sign on its east wall, part of the new CoSign project coming to Downtown Covington.
It's a far cry from a home office or a small window-less rented room. As changes have come to the technology industry, C-Forward has been prepared and poised for growth. "Over the years, we've seen everything from the emergence of viruses and spyware to working in the cloud," Cooper said.
"Our slogan now is We make IT all work together and that sums up what we do," he said. "We'll figure out a way to make you productive."
Written by Michael Monks, editor & publisher of The River City News
Photo: Brent Cooper of C-Forward/RCN