Rick Robinson's Second Time Around: The Statues of DC
Sun, 08/17/2014 - 19:15
RCN Newsdesk
Northern Kentucky author & attorney Rick Robinson is back in Washington, DC where he spent years on the staff of then-Congressman Jim Bunning. As a busy staffer on the Hill, it's easy to miss the beauty of our nation's capital. And that's what happened to Rick. This time, he vows to take it all in - and share it with you in "Second Time Around".
As I get older, I find myself becoming more and more like my Old Man. To those that knew him, such a self-comparison is not by itself a bad thing. He was a good man whom I hope my kids look to as a role model in their lives.
However, like most parents I suppose, he did have certain little odd habits seemingly designed to do 
nothing more than irritate his children. One such habit was stopping to read each and every monument 
inscription, plaque, marker, or sign denoting the historical significance of a given spot. If something had 
happened alongside any road in America, Dad wanted to stop to read about it. 
Now that I'm on my second time around DC, I find myself doing something quite similar. I stop at every 
circle, statue, monument, and square to see who it's dedicated to and why. Seeing as how some of these 
landmarks are located in traffic circles with no crosswalks to them, I've taken my life into my hands a 
few times. Waiting for breaks in DC traffic to see a statue dedicated to someone most people don't even 
remember forces me to consider scientists' theory that everything really is genetic. 
Suicide by traffic circles aside, I find myself compelled to read inscriptions detailing the rich history of 
our nation's capital. The only difference being is I have no children at my side to annoy. So if genetics 
really do determine our lives, I really must have the kids visit more often to accompany me on my kitty 
hawking trips. If it was good enough for my Old Man, it's good enough for me. 
Over the years, the Jefferson Monument has become my favorite spot on the Mall. I've visited there 
more than any other spot in DC. Thus, I was a bit surprised to recently find this memorial to George 
Mason (pictured above) hidden by a small grove of trees along the Potomac only a couple hundred yards away from 
TJ. An anti-Federalist, Mason is often called the Forgotten Founder. He did not sign the Constitution 
because it did not abolish slavery. The location is appropriate as Jefferson once called Mason the wisest 
man of their generation. His quote about risking the last penny of his fortune on independence is on the 
sign at the entrance to the memorial.
This thirty foot relief of Dr. Martin Luther King is known as the Stone of Hope. Its dedication in 2011 
caused quite a controversy when The Washington Post reported that one of King's reputed quotes 
etched on the stone was actually paraphrased. 
In a 1968 sermon Dr. King said, "If you want to say that I was a drum major, say that I was a drum major 
for justice. Say that I was a drum major for peace. I was a drum major for righteousness. And all of the 
other shallow things will not matter." The inscription on the Stone of Hope read: "I was a drum major 
for justice, peace and righteousness." Eventually the Department of the Interior ordered the words 
removed and replaced by the true quote.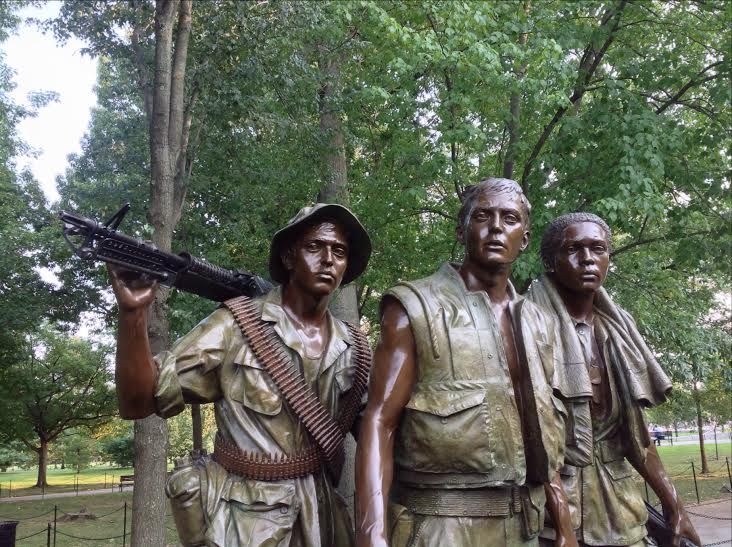 The bronze of the Three Soldiers is one of the most moving statues in DC. It was commissioned as a 
result of negative reaction to the design of The Wall. At the time The Wall was being built, many people 
thought it an insufficient memorial – never grasping the emotions it would eventually elicit. Anyone 
who has visited this portion of the Mall has gazed in awe at the three men staring over at the names of 
their fallen comrades. I put this photo in this edition, because I recently discovered an inscription by the 
statue that leaves me still pondering the breadth of its full meaning:
"In Memory of the men and women who served in the Vietnam War and later died as a result of their 
service."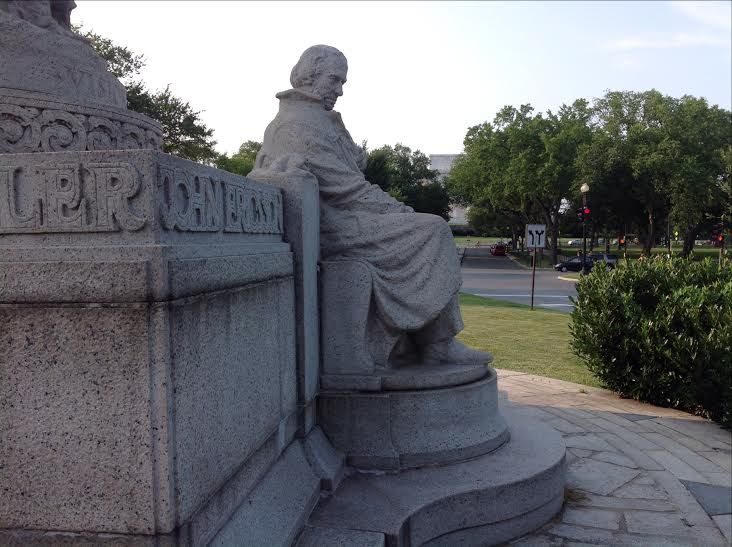 You can find monuments to just about everyone and everything in DC. I had driven past this beautiful 
stone sculpt many times. Recently I fought through traffic to visit the small circle it sits upon. Within 
sight of the Lincoln Memorial the statue is of John Ericsson inventor of the – wait for it – screw 
propeller. I am sure that the folks at the John Ericsson Society in New York (I'm not making that up) 
believe their namesake had quite an impact on nautical design and bass fishing. But I don't know if I 
would have placed him alongside Lincoln. 
This crest at the entrance to Arlington National Cemetery made me wonder. When did we go from War 
Office to Department of Defense? The answer: September 18, 1947. Following WWII, America decided 
to abandon the word "war" when referring to the civilian leadership of the military.
For more columns and stories by Rick Robinson, click here.
For more on Rick Robinson's award-winning books, visit his Amazon page here and his website here.
Don't miss Rick Robinson's Alligator Alley!
His contemporary novel Alligator Alley is a story of growing up in a small Kentucky town (dare we say Ludlow) and won the Grand Prize at the Great Southeast Book Festival in New Orleans. For more on this award-winning locally-inspired book, 
click here
.