Federal Agents Interview 3 Employees at Holmes Middle School
Tue, 08/19/2014 - 16:24
RCN Newsdesk
Federal agents from the Drug Enforcement Agency (DEA) have visited Holmes Middle School twice since the beginning of the school year.
(This story has been updated: Click Here)
Three members of the staff have been questioned by the agencies, including one teacher who later resigned. The current status of the other two employees is not currently known.
Covington Independent Public Schools Superintendent Alvin Garrison sent an email to the district's employees on Tuesday, and The River City News obtained a copy. "At this point, the federal agents have not shared with us what their investigation entails," Garrison wrote. "I also would like to stress that the district has a policy that requires criminal background checks of all employees."
"We are trying to find out more information. As we learn more, we will share what we can."
The teacher was questioned last week, the first week of school. Federal agents returned to the school on Tuesday to talk to two more employees. Those employees are not teachers, The River City News has learned.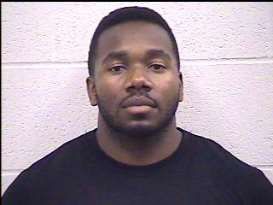 Quincey Tyus/Kenton Co. Detention Center
Quincey Tyus, 26, was arrested by the Northern Kentucky Drug Strike Task Force on Tuesday afternoon. According to Covington Independent Public Schools, Tyus is employed as a security assistant at the school. He is charged with trafficking 10 or more D.U. opiates and is scheduled to appear in court on Wednesday morning.
The scope of the investigation by the federal agency is not yet clear, but when more information is obtained it will be posted at The River City News. Follow us on Facebook, Twitter, or email us.
-Michael Monks, editor & publisher