Education in Covington Strikes Optimistic Tone at Annual Business Council Dinner
Fri, 08/22/2014 - 08:46
RCN Newsdesk
Hundreds of local movers and shakers listened as Northern Kentucky University President Emeritus, Dr. Jim Votruba, painted an optimistic picture of education in Covington.
He talked about his arrival in 1997, and the opportunity to build something in Northern Kentucky. "It was clear that if we were to have a thriving region, we had to have a renaissance in the urban core," Votruba said. "That renaissance can be seen by everyone in this room."
Votruba, who retired as president two years ago, pointed out all the growth and organizations that are moving Covington toward better times: UpTech, the Catalytic Fund, and Gateway Community & Technical College and its urban metro campus in use, in development, and under construction. "It's one thing to talk the talk and another to walk the walk," Votruba said of Gateway's ambitious $80 million campus plans. "This community will be better because of Gateway's presence."
Education was, naturally, Votruba's focus. "At the heart of it all, Covington schools continue to advance. Nothing defines the heart of a community like the strength of its schools," he said. The former president tied the success of educational institutions to "high-performing communities" and outlined what it takes to be such a thing. "Everyone has a strategic plan but you have to execute," he said.
Votruba/RCN
"I think communities have dispositional problems. Most high-performing communities blow through those."
One attribute of a high-performing community is courage, a familiar refrain used by former Mayor Chuck Scheper, who joined his wife, Board of Education Member Julie Geisen Scheper (who also spoke), at the dinner. "Leaders see the whole community. They can fly at 30,000 feet and at the tree tops." Votruba called such leaders "civic entrepreneurs" and stressed the importance of "keeping hope alive".
With 6,000 manufacturing jobs unfilled in Northern Kentucky, Votruba urged business and community leaders to ensure a proper pipeline for the region's young people to access the appropriate training, which is available at Gateway. "Quality education affects every phase of our community life," he said. "Business leaders in this room have to produce the workforce to compete."
For K-12 schools, the community must be invested, he said. "Schools can't do it alone. Schools are too important to leave to professional educators alone," Votruba said. "Great schools have all hands on deck."
They must have high expectations, strong school advocacy, public support, active engagement of adults, early childhood education, and academic preparation, Votruba continued. "The good news is, Covington is making significant progress," he said. "We can't sit back and let others shoulder the burden."
Julie Geisen Scheper followed Votruba and complimented her fellow board members. "We have a very highly talented and motivated school board right now," said Geisen Scheper, appointed to the board in 2012 and up for reelection in November. "We are a school board that works together and we respect each other even when we disagree."
She said the current board members are visible in more places than official meetings. You see them at open houses, school plays, or you can chat with them at the grocery store. "The board we are trying to be is informed, involved, and engaged," she said. 
Geisen Scheper pointed to evidence of positive academic growth in the Covington Independent Public School district: 110 out of 168 2014 graduates went on to college or the military with $2.1 million in scholarship money, including a Gates Millennial Scholar; and 477 college credits awarded before graduation. "These successes are the results of much collaboration," she said. "You will continue to see progress in the Covington Schools."
Covington Partners, an organization founded by district administrator Janice Wilkerson that recently celebrated its 15th anniversary, was the focus of the evening. It has worked over the years to decrease the use of alcohol, tobacco, and narcotics among local teens, and its results show progress. They have also matched 200 mentors with Covington students, though more students are waiting to be paired up. Geisen Scheper is a long-serving board member of Covington Partners. She recently watched her mentee, whom she was paired with when the girl was in eighth grade, graduate from college, the first from her family to do so. Chuck Scheper recently helped his mentee move into a dorm room at NKU.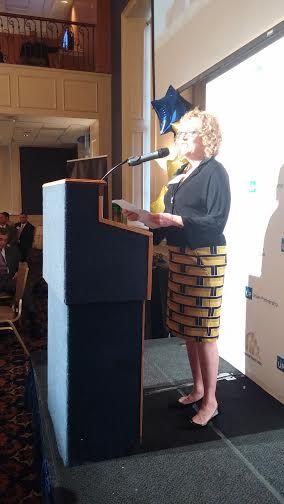 Geisen Scheper/RCN
"There are many good things happening at Covington Schools and we want to keep that momentum going," Geisen Scheper said. "So many of our young people are yearning for a connection with someone. Please help us make that connection."
For information on how to become a mentor, click here: Covington Partners
Other highlights from the evening: 
Local philanthropist Oakley Farris will turn 90 this weekend and was the target of an impromptu singing of Happy Birthday by the 300 people in attendance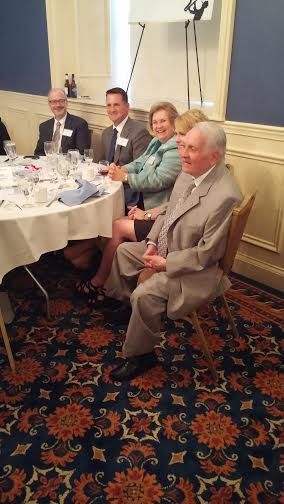 TiER1's Norm Desmarais, a co-chair of COV 200, was honored with the Covington Business Council's annual award. "Everything in my life has been due to great people," Desmarais said. "Covington is full of them."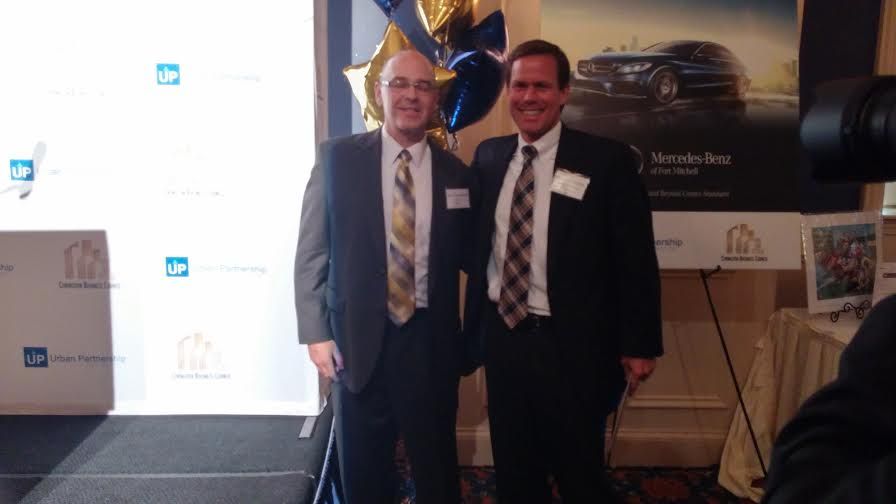 Dan Bell of Mercedes-Benz Ft. Mitchell, alongside emcee Trey Grayson (president of the Northern Kentucky Chamber of Commerce) drew the winning raffle ticket for the right to win a month's use of a new Mercedes. The winner? Former Holmes High School principal and current Covington Schools administrator Bill Greine.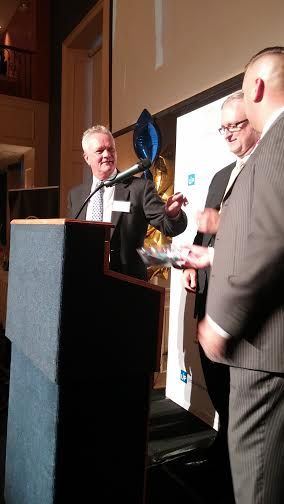 More photos: