New Co-Working Space Opens in Covington
Wed, 08/27/2014 - 19:10
RCN Newsdesk
For those who work from home, being productive in such familiar surroundings can be both distracting and isolating. Fortunately for them, there is a new business in Covington that can solve such a dilemma.
Platform 53 is a coworking space that offers a chance for entrepreneurs and mobile workers to do their jobs and remain connected to their community and environment. Platform 53 offers memberships to individuals that need a space to work but still interact with other people where they can collaborate on projects or simply find inspiration from one other.
"What separates us from traditional executive office spaces, is that we work here to put the community first and help connect people and the space enables that." said co-founder Stacy Kessler. "We're not just selling desks and chairs and the internet. People can get that at home, they come here because they want to connect with other people."
The building is a renovated house on the corner of 6th Street and Bakewell Avenue in Mainstrasse Village and has been uniquely decorated with hip re-purposed furnishings blended with bright, modern graphic artistic elements. The space has multiple rooms designed for different purposes, such as the first-floor parlor room with community tables and work spaces, a den intended for meetings and group work, a study for the quiet types and an attic lounge complete with sliding white boards and comfy couches. It also has a kitchen with a coffee maker and accessories and outdoor picnic tables with umbrellas. Beer and wine are also permitted in the building.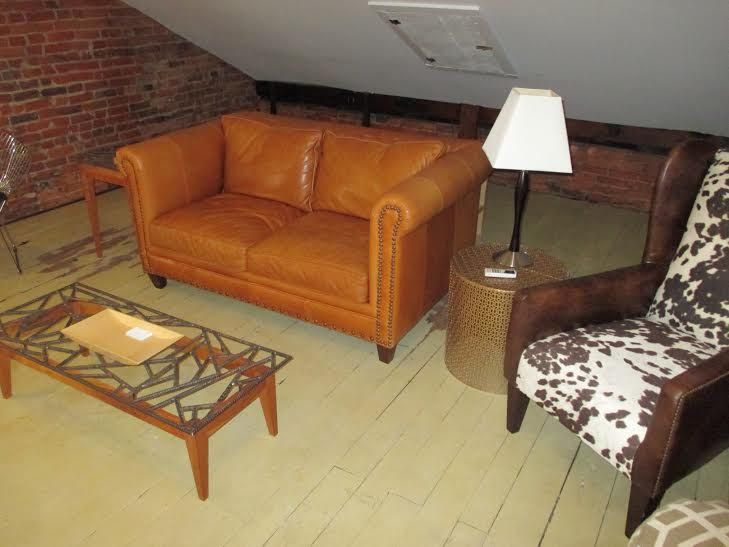 The company was recently founded by co-founders Kessler and Adam Dean in 2012. The pair spent 18 months at various events to spread the word on coworking and to make sure that people were interested in the endeavor. Once that was established, they rented the house for the business in Covington and opened its doors with a launch party on Wednesday.
Kessler said that while she worked from home, the need to get out and be around other working people became important to her.
"I knew that working from home was great two days a week but any more than that was just too distracting and not inspiring for me. So I started looking up if there was anything in the city that was like this," she said.
Memberships are tiered based on the customers needs. The building is accessible 24 hours a day and members who purchase a full membership may come and go as they please at all hours. A full monthly membership costs $249. Part-time memberships allow folks to use the facility eight days of the month for $149. There is also what is called an occasional membership that is good for four days a month at $79 and a networking membership that permits usage of the space one day a month but also allows access to the company's networking events for $39.
Visits are kept track by how often people log on to the internet and also by how often members access the key code on the building's doors.
Kessler pointed to the size of the current space as a potential future concern. She said that the company has already discussed with developers of the possibly of obtaining loft-type spaces in a larger building should the business outgrow its current set up. The company would like to offer designated seating and suites to interested individuals, but can't in their current location. As of now, Kessler says there are already over a dozen members signed up and that she expects more after the launch party and official opening on Tuesday, September 2.
"Some people come to work, but most people come because they want to be connected to a larger community," she said. "People often work from home and really just feel isolated all the time. So this is a way to get out of isolation and be surrounded by people that can inspire them and just have a good energy about them."
Being in Covington is also important to the company, according to Kessler.
"We want to expose people from across the river to Covington because it's going through an awesome renaissance. Mainstrasse is already great and we want to bring people down here to see everything it has going on," said Kessler.
If everything goes as planned for Platform 53, it too will become one of the many success stories cropping up in Covington and could become the work setting of many entrepreneurs and independent professionals of the area.
Platform 53 website and Facebook.
Story & photos by Bryan Burke, associate editor