Leaders of Northern Kentucky's Urban Cities Flex but Want Bigger Muscles
Thu, 08/28/2014 - 20:10
RCN Newsdesk
The Southbank is rising, and rapidly.
But not quite as rapidly as it could with more resources from Frankfort, local leaders told the powerful Appropriations and Revenue Committee from the Kentucky General Assembly. The committee held a hearing at the Northern Kentucky Convention Center, an opportunity seized by Southbank Partners as Developers Day in which Covington, Newport, Fort Thomas, Bellevue, Dayton, and Ludlow showed off their growth -- and their weaknesses in a day-long event.
"We hope you notice that the streets are not paved with gold," retiring State Senator Katie Stine (R-Southgate) told her colleagues on the committee.
Northern Kentucky is the apex of the Commonwealth's "Golden Triangle", along with Louisville and Lexington. But too often, local leaders have said, legislators in Frankfort think the region has enough.
Northern Kentucky, particularly its urban cities, could be doing so much more, civic, education, and business leaders said Thursday.
"Our urban housing markets are not reaching their potential, urban business districts are suffering from disinvestments, we have hundreds of vacant sites and buildings, we have lost jobs and population to Cincinnati which is clearly on an upswing due to the fact that city's investment in (new office space, riverfront developments, parks)," said Jeanne Schroer, president & CEO of the Catalytic Fund, an entity that has raised millions in capital to leverage for millions more in urban development, to the committee. "There is evidence that we are losing our competitive position relative to Cincinnati. We need comparable investment on this side of the river."
"There is a compelling case to invest in our urban core."
It's true that Cincinnati has captured the hearts of national media which have profiled the Queen City in multiple magazine and newspaper write-ups lauding its comeback, its resurgence, and its forward-thinking, citing successes such as the streetcar development, the revitalization of Over-the-Rhine, the recreation of Washington Park, the Banks and Smale Park on the riverfront.
Large employers want to locate where the quality of life is high. Large employers such as Omnicare and Nielsen bolted for Cincinnati, merely a few hundred yards from their previous homes in Covington, after Ohio Governor John Kasich waved a bag full of incentives at them.
"That impacts users for product," Schroer testified, "because often they are being lured by very aggressive user incentives that Ohio has put in place over the last several years and our Northern Kentucky Southbank cities, our cities are very small and we are competing with Cincinnati which is a very large municipal entity. If they want to subsidize a project and write a $1 million check to do that, they have the resources to do it, and they do it. Our cities have small populations and simply cannot do that even though we have comparable locations and real estate fundamentals. We just cannot offer to help accelerate those projects."
Jeanne Schroer testifies Thursday/RCN
State Senator Chris McDaniel (R-Taylor Mill) said that Cincinnati "stole" Omnicare and Nielsen and that the companies weren't lured.
"Fountain Square, the Banks, Over-the-Rhine, major parks, all in the downtown urban area," Schroer said. "I truly don't think that Omnicare would have entertained that move if they hadn't seen all of that investment and everything that's going on and I am told that many companies are attracted to Cincinnati specifically because of that investment, because their employees want to work in that kind of vibrant environment."
No one could question whether Schroer and her Fund are working tirelessly to level the playing field, though.
"We have deployed over $1 million and attracted $25 million in investment, converting vacant, blighted, and underutilized nuildings and land parcels to tax producing uses," Schroer told the committee. She identified the Pike Star project that will place high-end residential units above UpTech, the technology start-up accelerator that occupies the first-floor retail space; the Market Lofts, an old warehouse converted to 12 upscale apartments on Pike Street that were rented out before construction ended; the Mutual Building that will house a dozen luxury apartments and new retail on the first floor; the complex land swap that resulted in the redevelopment of a blighted old car dealership into a new Kentucky Career Center and the renovation of the abandoned Stewart Iron Works Building into the Life Learning Center.
To help the Catalytic Fund's efforts, Schroer asked the committee for funding of innovation districts, land bank legislation, and to remove the cap on historic tax credits. Later in the afternoon, she joined attorney Jim Parsons, Newport's former city solicitor and an expert in tax incentive deals, for a presentation to the city leaders about How Northern Kentucky Grows. Schroer said that her organization is embarking on a path to become a Community Development Financial Institution (CDFI) much like 3CDC whhich has been responsible for much of the swift resurgence in Cincinnati's Over-the-Rhine neighborhood.
Six Cities Join Together
Though the competitive disadvantages Northern Kentucky's urban cities are experiencing in Cincinnati's growing shadow, Covington, Newport, Fort Thomas, Bellevue, Dayton, and Ludlow are finding a little light of their own.
When on display all in one place, as was the case Thursday, it seems like a lot of light. Soon, Northern Kentucky will be casting its own giant shadow again, and the leaders of the cities stood together before the committee confident of that.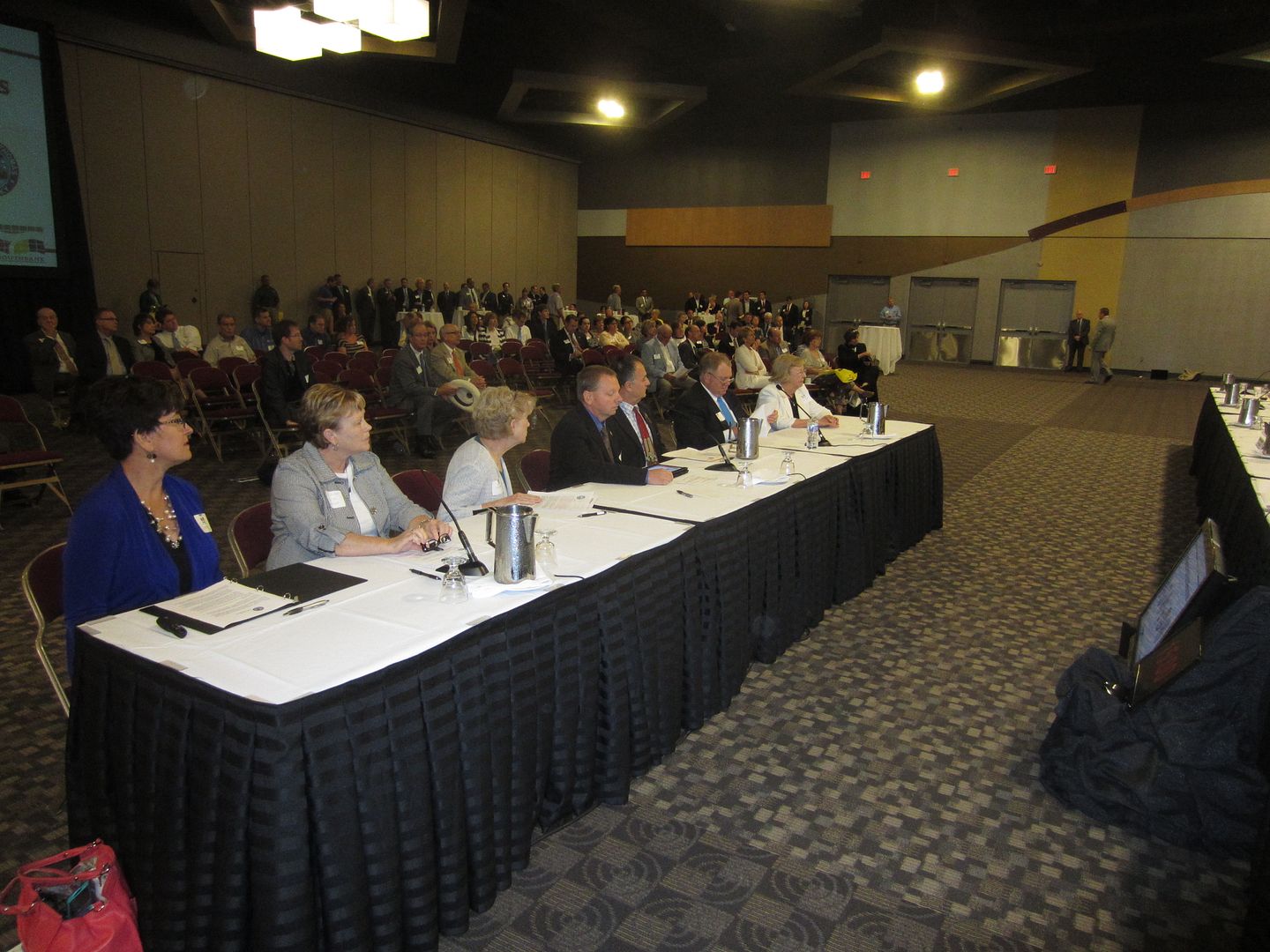 (L-R) Fort Thomas Renaissance Manager Debbie Buckley, Dayton City Council Member Cathy Volter, Covington Mayor Sherry Carran, Bellevue Mayor Ed Riehl, Newport Mayor Jerry Peluso, Ludlow Mayor Ken Wynn, and Fort Thomas Mayor Mary Brown/RCN
Ludlow Mayor Ken Wynn highlighted the new businesses moving into his city, which include his own coffee shop. He also noted the quiet nature of Ludlow, for those seeking an urban lifestyle outside of the main Downtown areas. Covington Mayor Sherry Carran called her city "quirky, quaint, and awesome". After the day was complete, attendees saw some of that awesomeness up close when they had a cocktail reception at TiER1, an expanding company in a renovated, modern space at the RiverCenter towers. Newport Mayor Jerry Peluso talked of the development potential related to the widening of Kentucky Route 9, the new apartment and hotel development going next to Newport on the Levee, and how the city's newest downtown apartment community, Monmouth Row, filled quickly.
Bellevue Mayor Ed Riehl bragged on the success of Fairfield Avenue, arguable the Northern Kentucky urban core's most successful independent retail corridor, and talked about the development potential of the recently acquired art deco Marianne Theater that had sat vacant for more than a decade. Fort Thomas Renaissance Manager Debbie Buckley, speaking on behalf of Mayor Mary Brown, announced that the city finally received federal permission to find a developer for its ten original homes at the site of the actual Fort Thomas from 1890. And Dayton City Councilwoman Cathy Volter touched on the ambitious Manhattan Harbour project that will bring dozens of high-end (some million dollar) homes to that city's riverfront.
When rolled out in one setting, Northern Kentucky's urban cities are rumbling with activity. But an explosion of development could be just around the bend.
"We understand when you work together, you get things done," Peluso told the committee, "and with your help and needed resources, we can position communities in Northern Kentucky for a better and brighter and greater future."
The mayors were the final group to testify before the committee. At lunch, city staffers took to the stage and displayed another round of unity among the urban cities.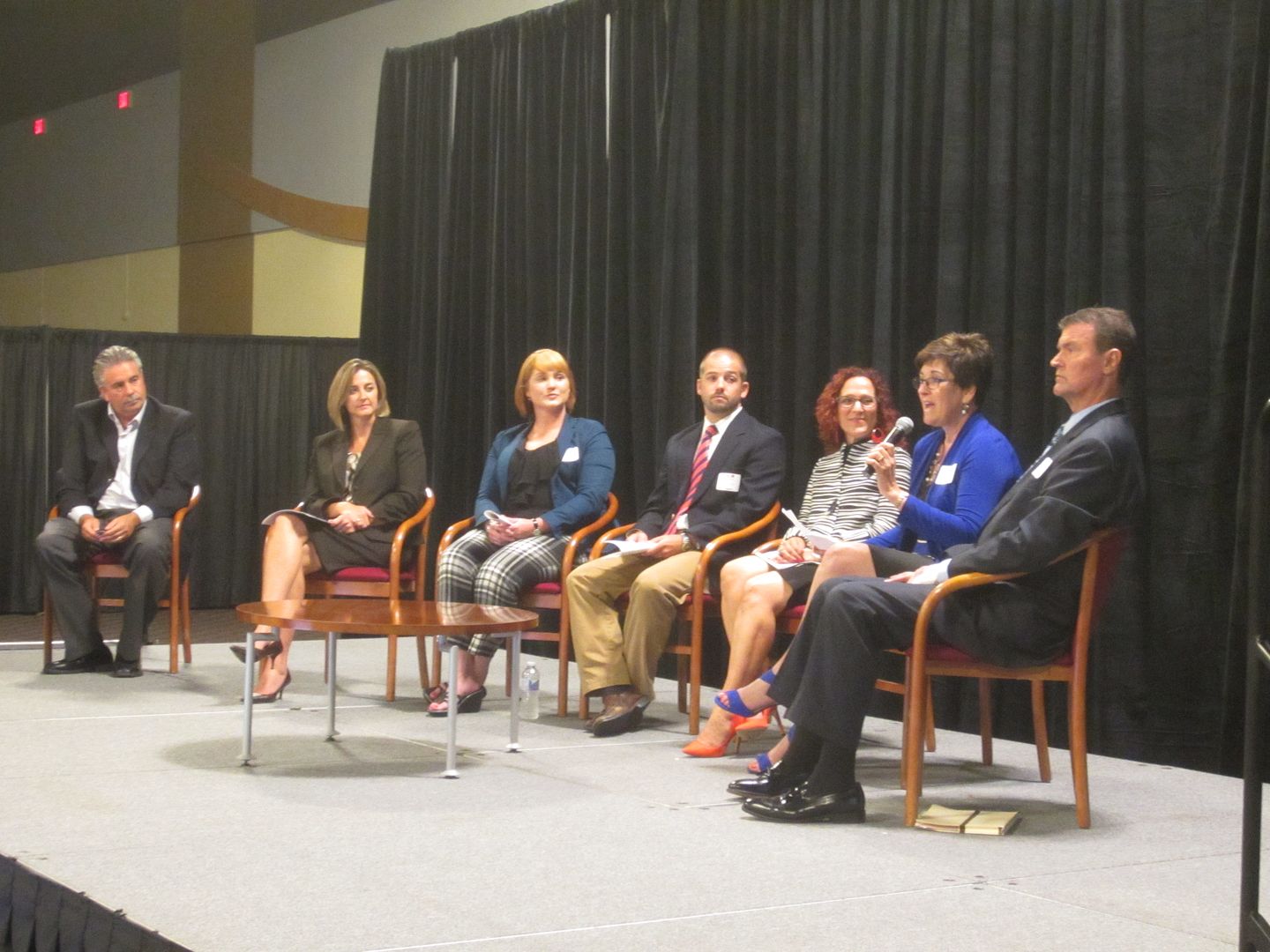 (L-R) Moderator Pat Crowley, Covington Assistant City Manager Larisa Sims, Ludlow City Administrator Elishia Chamberlain, Dayton City Administrator Michael Giffen, Bellevue Assistant City Administrator Jody Robinson, Fort Thomas Renaissance Manager Debbie Buckley, and Newport City Manager Tom Fromme/RCN
These city administrators have passion and vision for the future of their towns, too, and are on the front lines full-time working to that end.
"We want to look at young families, young professionals, and we want to attract early retirees, people who want to come to the city and make a life for themselves, utilize the community, and give back to the community," Ludlow City Administrator Elishia Chamberlain said. 
"We are the opposite of a cookie-cutter, strip mall city. We are real, we are raw," Covington Assistant City Manager Larisa Sims said. "We believe that it matters that we have the courage and the dedication to advance a long-term vision in Covington and your vision can become a reality with us."
"We'll all work with you in a collaborative manner," Newport City Manager Tom Fromme said. "We'll bend over backwards. We'll even refer to other river communities if we don't have the space for a prospective business."
"People are coming back to the river in great numbers. Newport has added over two hundred residential units over the past year and we'll add 250 more next year. They fill up in a hurry. There's a reason these communities are so old. It was the attraction, the transportation. It filled a lot of those needs and people are rediscovering that. We are the green cities, that's the reality. We were green before it was popular."
"Bellevue remains strong," Assistant City Manager Jody Robinson said. "It's that place that has remained desirable, and it's not just me talking about that. The Real Estate Roundtable says, Bellevue's doing it right, a great housing stock and a great downtown. Young people, single people, young families. It's Fairfield Avenue. They want to be able to walk and experience that social lifestyle and we just offer that through and through."
"Dayton has continued to grow and we want to be a major factor in this region," City Administrator Michael Giffen said, referencing the Manhattan Harbour project. "The future is extremely bright for the Northern Kentucky region and Dayton is ready to take advantage of the resources available to us."
Fort Thomas, one of the region's most affluent addresses, is also rediscovering its urban roots. Renaissance and economic development manager Debbie Buckley said that when she was hired eight years ago, she and City Administrator Don Martin stood on the steps of the city building and looked at the old downtown and tried to visualize what to do with it. Now they are working on attracting residents to live on the second floors of the buildings and shop keepers to open businesses on the first, and have seen much success.
Seven new businesses will open there this month.
Business, Education Leaders Fighting Alongside Government
During the day-long event, the unity expressed between the six cities transcended the governments to include the leaders of civic institutions, colleges, and businesses. 
For the region to succeed at its highest level of potential, a lot of moving parts must be strengthened. Northern Kentucky University President Geoffrey Mearns thanked the committee and the General Assembly for its funding of the school's Health Innovations Center which will open in the fall of 2017. "We have an ambitious concept which is to train the next generation of health care providers," Mearns said. "It will produce a better patient experience, better outcomes for patients, and by promoting health and wellness, it will also reduce the cost in providing health care."
NKU also had the best return on investment of any post-secondary school in Kentucky, according to a recent independent study, but it remains the lowest-funded school in the Commonwealth. "If we want a public university center equipped to compete with a 21st century strategy, we need a funding strategy, not one that maintains the status quo," Mearns told the committee.
One of the region's most immediate needs was the very place the hearing was happening. For years, local leaders and legislators have hoped to expand the Northern Kentucky Convention Center. The Center's executive director, Gretchen Landrum, said that it has had a $1 billion economic impact since its inception, but because of its lack of additional space, it has lost 119,000 hotel room nights for the region and over $50 million that could have been spent here.
She asked for consideration of a $3 million allocation to fund a brush-up of an expansion feasibility study. There is a small window of time in which the center could expand on the land currently occupied by the IRS, which has recently expressed an openness to moving to another location in Covington. "If we do not act now we may not secure the land needed to expand this facility," Landrum said. "Once that window is closed, we're landlocked and your investment will never be able to live up to its potential."
Rep. Diane St. Onge (R-Lakeside Park) said that Owensboro has been able to expand its convention center and create a thriving area around it even though it lacks all of the amenities in Northern Kentucky. "We have here businesses, restaurants, residences," she said. "We've got so much here already and to think we have to prove... I know from a business model we have to show what the return on investment is, but to think we have to continue to struggle to show why it's important to show why we have to expand the convention center, I'm somewhat puzzled by that."
Some of the harsher criticism of the region came from the chairman of the Northern Kentucky Convention & Visitors Bureau, Mike Conway, a hotel developer. 
"Developers choose communities because they understand they have to have a solid economic development plan," Conway said. "The communities are safe and well-maintained. Those two factors really get the first blush of our criteria when we evaluate an area for a project. Our first impression is usually the last impression we have."
He noted 
that hotels today are designed with
millennials
in mind, the generation born between 1980 and 2000. By the end of the decade they will make up 70% of leisure and business travelers. They want to experience a local community's unique assets such as restaurants and shops, he said. But the crumbling infrastructure at the
5th
Street exit in Covington would not
povoke
him to develop here. "I live here, I love this community but we're missing many opportunities, opportunities that we don't even realize because developers visit a market and turn around and leave," Conway said. "We compete with Louisville, Lexington, Cincinnati, other major markets. Louisville and Lexington have done an excellent job at improving their infrastructure. We need a solid economic development plan because they are critical to a developer."
President of the bureau, Eric Summe, asked legislators to allow a transient tax to be used for its intended purpose, to market the state, arguing that his budget will be cut 25%.
Meanwhile, one of the area's top attractions, Newport on the Levee, is seeking an extension on the repayment of tax credits it received when it was built in 2001. General Manager Harold Dull requested two more years to take care of the $5 million shortfall.
The best news in the region, on display Thursday, included the developments currently underway. Casey Barach of UpTech demonstrated how the region is becoming a hub for technology start-ups and thanked the legislators for passing an angel investment individual tax credit bill earlier this year, a piece of legislation that Governor Steve Beshear ceremonially signed at UpTech. Bad Girl Ventures, another start-up company booster, announced last month that it will be moving to Covington, too, and will be UpTech's neighbor.
Gateway Community & Technical College President & CEO Ed Hughes detailed the urban metro campus currently underway in Covington. The legislature approved the BuildSmart program that allows each community college in the state to undertake one capital project this year as long as it matches 25%. $11 million in state funds will go towards a Gateway project as the school works to raise nearly $4 million. Hughes said it has attained $2 million of that. The school just opened a technology center in an old furniture store building, now re-envisioned as a sleek, modern hub of information, and is in the process of renovating two more buildings. 
Developers Gregg Fusaro (Capital Investment Group), Arn Bortz (Towne Properties), and Guy van Rooyen (The Salyers Group), showcased their most recent successes. Fusaro highlighted SouthShore, Vue 180, and the new development to the east of the Levee. Bortz talked up Monmouth Row. Van Rooyen is working on the Mutual Building, the Doctors Building, and the crown jewel, The Hotel Covington.
Southbank Partners President Jack Moreland closed the day with a thank-you and a poem. He and assistant Joyce McMullin, also a member of the Ludlow City Council, then led attendees to TiER1 after a well-planned and executed event that could take a conversation from Downtown Covington to the decision-making halls of Frankfort.
And then, the region may have the extra muscle it needs to cast the shadow it strives for.
Story & photos by Michael Monks, editor & publisher of The River City News