Newport Pulls Away from Walton-Verona, Wins 36-26
Sat, 08/30/2014 - 08:55
RCN Newsdesk
Newport bolted out to an early lead on the visiting Walton-Verona when Brian Burton returned the opening kickoff for a touchdown. After a two-point conversion, the Wildcats led 8-0.
The Bearcats answered with an interception returned to the Newport 4-yard line and put up a touchdown on the ensuing drive. Newport would put up another touchdown before the first quarter ended, leading 14-6.
Midway through the second quarter, Walton-Verona added another rushing touchdown and a two-point conversion to tie the game at 14. That would be the score at halftime after the Bearcats missed a last second field goal attempt.
With 7:13 left in the third quarter, Walton took its first lead on a touchdown drive aided by a Newport penalty when the Bearcats were facing third and long. Walton was given a first down and then scored.
That lead was short-lived as Newport, facing fourth and four, went for it and scored a 30-yard-plus rushing touchdown by Paul Price. Adding another two-point conversion, Newport led 22-20 with five minutes left in the third.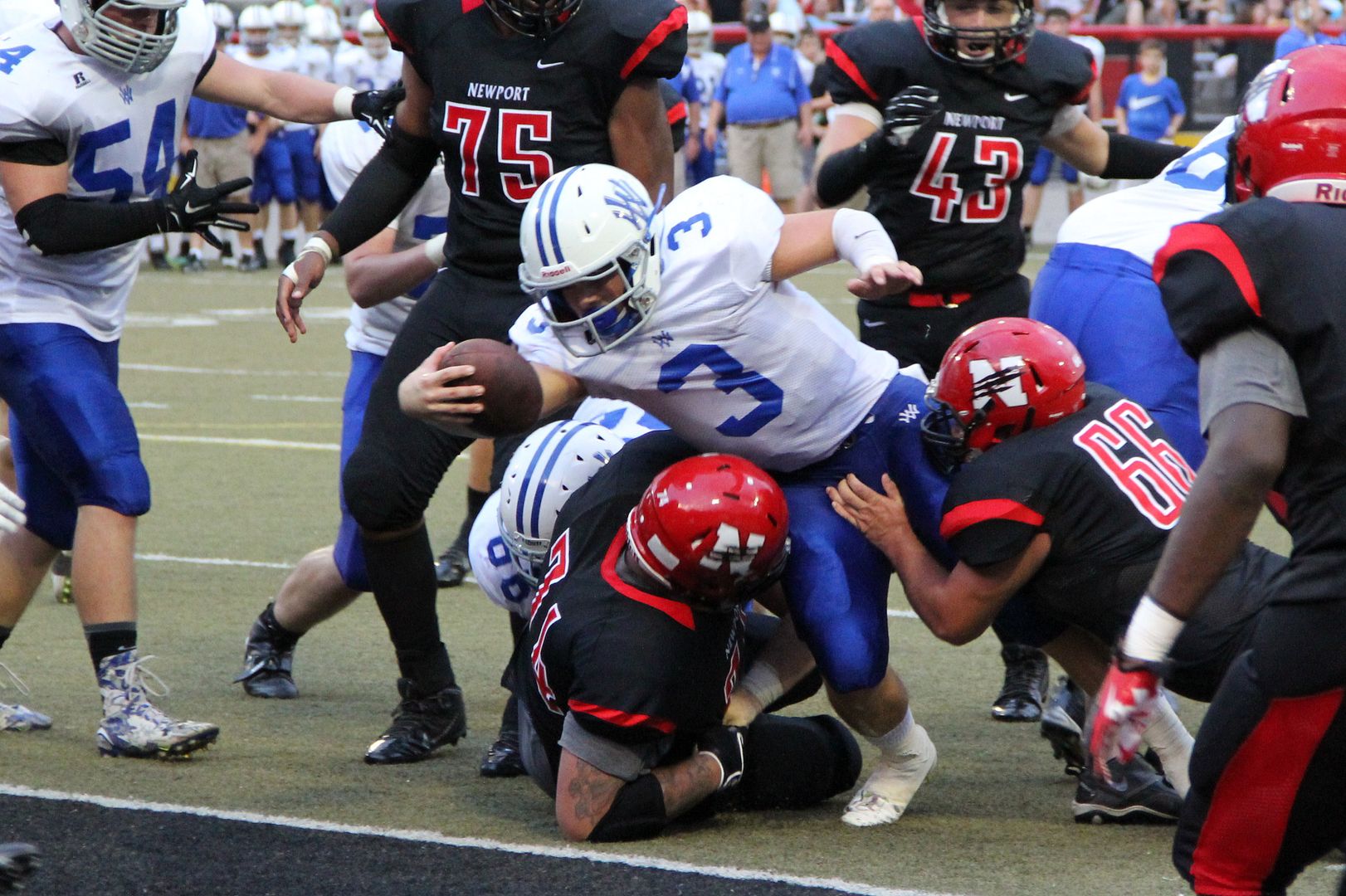 A mis-step on a punt by Walton sent the ball over the kicker's head and Newport recovered inside the ten and put up another touchdown to take a 28-20 lead with 3:33 remaining in the third.
Newport gave Walton a chance to come back in the fourth when the Wildcats' fumble was recovered by the Bearcats, but Walton coulnd't score. The Wildcats fumbled again, though, and Walton got the ball within striking distance. Facing fourth down, a pass interference call on Newport gave Walton a second chance to score and the Bearcats capitalized, cutting the lead to 28-36 with 6:25 left to play.
Newport's Dominic Joseph answered with a long run, setting up first and goal for the Wildcats late in the game. Newport scored a touchdown, added a two-point conversion, and stretched its lead to 10 at 36-26 with under three minutes to go.
Two late interceptions sealed the deal for Newport.
Dominic Joseph led all rushers with 16 carries for 111 yards. 
In a run heavy game the 2
QBs
were a combined 9 of 20 for 105 yards.
Both teams move to 1 and 1 on the season.
Other scores from the NKY River Cities:
Scott 34, Holmes 7
Cooper 31, Newport Central Catholic 0
Simon Kenton 64, Holy Cross 7
Lloyd 52, Dayton 0
Highlands 23, Campbell Co. 16
Ludlow 42, Bracken Co. 0
Story & photos by Brian Frey, RCN contributor