Rick Robinson's Second Time Around: The White House, The Exorcist, & Chili
Sat, 08/30/2014 - 20:44
RCN Newsdesk
Northern Kentucky author & attorney Rick Robinson is back in Washington, DC where he spent years on the staff of then-Congressman Jim Bunning. As a busy staffer on the Hill, it's easy to miss the beauty of our nation's capital. And that's what happened to Rick. This time, he vows to take it all in - and share it with you in "Second Time Around".
No city clears out quicker than Washington, DC during the annual August recess. Members of Congress head to their states. Capitol Hill staff head to the shore. Lobbyists head out on vacation.
And commuters like me head home. 
As Congress readies for another round of Kick the Can, I'm packing my bags to head back to my small 
abode in Roslyn, Virginia. My apartment there is so small that I'm a Jimi Hendrix poster away from being 
back in my dorm room at Eastern Kentucky University. 
New nightly walks will produce new photos for RCN. But until then, here are a couple from the past year 
that did not make the cut in earlier columns. 
Also, a lot of folks have been emailing me with suggestions for places off the beaten path they'd like 
to see appear in this column. If you have any suggestions, please feel free to drop me an email at 
[email protected]

.
The White House (pictured aboved)
Every now and then I am able to schedule a tour of the White House. I've been there more times than 
I can count, but always act as if it's my first time. The thought of a kid from Ludlow visiting the home of 
the President still excites me. This photo was taken on a cold January morning. 
The Exorcist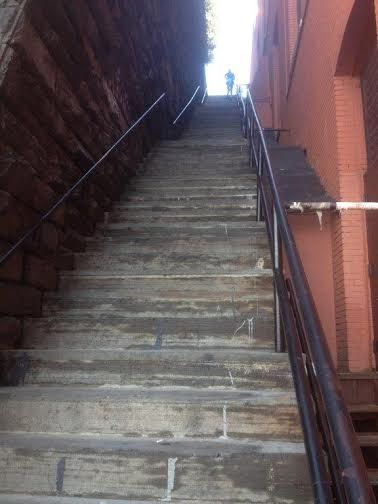 The power of Christ compels me – to walk up these steps. Located just across the Potomac River from 
my apartment in Virginia, these were the steps used for the final scene in The Exorcist. My parents 
forbid me from seeing the movie when it came out in 1973 – I did anyway. Now it's on television and it 
still scares the
bejeebers
out of me. If you're on the main drag in Georgetown, find the Exxon Station. 
The steps are right behind the dumpster.
Russian Embassy
While researching my new book, I did took some research pictures of the Embassy of Russia. I found this 
sign quite amusing. The holiday for which the embassy was closed – International Women's Day. Putin 
celebrated by making sure that the members of the punk performance group Pussy Riot had the day off 
hard labor in the Siberian gulag where they had been imprisoned. 
Sundial
On the Mall are many beautiful gardens rarely visited by tourists hustling to get from Smithsonian to 
Smithsonian. I visited one such garden on the Sunday following the start of Daylight Savings time and 
wondered if some poor staffer caught hell for failing to turn this sundial back an hour.
Ben's Chili Bowl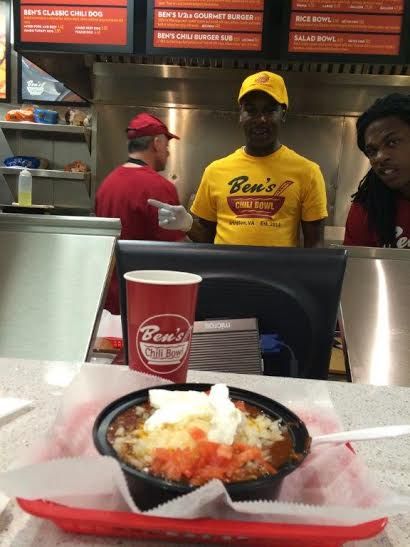 While I hate being away from Northern Kentucky, I am looking forward to seeing all my friends at Ben's 
Chili Bowl. A DC (and now Arlington) tradition, you can find me here once or twice a week. Its not the Ft. 
Mitchell Skyline, but...
For more columns and stories by Rick Robinson, click here.
For more on Rick Robinson's award-winning books, visit his Amazon page here and his website here.
Don't miss Rick Robinson's Alligator Alley!
His contemporary novel Alligator Alley is a story of growing up in a small Kentucky town (dare we say Ludlow) and won the Grand Prize at the Great Southeast Book Festival in New Orleans. For more on this award-winning locally-inspired book, 
click here
.