Wellness Center Numbers Show County Saves Money
Tue, 09/02/2014 - 10:43
RCN Newsdesk
The CTK Health & Wellness Center used by employees of Kenton County, the City of Covington, and now the City of Newport, is showing results one year later.
Kenton County Administrator Joe Shriver, at the request of Judge-Executive Steve Arlinghaus, presented numbers from the program's first year. "Our main goal was to save primary care dollars," Shriver said.
The concept was brought to the county in March 2012 by Toyota Tsusho, which also participates. The Fiscal Court adopted the program in November 2012 and it opened in May 2013.
Since then, the county has saved $150,000, Shriver said, on primary care costs. The CareHere-managed facility saves employers money by offering generic drugs on site, reducing wait room times, and keeping appointments to twenty minutes. Patients get health tips and screenings to detect any oncoming ailments.
In the past year, 162 health risk assessments were conducted of county employees and their spouses. Diabetes was discovered 46 times, high cholesterol 81 times, and hypertension 113 times. A marker for prostate cancer was also discovered once.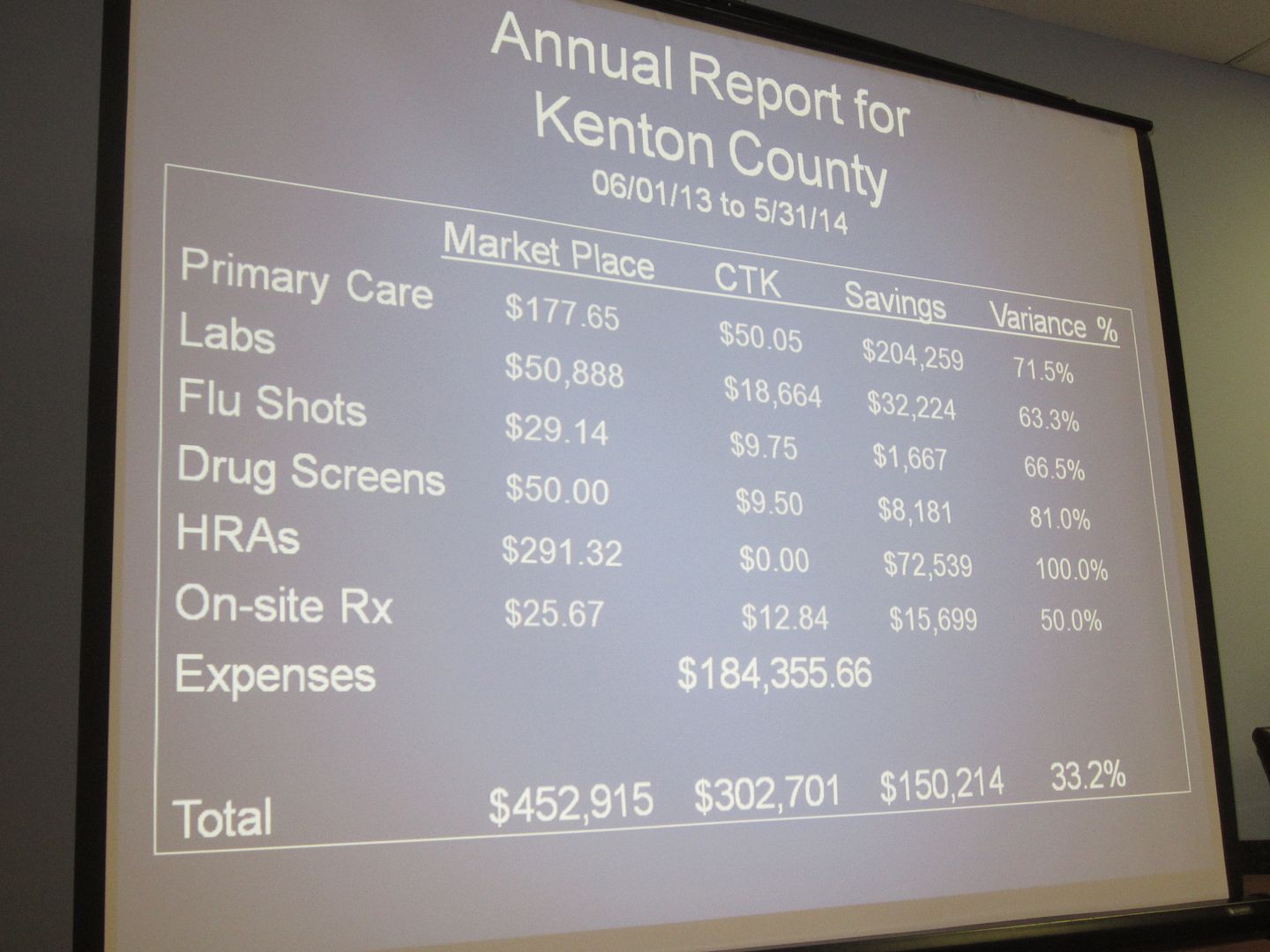 "We're providing excellent benefits and hopefully providing a healthier workforce," Shriver said.
The health center is managed by a board of overseers that includes Shriver from the county, Human Resources Manager JoAnn Simpson from the City of Covington, and third at-large member, currently County Treasurer Roy Cox. The city and county will alternate the at-large position with its financial director.
The CTK Health & Wellness Center now has full occupational health services that include pre-employment physicals, drug testing, flu shots, and fit-for-duty exams.
53.6% of all available appointments were used. The costs will lower when more affiliates, such as Newport, join up.
-Michael Monks, editor & publisher of The River City News
Photos by RCN