When Braxton Brewery Opens in Covington, It Will Be About More Than Beer
Tue, 09/02/2014 - 07:43
RCN Newsdesk
"We will be a catalytic impact on the economic development of this city. We have extremely aggressive growth plans."
Braxton Brewery will open its doors in Covington with great expectations -- many of which have been created by the company itself. After year one, the beer-based start-up expects to have twenty-seven employees. Jake Rouse, one of the co-founders along with his brother and brewer Evan Rouse, father Greg Rouse, and partner Richard Dube, said that one brewery job can affect up to 45 other jobs in an area.
"We believe (Cincinnati) can be the next great beer city in America," Jake Rouse said. "Pre-prohibition, Cincinnati was the beer city in American and the Covington Lager Beer Company was the brewery in Greater Cincinnati that led most of the production."
Braxton has yet to brew a beer but already has the fifth-largest social media following of any brewer in the area, he noted. "People are very excited about what we're doing." That excitement has continued to build since the project was first announced in April.
Those people include the City of Covington which approved a five-year $89,000 loan to the company as it prepares to move into the Covington Arts building at Seventh & Washington Streets. Assistant City Manager Larisa Sims noted that the public investment is just 3% of the overall capital raised by Braxton. The total project cost is roughly $3.2 million.
"This is year another catalytic investment going on right here in the core of the city," Sims said last week before the city commission offered its unanimous approval. She said that payroll tax collected during the life of the loan would be over $100,000.
The city also granted an easement for Braxton's large tanks to be placed in the rear of the building. Originally, it had planned to place them on the western side and had been granted permission to do so by the city's urban design review board. That move would have
disfigured the popular Love the Cov mural
. 
Moving the tanks to the back is another sign of Braxton's willingness to be a team player. One of the reasons it was motivated to move them was to free up development opportunities of the adjacent parking lot that is currently the pop-up performance venue, Madlot. "The tanks are so massive that should the lot be redeveloped, we wouldn't be able to maneuver a twenty-five-foot facility into the plans," Rouse said. "We want to call Covington home. This building is now ingrained in everything we're doing. If we move it to the back, we can call Covington home forever."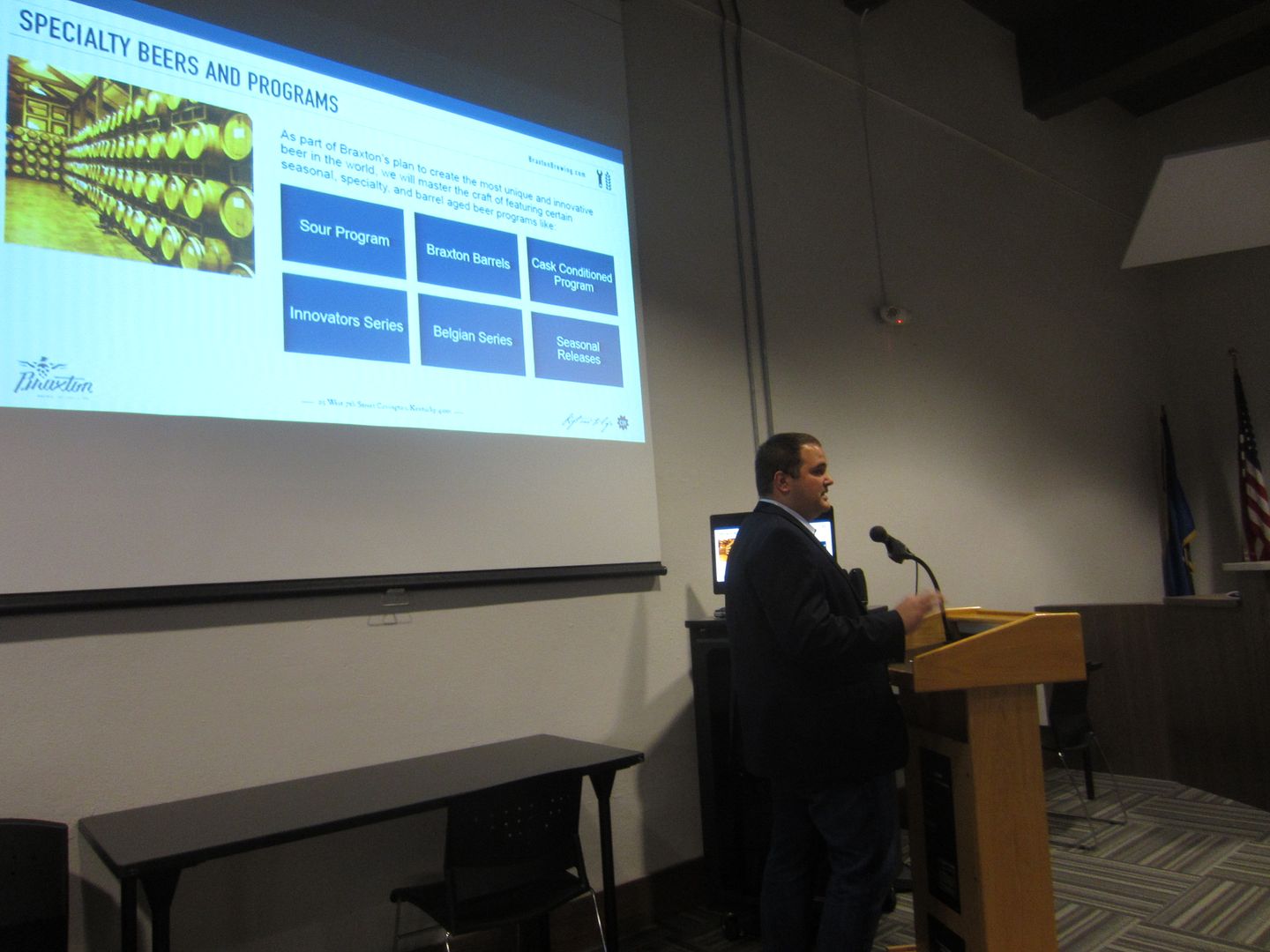 Jake Rouse presents to the Covington City Commission/RCN
It's an expensive operation. The $3.2 million development is part of Kentucky being "the twelfth most expensive state to start a brewery", according to Rouse. But it's about more than beer. "Our space is going to be a communal space."
It will be the first brewery in America to offer gigabit internet, Rouse said. "It will be a place for the entrepreneur. They can spend their mornings at a coffee shop and their evenings at  Braxton. We're more focused on building a community than we are anything else."
The effort is also good news for the city's tax rolls. In addition to the payroll tax collection, the project will more than double the assessment of the property, Sims said. The Kenton County Property Valuation Administrator currently lists 25-27 West Seventh Street as being worth $1,050,000. Following the renovations, Sims said, that figure will climb to $2,250,000. Currently, the city collects $3,197 in property taxes, a number that will more than double to $6,851.25, according to figures presented by Sims.
That doesn't factor in the number of visitors Braxton expects. "We're in a market where the brewery is a destination," Rouse said. "People will drive forty-five minutes out of their way to see how this stuff is made."
"Braxton is thrilled to call Covington home," Rouse said. "We love everything you're doing to make this a better place to live, work, and play."
Covington Arts to Move to Pike Street
With Braxton's arrival, the two current tenants of the Seventh Street building will be making moves. MKSK Architects, which is selling the building as part of the brewery deal, will move upstairs into a renovated second floor space. Covington Arts, which was given rent-free space for office and gallery use for twenty years in a deal between the state and MKSK, will now spend $850 per month renting 500 square feet in a store front at 2 West Pike Street.
The rent figure was previously reported as $550 per month but that turned out to be an inaccurate amount published on the city commission agenda, possibly confused with the space's square footage. Though Covington Arts lived rent free at its current space, it did have $12,000 allocated for its utility costs, Arts Manager Cate Becker said. 
"I'm going to miss the old space, but this is going to be nice as well," said Mayor Sherry Carran. "A little cozier, maybe."