Full Spectrum: 25 Arts Events Coming Up in Covington
Tue, 09/09/2014 - 07:37
RCN Newsdesk
Covington's arts, culture, and creativity fill the city's fall calendar with FULL SPECTRUM, with twenty-five events still 
scheduled in September and October. 
The city's effort to market the arts began in September 2009 with a one month celebration. The arts 
presence has grown exponentially and so has the FULL SPECTRUM calendar. 
The fun began last weekend with the Mainstrasse Village's annual Oktoberfest. Upcoming are 
performances, gallery shows, Park(
ing
) Day in the
MadLot
, old and new festivals including well-
established Art Off Pike and debuting
Devou
Grass and the Good People Festival.
All of it "provides more opportunities for residents and visitors to enjoy a day in Covington," said Cate 
Becker, Covington's Cultural Arts Director.
Here's what' coming up. For a complete list of FULL SPECTRUM events with details and links, visit 
www.covingtonarts.com.   
SEPTEMBER
Sept. 13 – freshART, the annual en plein air benefit at Behringer-Crawford Museum.
Sept. 19, Park(ing) Day, 12-8 p.m. Enjoy nine holes of urban putt-putt in the MadLot.
Sept. 19, "Disney's Frozen", dusk. Outdoor movie night presented by Covington Recreation Department. 
Sept. 20, Twilight in the Gardens, 7-10 p.m. Annual Baker-Hunt Museum benefit.
Sept. 27, Ricky Nye, Inc. 7 p.m. Kate's Living Room Concert Series at Baker Hunt
Sept. 28, Art Off Pike, 11 a.m.-5 p.m. Covington's 10th annual arts and cultural festival.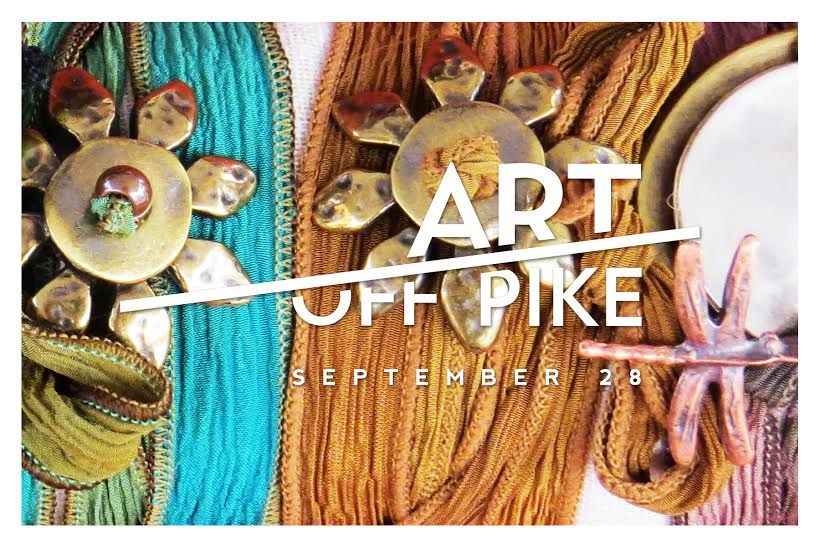 Sept. 28, "The Goonies", dusk. Pop-up movie experience presented by Gorilla Cinema in the MadLot.
Sept. 29, CHVRCHES, 8 p.m. Concert at Madison Theater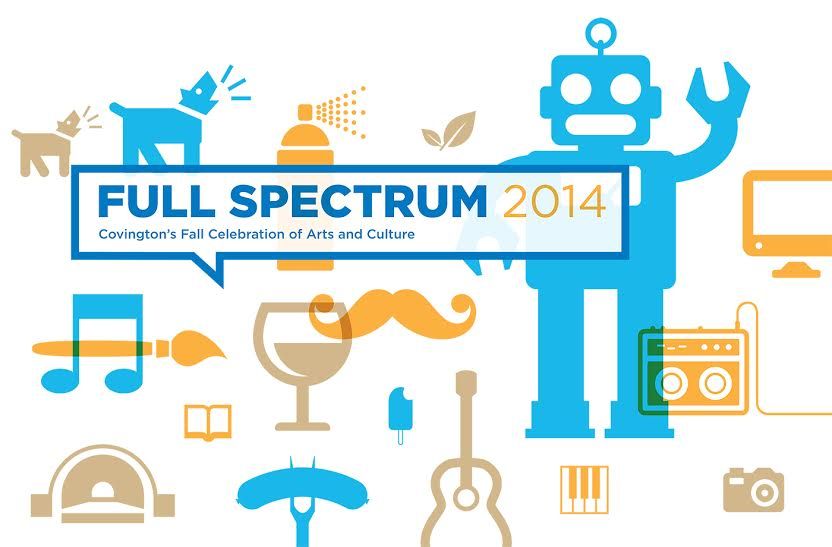 OCTOBER
Oct. 2,
Northern Kentucky Brotherhood Singers
, 7:30 p.m. R&B a cappella ensemble presented by 
Carnegie in Concert.
Oct. 3,
"A Profane Book of Hours: Photography by Jesse Fox and David Martin"
, 6-9 p.m. Exhibition 
opening at Covington Arts. 
Oct. 4,
6th Annual Wee Folk Magic of Art Festival
, 11 .m.-2 p.m. Children explore their creativity through 
art.
Oct. 4,
Devou Grass: Music and Arts in the Park
. Noon-Dusk. Bluegrass festival benefiting Children's H
ome of
NKY
.
Oct. 4,
Artswave presents "The Pirates of Penzance"
, 2 p.m. Cincinnati Opera Outreach performs Gilbert 
& Sullivan's comic opera at Linden Grove Cemetery.
Oct. 4,
"50 Years of Photojournalism in NKY, 1960 - 2010: Winter Edition"
, 6-8 p.m. Opening reception at 
Behringer Crawford Museum, part of region-wide festival
FOTO
FOCUS.
Oct. 11, National Coming Out Day, 5-10 p.m. Presented by NKY Fairness at the MadLot. 
Oct. 11, The Greg Schaber Trio, 7 p.m. Kate's Living Room Concert Series at Baker Hunt.
Oct. 12, The Good People Festival, noon-6 p.m. Celebrate artisans, music and gratitude with Baker Hunt.
Oct. 16, Q102 Bosom Ball for Breast Cancer, 7 p.m. Breast cancer benefit at Madison Theater. 
Oct. 18, Northern Kentucky Wine Festival, 3-10 p.m. Sample NKY wines in Mainstrasse Village. 
Oct. 19, Devou Park Fall Festival, Noon-5 p.m. Annual family friendly festival celebrating Devou Park.
Oct. 19,
"Grand Theft: Katie Parker and Guy Michael Davis"
, 11 a.m.-2 p.m. New installation unveiling at 
the Carnegie Galleries. Part of region-wide
FOTO
FOCUS.
Oct. 25, COV200 Impact Day, all day. Mass community service day focusing on projects in Covington.
Oct. 25, The Werks & Zoogma, 9 p.m. Concert at Madison Theater.
Oct. 26, Dog PawRade, Noon-5 p.m. Enjoy all things DOG during pawrade through Mainstrasse Village. 
Oct. 28-29,
"Back in My Day"
, October 28/29, 9:30 & 11 a.m. Educational concert by the Kentucky 
Symphony Orchestra.
-Jackie Demaline, RCN Arts 
Photos provided