Weekend: Fresh Art in Devou Park, Bellevue's Art in the Park, Taylor Mill's Parkfest, Basketball Tournament in Randolph Park
Thu, 09/11/2014 - 16:37
RCN Newsdesk
It's all about parks this weekend!
Art in the Park takes place in Bellevue, Taylor Mill wants you to show up for Parkfest, and Randolph Park in Covington is hosting a 3-on-3 basketball tournament, and in the evening it's freshART in Devou Park!
freshART
This year marks the 22nd annual freshART event at Behringer-Crawford Museum in Devou Park, Covington. On Saturday, September 13, over 30 of the region's finest artists will be scattered throughout Devou Park creating art to be auctioned off live at the dinner-gala that evening.
A combination of silent auction items, art and surprise raffle opportunities help us to raise funding necessary to support the arts and the museum's commitment to provide educational programs that enable children to study and enjoy the natural, cultural, and visual and performing arts heritage of our region.
WKRC-TV's John Lomax is the emcee.
Price: $65 - $75 Register: Click Here
Art in the Park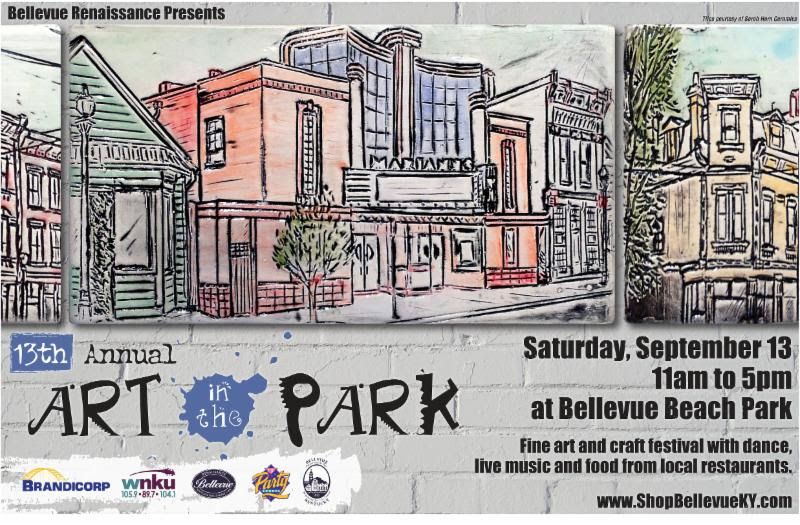 Art in the Park brings you together with over 80 artists and crafts people from the region. Enjoy the music, hands-on art projects for kids, delectable treats from 7 local establishments and one local winery. Plus, historic Fairfield Avenue is only one block away to take in a great collection of shops and restaurants.   
Hit up Bellevue Beach Park on Saturday from 11 a.m. - 5 p.m. for all the fun!
Parkfest
Pride Park in Taylor Mill plays host to the annual Parkfest (pictured above) from 2 - 11 p.m. on Saturday.
Carnival rides, kids games, hamster water balls, Taste of Taylor Mill food booths, a petting zoo, a hayride, and more, including a performance by the Rusty Griswolds starting at 7:30, are highlights of the day. And then at 9 p.m., the fireworks shoot off!
Admission is FREE an unlimited ride bracelets are available for $15. Additional parking is available at Scott High School with shuttle service.
Randolph Park Roundball Classic
Randolph Park/by Justin Rumao
This first time event will help raise money to spruce up the legendary basketball courts of Randolph Park in Downtown Covington.
The 3-on-3 men's tournament starts at 9 a.m.
Teams are guaranteed at least two games and the champions will receive a trophy and small cash prize.
The River City News is a proud sponsor of this event.
Follow The River City News on Facebook, Twitter, or email us!