Strip Club Accused of Being Prostitution Den Fights to Keep Liquor License
Fri, 09/12/2014 - 08:51
RCN Newsdesk
All around the 400 block of Scott Boulevard, change is coming.
The Ice House stands proudly renovated, housing a growing firm in the PPS Group. A large building across the street is being renovated to make way for more PPS offices and the Covington Police Bike Patrol. Fresh, new murals adorn the walls of the Kerry Collision Center. There are plans to implement a new streetscape project on the block.
But like many inner-city blocks, it has its problems, too. Buona Vita Pizzeria recently closed. A payday loan lender takes up a prominent corner location. Dick's Liquor is the only regularly open business in one of the largest historic buildings in the city, the Boon Block.
One sore spot for the city is the continual operation of Liberty Show Lounge, one of the last remaining strip joints in Covington. It is next door to the building where PPS will expand and the Bike Patrol will be housed. Liberty owner Kim Foran said that a city official and a "pet developer" approached her about selling the property. She was warm to the idea, but the offer was too low and she rejected it.
Days later, Liberty was raided by police.
Covington Police testified in a city hearing that undercover officers were solicited for sex and that they witnessed exposed genitals inside the establishment (SEE PREVIOUSLY: Covington Police: Strip Club was site of prostitution). Covington Zoning Administrator Andy Jeungling then presided over a hearing in which Liberty's liquor license was revoked.
Liberty appealed and continues to operate. On Thursday, Foran and attorney Harry Hellings headed to Frankfort for yet another hearing on the matter, this time before the Kentucky Alcohol and Beverage Control Board. Assistant City Solicitor Bryce Rhoades and Juengling were there on behalf of the city and the undercover officers involved offered an encore presentation of their salacious testimony, recounting stories of dancers named Desire and Cat, of drink prices ranging from $28 to $38 to $58, and the alleged extra benefits that accompany the prices.
Frankfort was the third site of this ongoing battle that had already played out in Covington City Hall and Kenton County Circuit Court. Foran fired nearly every employee accused of prostitution following the raid, and now hopes to be able to continue with her liquor license.
She testified at Thursday's hearing.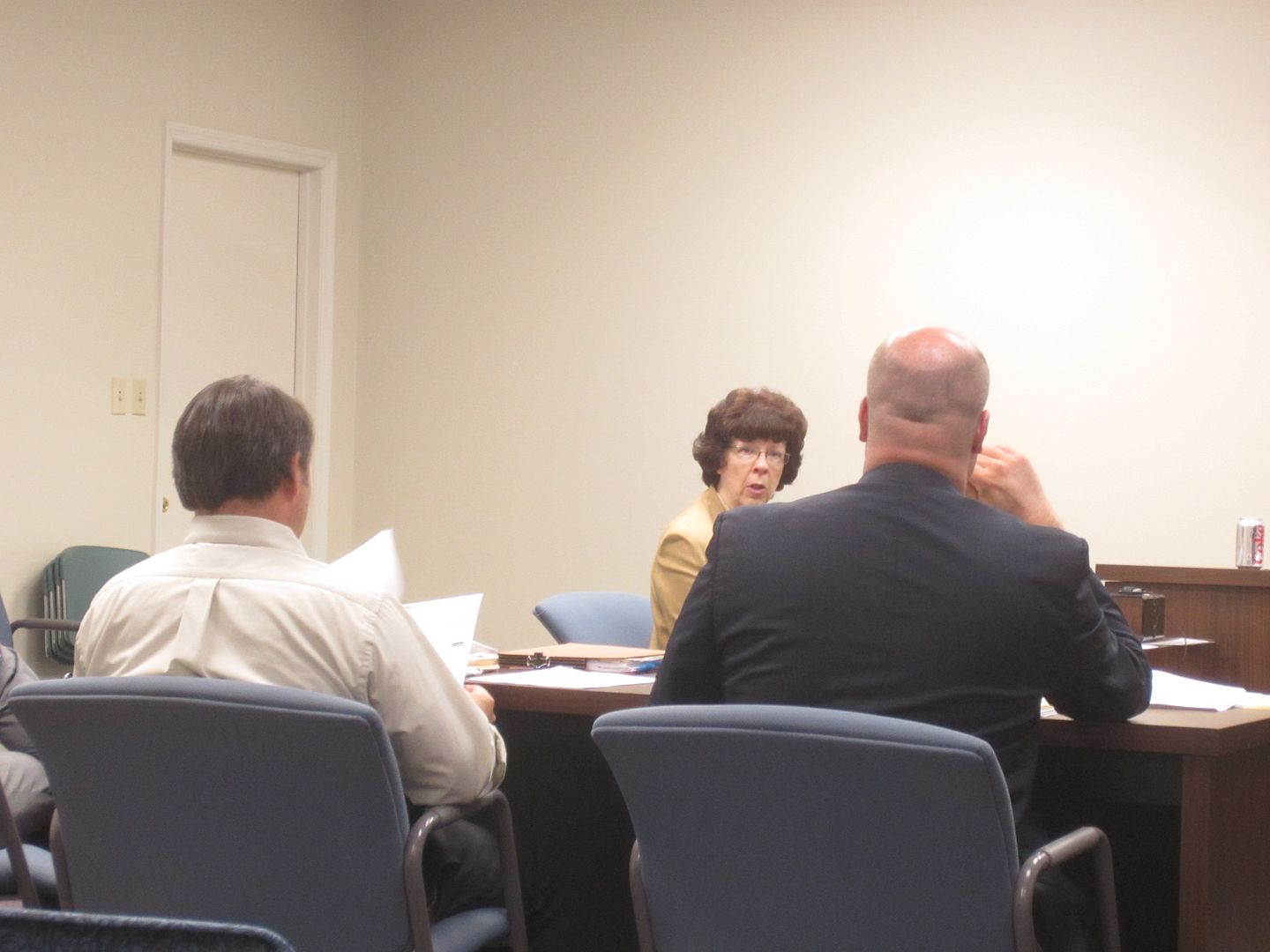 Foran answers one of Rhoades's questions/RCN
"It's one of Covington's new development zones," Foran said of her block where she has owned the lounge for nineteen years. "They're trying to buy property in the zone." She said she started to receive multiple phone calls from an interested developer looking to purchase her building. A city official even accompanied the developer to the building and the city went as far as having it appraised. 
"It was shortly after I had gotten two messages from (the developer) that he said, 'If you don't take the offer, I'll withdraw it and you won't get another one'," she said. "It was not pleasant."
Not long after, she got the call that "something horrible was happening" at Liberty. She showed up the night of the raid in her pajamas and said that she asked investigators what she has to do to make it right. She opted to fire the girls and some other employees involved, though she said that she has zero tolerance for prostitution or other illicit activity prohibited by city code.
"I'm very aware of the ordinance," Foran said. 
One of the charges leveled against Liberty was that it violates the city ordinance by compensating its employees with a percentage of the alcohol sold. Officers testified that the girls told them tat out of the drink prices mentioned, half goes to the establishment and half goes to the girls. Attorney Harry Hellings questioned whether any of the officers could confirm that the drinks, which they did end up purchasing at varying levels, were in fact alcoholic.
Officers offered that the drinks looked and smelled like cocktails but conceded that they never saw them poured.
Foran said that the look of the drinks is all part of the fun of coming to Liberty, where she said old men and young men come in simply to spend money on a girl for conversational purposes. The drinks don't have alcohol in them, she said. 
"They may ask the waitress for a Jack & Coke, but all they're getting is a coke," Foran said. She said that the bartender knows to use grenadine or other flavors to give drinks a certain look, to make them "glorified Shirley Temples".
Never were the girls supposed to promise oral sex in a private booth, as officers alleged, or masturbation services, as officers alleged, or expose and touch their own genitals, as officers alleged.
If that happened at all, it was a "rogue" employee, Hellings said on behalf of his client. Those rogue employees are not longer employed.
In fact, customers are not supposed to touch the girls at all, Foran said. Even tips are supposed to be hurled on stage and not placed directly on the dancers' bodies. 
Two nights after the raid, Foran reopened Liberty with a mostly new staff. She kept her loyal bartender of the past 17 years.
The state ABC Board questioned some of Foran's claims. "You think someone who spends $58 on a drink only expects conversation?," asked Tony Dehner, the state distilled spirits administrator. "I find that hard to believe as an old narcotics and vice officer. Maybe Lexington has different clientele than Northern Kentucky."
"You should come in some time," Foran responded, drawing laughter from all. 
Meanwhile, the city maintained that the raid was not related to any planned development. The police chief had gotten multiple phone calls about alleged prostitution taking place at Liberty. The timing was coincidental, the city implied. In fact, on the other side of town, in Mainstrasse Village, 701 bar was raided and the city had no development plans there, and the dancers were male.
Hellings argued that the city had not made its case that there was nude or nearly nude activity or that the drinks from which the girls were allegedly profiting were alcoholic. "One thing is obvious," the veteran lawyer said, "no one knows what was in those drinks."
"This is probably the oldest game in business. You get old guys and young guys who come in and they spend money to have someone talk to them." He argued that the situation should have always been handled "in a less harsh matter", that perhaps Foran would be fined in the form of purchasing back her liquor license, as happens in some instances. 
Rhoades argued for the city that the facts were simple: alcohol was part of the girls' compensation, they were soliciting sex on the premises, and they were nude or nearly nude as defined by the city ordinance. 
Chairman Frederick Higdon said that he and Dehner would issue their decision within ninety days and that if the city and Foran reach some form of agreement prior, to submit it to Frankfort and they would consider it in their decision.
Written by Michael Monks, editor & publisher of The River City News
Top photo: Liberty Show Lounge/RCN file