The Back of This Covington Building is Gonna Be Pretty Cool Looking
Mon, 09/15/2014 - 10:51
RCN Newsdesk
While the front of this sprawling commercial building on Scott Boulevard will be spruced up for new opportunities, the most drastic change is coming to the rear.
Known historically as the Bullock-Collins Block, the building at 409-415 Scott Blvd. was built around 1872 to 1873, according to Covington Historic Preservation Officer Beth Johnson, and is an Italianate-Victorian structure now divided into four distinct addresses. 
Some of the original elements still on the site include the painted prism glass and the stone storefront, and a few recessed doorways.
Developer Alan Haenle is improving the building and it will eventually be the permanent home of the Covington Police Bike Patrol.
He requested approval for permission to install new aluminum frames around the storefronts and to install aluminum-clad windows on the second and third floor. The city's urban design review board permitted the storefront plans but asked to see more examples of the suggested windows before offering approval.
The plans for the rear were approved.
Those plans include the demolition of two one-story additions and to construct a three-story addition with the second and third story cantilevering over the first where parking spaces will be provided. The addition will be made of metal and glass.
Take a look: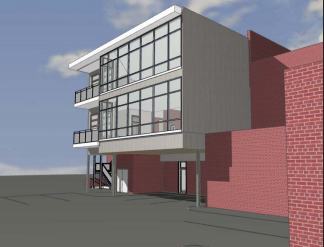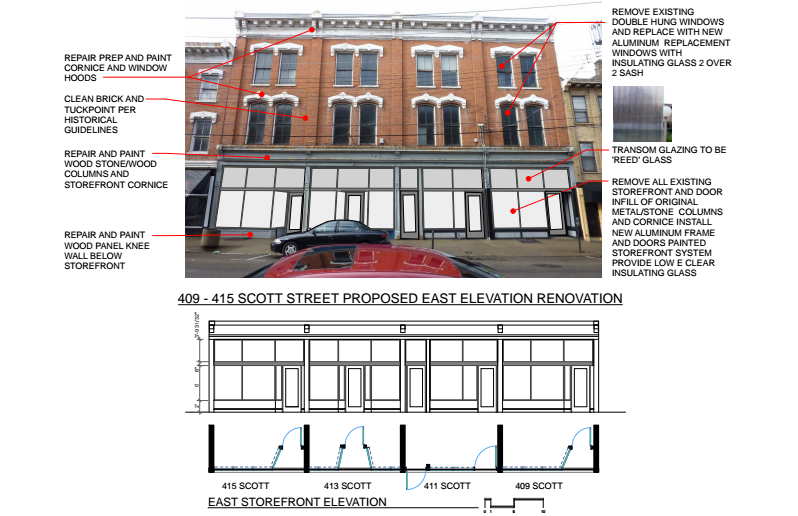 -Michael Monks, editor