New Lottery Game Involving Live Horses Pitched to State Legislators
Tue, 09/16/2014 - 07:27
RCN Newsdesk
One man's quest to get the Kentucky Lottery Corp. to purchase a game of chance he conceived in an effort to promote and create additional revenue for Kentucky's horse racing tracks has reached the General Assembly.
"I think anything we can do to help the horse racing industry is something we as a General Assembly ought to be interested in," Majority Floor Leader Damon Thayer, R-Georgetown, said after hearing testimony from the game's creator, EquiLottery President Brad Cummings.
Cummings' testimony came during the Interim Joint Committee on Licensing and Occupations' meeting at Keeneland Race Course on Friday. Members also heard testimony on declining wagering at tracks and doping of race horses.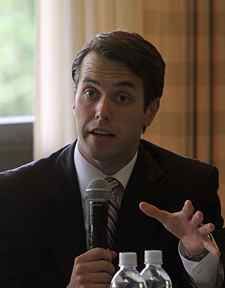 State Sen. Morgan McGarvey (D-Louisville) asks a question during the September meeting of the Interim Joint Committee on Licensing and Occupations held at Keeneland Race Course. (Photo via LRC Public Information)
EquiLottery is like most lottery games, except the winning numbers are determined by the outcome of a horse race and not by pingpong balls falling randomly down a chute. For the EquiLottery to remain a pure game of chance, the numbers are randomly picked by a computer. Players cannot pick their own.
If the lottery commission does not take steps to adopt EquiLottery within the next 30 days, Thayer said lawmakers should write a letter to the lottery commission asking why.
"I think we need to let the lottery commission to know we expect action and answers soon," Thayer said.
Rep. David Osborne was the other legislator who showed support for EquiLottery. He said it is only fair to the horse racing tracks to adopt EquiLottery because the state lottery has competed directly against the tracks since its inception.
"If you find the lottery corporation is not receptive … there may be a way for us to compel them to engage further in that," Osborne said to EquiLottery's creator.
Cummings said he began pitching EquiLottery to lottery officials in February 2010 but hadn't met with them since September 2013. Cummings said he hopes to resume those discussions.
Lottery corporation officials didn't testify at the hearing but committee members were provided copies of an email dated Wednesday from lottery President Arthur Gleason to Cummings.
Graphic via EquiLottery
In the email, Gleason said he had concerns regarding the EquiLottery proposal, including its ability to be conducted under the present Kentucky Lottery Corp. statute, financial viability and marketability among lottery players and racing patrons.
"Certainly, we can meet with you to learn how the current EquiLottery proposal may have evolved over the past year and about how it is being received in the industry marketplace," Gleason wrote. "Representatives of the racetracks necessarily should be involved, since they would be essential partners and beneficiaries, and they have not previously contacted us concerning the game."
Cummings said his attorney, Lisa Underwood of Wyatt Tarrant & Combs, who didn't testify, thinks the lottery currently has the statutory authority to implement EquiLottery without any action being taken by the General Assembly.
Variations of the proposed game of chance are played in France and Sweden, Cummings said, but it nothing like it has been tried in North America.
In a meeting that was dominated with questions about EquiLottery, Rep. Reginald Meeks, D-Louisville, asked what other governments were interested in EquiLottery.
Cummings said he has made or plans public visits to California, New Mexico, West Virginia and Ontario, where government leaders have been mandated to integrate state-sponsored lottery and horse racing. He declined to identify other states where he says his negotiations have remained confidential.
Cummings told legislators the winning numbers in EquiLottery would be determined by one horse race a day, preferably from a Kentucky track. EquiLottery would cost the player $2 per bet and it would revolve around a particular existing racetrack bet like a superfecta, with the winning numbers at the track the same as the winning lottery numbers.
Of the $2 lottery play, $1 would go to the lottery corporation.
The remaining half would go into the track's parimutuel pool, with the track taking its customary cut or takeout rate. The lottery winner would receive whatever the exotic wager pays in the track plus a bonus payoff that would be determined by how many lottery players hit the bet.
Cummings said tracks would benefit by new money flowing into the betting pools from those who otherwise wouldn't bet on racing.
"If Kentucky becomes the first adaptor of this game, we will have the international spotlight on the state and its signature industry," Cummings said. "There will be significant press coverage. Having Kentucky out there leading the way continues to connect us to the industry that is so part of our DNA."
From Legislative Research Commission