These Twins at NKU Have Matching 4.0 GPAs, Too
Sat, 09/20/2014 - 18:16
RCN Newsdesk
On a break from classes, chatting away at a corner table in Starbucks, Mariah reaches over to a loose tag on her sister Maya's shirt and tucks it away from sight.
It just goes to show they have each other's back even with the little things. Twins Maya and Mariah Manson from Chaminade-Julienne High School in Dayton, Ohio, share just about everything from each other's jewelry to their dorm room and the same birthday.
But that's not all they share.
They have the same perfect GPA.
Maya and Mariah finished their freshman year as elementary education majors with matching 4.0s — an amazing feat considering that the sisters juggle classes, do volunteer work, and keep up with study time. It assures two busy schedules.
So how did they do it?
"My sister and I have all the same classes this year," Maya says. "This helps because we are constantly reminding each other that we have a test, or homework is due, and making sure we get up and go to class."
Working together has made classes easier to manage. But as kids, school was a bit more of a challenge for the twins. Mariah says that growing up "with ADHD, I had to really push myself."
Because of their struggles to stay on top of their homework, they had to find a way to help each other to work harder in school. They formed a sort of rivalry; if one got an A, then the other would have to match it.
"It's a friendly academic competition," Mariah says. "(It) works for us and it allows us to achieve greatly."
Their game obviously worked coming out of their first year in college with a pair of 4.0s. That's a hard thing to do, but the girls had a little help along the way with the NKU R.O.C.K.S. program. This program is designed to help African American students navigate and smooth out the sometimes-rocky transition to the whole college experience.
Associate Dean/Director for African American Student Affairs Dannie Moore saw the twins' progress over their first year and said that they "learned the importance of getting involved, time management and good study habits."
The program was a stepping-stone that helped the twins to explore NKU's resources and provided a support system to help them grow as rising individuals.
"I think R.O.C.K.S. gave me confidence and support to be the very best I can be," Maya says.
Not only did R.O.C.K.S. boost their confidence, it also gave them the tools for leadership, the ability to build and use networks on campus, and the skills for keeping a balanced schedule.
This led to their mentality of "what's next." They felt the need to go further than just academics. They wanted to branch out and be a part of the Norse community. You've probably have seen them on campus volunteering or participating in club meetings.
Maya and Mariah are involved with many of NKU organizations such as the Alpha Lambda Delta Honors Society, the Student Alumni Association, NKU's Unmerited Favor Praise Dance Ministry, and Pinky Promise, a Christian organization for girls.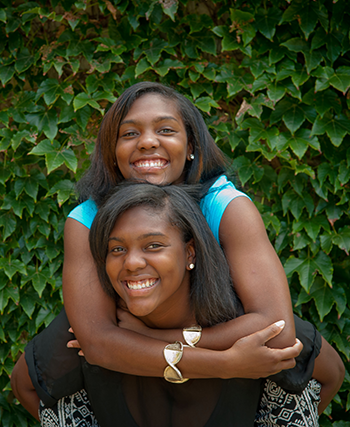 Maya is "very passionate about helping others."
"I try to lend a hand wherever is needed," Maya says.
Both sisters volunteer their spare time as much as possible. During her freshman year, Mariah received a community service award from the Leadership University for 25 hours of community service. She became an academic tutor, and an NKU R.O.C.K.S. mentor this year. She also participated in the 2014 Miss Black and Gold Pageant.
Maya volunteers at alumni events and is one of Victor's Volunteers, an academic tutor for five different subjects, and is involved with the R.O.C.K.S. program as well.
When asked what the plan is for the future, Maya says, "My short term goals are to keep doing academically well, join more organizations, gain some leadership position, become a peer mentor, and get into my major program. My long-term goals are to earn my bachelor and masters in education."
"Eventually, I plan to open a Christian school with my sister…in our hometown," Mariah adds.
Written by Elizabeth Garcia, NKU Marketing & Communications Intern
Photos by Tim Sofranko