New Signs for Covington Businesses, But Two Have Closed & One Feels Snubbed
Tue, 09/23/2014 - 14:53
RCN Newsdesk
Nine brand new storefront signs will arrive in Downtown Covington on Sunday, part of a very special day that includes Art Off Pike and a showing of Goonies at Madlot.
The CoSign project has improved visibility for businesses in Cincinnati's Northside neighborhood where new signs were hung over the course of two years. Sunday's CoSign event in Covington is its third incarnation. The City of Covington applied for and received a $50,000 grant from the National Endowment for the Arts and worked with the CoSign team to navigate historic guidelines, zoning regulations, and the permitting process.
"It has been a great experience to work in Covington," said Erica Bolenbaugh, CoSign project manager. "This is the first year that we've done illuminated signs and I think they are really going to make the business district pop. It wasn't possible to do illumination in Cincinnati and expedite the process as quickly as we needed to."
CoSign is a joint venture between the American Sign Museum and the US Bank/Haile Foundation. $200,000 in grant money from ArtPlace and $150,000 from the US Bank/Haile Foundation made it possible for CoSign to do two more projects, including last year's in Northside and this year's in Covington.
The nine Covington locations that will receive new signs are Blend coffeehouse, Body By Bree (a new fitness studio), Braxton Brewing Company, C-Forward, flow - a shop for men, Economy Meat Market, KungFood Chu's AmerAsia, Save Discount Drugs, and Shrewdness of Apes art gallery.
When the Covington recipients of new signs were announced in June, there were eleven total businesses, but two of them have since closed.
That has left at least one downtown business owner upset over being left out of the CoSign project. "I'm extremely disappointed because it's such a great program but it had such a flawed process," said Angie Billiter, of Earl Franks Sons & Daughters, a longtime flooring operation on Madison Avenue passed over by CoSign's jury. "I would have loved to have had a sign. I think they should come back again and look at the weaknesses in their program and give us another shot at it."
Kelley's Kloset, a women's clothing store, closed its Madison Avenue location to focus on its new one at Newport on the Levee. Three Kings Bar also closed. Both were to receive new signs.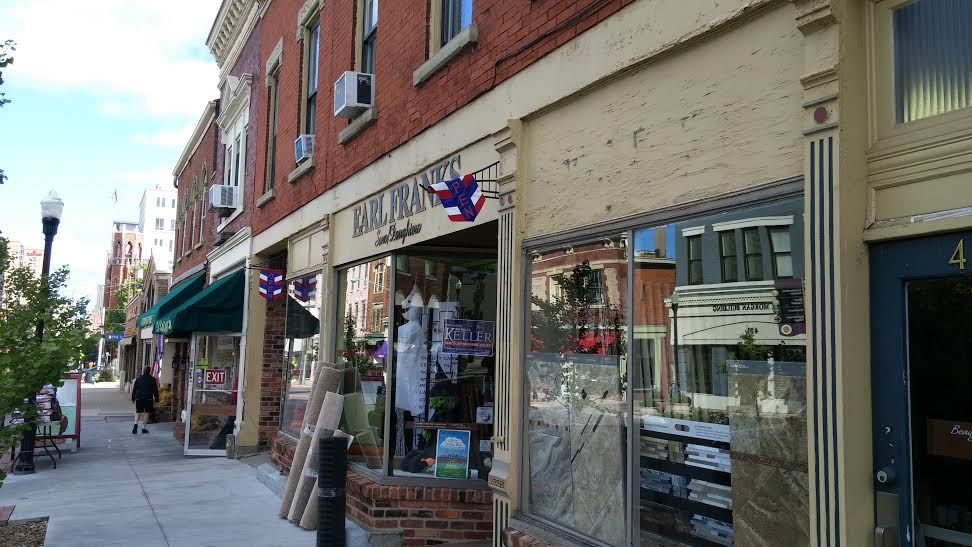 No Sign for Earl Franks during CoSign event/RCN
"The jury evaluates the signs based on the following criteria: concept, construction, context, and collaboration," Bolenbaugh said. "CoSign is a design competition, so ultimately, we are looking for the most well-designed signage." Businesses in Covington were asked to apply and to attend various planning meetings and then designers submitted proposals to each business. The business makes its choice and then hopes to be selected for the final project.
Earl Franks wasn't selected while the shorter-lived stores were.
"CoSign believes that small businesses are at the forefront of making our community a vibrant, interesting, and creative place to live and work," Bolenbaugh said. "Unfortunately, small businesses do go out of business for a variety of reasons and it's only natural that a program working with small businesses would run into these scenarios."
Bolenbaugh said that neither sign for Kelley's Kloset or Three Kings has been fabricated. 
The Covington CoSign project starts at 2:30 p.m. on Sunday at Save Discount Drugs and continues to each location every ten to fifteen minutes.
Written by Michael Monks & Jerod Theobald
Photo: AmerAsia's new sign is placed on the building this week/RCN