In Greater Cincinnati, More Millennials Are Choosing Kenton & Campbell Counties
Thu, 09/25/2014 - 06:37
RCN Newsdesk
In the Greater Cincinnati region, more and more millennials are choosing to live in Kenton and Campbell Counties more than any other nearby county.
Millenials are loosely defined as those who became young adults at around 2000 and in the ensuing decade.
RealtyTrac analyzed Census population data between 2007 and 2013 in more than 1,800 counties nationwide to discover which markets are seeing the biggest shifts in both baby boomer and millennial populations, overlaying that data with information on median prices, price appreciation and rental rates to create a heat map of their migration patterns. The analysis further focused in on the top 10 counties for increases and decreases in both millennials and baby boomers.
"The millennial generation is the key to a sustained real estate recovery and boomers who are downsizing are helping open the door for many first time homebuyers while also driving demand for purchases and rentals in the markets where they are moving," said Daren Blomquist, Vice President of RealtyTrac. "Naturally, millennials are attracted to markets with good job prospects and low unemployment but that tend to have high rental rates and high home price appreciation, while boomers are moving to lower populated areas which have slower home price appreciation."
Realty Trac shows that Kenton County's millenial population increased by 10.15%. Campbell County showed a slightly higher increase of 10.68%. Millennials make up 23% of both counties' populations.
No other surrounding counties showed significant growth in that demographic.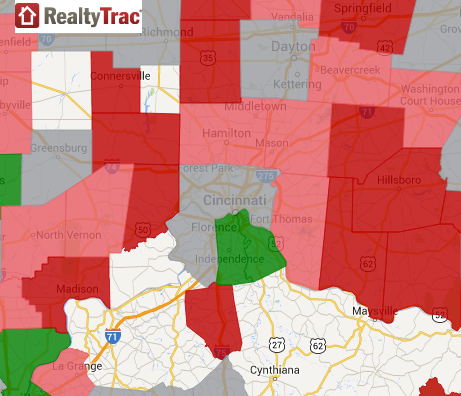 Meanwhile, Baby Boomers are moving to less densely populated areas.
Baby boomers are moving from counties with a larger population (average 809,464) to counties with a smaller population (261,232). Four of the top 10 counties losing baby boomers were in the Atlanta metro area, Fulton County, Ga., (22 percent decrease), DeKalb County, Ga., (21 percent decrease), Clayton County, Ga., (16 percent decrease) and Cobb County, Ga. (14 percent decrease). Two of the top 10 counties where baby boomers are leaving are in the DC metro area - Arlington County, Va., (21 percent decrease) and Alexandria City, Va., (-15 percent).
Other counties in the top 10 for the biggest percentage decrease in baby boomer population between 2007 and 2013 were Wayne County, Mich., (17 percent decrease), Milwaukee County, Wis., (14 percent decrease), New York County, N.Y., (14 percent decrease), and Hamilton County, Ohio, (13 percent decrease).
Kenton County lost 6.8% of its Boomer population while Campbell lost 3.5% of its. Boone County increased its Boomer number by 1.4%.
-Staff report
Photo: Covington skyline/RCN file