Lincoln Was Also a Pretty Good Lawyer, Chase Professor Learns
Thu, 09/25/2014 - 06:45
RCN Newsdesk
He's been played on screen by Henry Fonda and Daniel Day-Lewis. He's been cast as a vampire slayer. Books about him fill library shelves. The $5 bill and the penny carry his image, as does a new postage stamp. But what do we know about Lincoln the lawyer? A lot more than you might think, now that law professor Roger Billings is on the case.
By Feoshia H. Davis
Special to KyForward
At least 16,000 books have been published on Abraham Lincoln, more than on any other American. Yet for all the inquiry, our 16th president still has the power to perplex, just as he did in his own time. His presidency, his death, his views on slavery ‒ even his marriage ‒ continue to be dissected and debated nearly 150 years after his assassination.
"Lincoln did not have close friends he confided in. Even the friends he had didn't fully understand what made him tick, and that's surprising to people today," said Roger Billings, a professor at Northern Kentucky University's Chase College of Law.
"Lincoln is a chameleon. He shows many colors to his personality. No one has yet figured out which one is genuine."
But Billings, like other Lincoln scholars, has not stopped trying. For speeches at conferences, for journal articles, and in a book collecting scholarly essays on Lincoln's legal career, Billings has studied the historical record to understand a president whose life sometimes seems to contradict his own legacy.
How, for example, could the man who would become the Great Emancipator represent a slave owner trying to retrieve a runaway slave and her four children? Billings explored that question in a paper, "The Matson Slave Case: A Countercultural View," that he delivered last year the 15th annual Conference on Illinois History.
The case, which unfolded in 1847, has given some writers reason to question Lincoln's commitment to the antislavery cause, but Billings sees instead a lawyer who, though deeply troubled by human bondage, is committed to legal ethics that obligate attorneys to vigorously represent a client's interests even when the attorney's values and the client's conflict.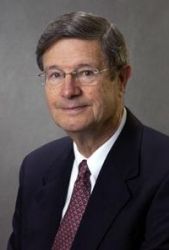 Roger Billings/NKU
As Billings explains in the paper, which he's now preparing for publication, the future president did not jump at a chance to represent a slave owner. Nor did he shy from it. Lincoln, Billings argues, felt a primary obligation to the law ‒ the same obligation that would, during his presidency, lead him to hold a free election in the midst of war and guide him toward an emancipation strategy that violated neither the law nor the Constitution. Nothing, as one of Billings' like-minded colleagues has said, was more sacred to Lincoln than the law.
That observation, from preeminent Lincoln scholar Harold Holzer, is in the introductory essay of Billings' book, Abraham Lincoln, Esq.: The Legal Career of America's Greatest President, published by the University Press of Kentucky in 2010. Billings is coeditor of the book and wrote three of the essays collected in it. As the book shows, understanding Lincoln the lawyer has become a particular fascination of Billings.
"We evaluated his career, looking into the special law practices that hadn't really been discussed before. That included his time as a real estate lawyer and his ethics as a lawyer. We dedicated two chapters to his Washington years in constitutional and international law," Billings said.
Billings and his co-writers make abundant use of "The Law Practice of Abraham Lincoln," a newly available online repository of more than 100,000 letters, legal briefs, court records, diaries, newspaper stories, and other documents related to Lincoln's legal career that scholars are just beginning to plumb. The site is part of a larger project of the Illinois Historic Preservation Agency and the Abraham Lincoln Presidential Library and Museum to collect, publish, and annotate the written record of Lincoln's life.
"There have been more than 5,000 cases discovered that he handled and 100,000 documents. I'm one of the people using this treasure trove of documents to analyze Lincoln's law career," Billings said.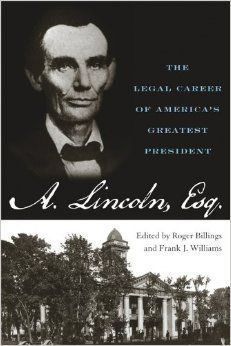 Like many Lincoln enthusiasts, Billings' interest was ignited by Lincoln's Civil War years. While serving in the Army himself, Billings grew more interested in the former commander-in-chief. He started collecting Lincoln books.
"I'd go to used book shops and buy five or six at a time," Billings recalled.
"There are just a few hundred books really worth collecting out of the thousands written. I have many of those. This has been a hobby, but as a professor I've become interested academically in the law career of Abraham Lincoln."
Lincoln's 25-year law career had been largely overlooked or misconstrued. Lincoln, who had no formal legal schooling, was a practicing attorney from 1836 to 1861.
Licensed in Illinois, he argued cases in county, state and federal courts. He used his country charm to sway opinion. The charm and his backwoods upbringing belied his keen legal mind.
"Lincoln's style was to be folksy with the jury," Billings said. "But he was sly as a fox, conceding points to the other side, except for the one point most likely to win his case. He was an extraordinary lawyer, because the best lawyers in the state welcomed a chance to work with him. He loved trial work but not office work. He did draft hundreds of excellent office work documents such as deeds and mortgages, however."
If Lincoln had a fault as a lawyer, perhaps it was his filing system. As Billings reports in Abraham Lincoln, Esq., the man whose name would become synonymous with freedom took liberties with office records, sometimes filing them in his stovepipe hat and too often misplacing them.
Billings' book and other work on Lincoln have made him a popular speaker. He has organized symposiums and spoken at Gettysburg, Pennsylvania, in addition to Springfield. He sits on the boards of Lincoln associations in both cities.
"These associations are dedicated to the study and accurate preservation of Lincoln's legacy," Billings said.
"There is a lot of information about Lincoln that has been published, and not all of it is historically accurate. I'm happy to add to the accurate understanding of Lincoln's legal career."
* * * * * * * * * * * *
Contradiction or consistency? 
In his paper "The Matson Slave Case: A Countercultural View," Billings argues nothing was inconsistent in Lincoln, then a 38-year-old trial attorney, defending a slave owner in an Illinois courtroom in 1847. Here are excerpts from the paper, which notes that Lincoln first attempted to side with the slave:
"He offered his services to Dr. Hiram Rutherford, who was backing the slave, Jane Bryant, but Dr. Rutherford turned Lincoln down. In all other similar cases Lincoln did represent the slave. The real reason Lincoln took Matson, the slave owner, as a client is simply that it was his business to represent people. Lawyers took business as it came along.
"…Lincoln was bound by the unwritten rule since colonial times that lawyers should represent unpopular clients zealously. To find an example of representation of an unpopular client in colonial times one needs only to consider the founding father John Adams. As a scholar of early American history, Lincoln must have known that Adams defended British soldiers accused of murdering colonists, an incident called the Boston Massacre. Because most of his fellow colonists hated the British, Adams' courageous defense of British soldiers was subject to criticism as morally wrong.
"…The fact that Lincoln took the Matson side of the case did not mean that Lincoln abandoned his antislavery beliefs. Lincoln was known to be antislavery, yet his professionalism enabled him to take the side of a slave owner. And his belief in Whig principles to uphold the rule of law as a barrier against chaos allowed him to represent a slave owner in spite of his moral convictions."
* * * * * * * * * * * *
About the author
Roger D. Billings Jr., is a professor of law and legal studies and has been on the faculty at Northern Kentucky University Chase College of Law since 1972. He received his law degree from University of Akron, 1969 and bachelor's from Wabash College, 1959.
Feoshia H. Davis wrote this story for Discover, a magazine published by Northern Kentucky University to spotlight research by NKU's faculty and students. Read the magazine online here.