More than $100,000 Awarded to Covington Projects by Duke Energy
Fri, 09/26/2014 - 11:13
RCN Newsdesk
The Duke Energy Foundation handed out its latest round of urban revitalization initiative grants and the big winner was Covington.
Of the $280,250 handed out, $111,750 is going to Covington-based projects, or 40% of the total funding.
Among the recipients in Covington: Braxton Brewery, the Schott Grocery Building, the Hellman Lumber Mill Conversion, Pike Star Phase II, and SQUARE1, INc. at bioLOGIC.
Braxton Brewery - $25,000
The 22,000 sq. ft. building that most recently was home to Covington Arts and MKSK Architects will soon be the region's newest brewery.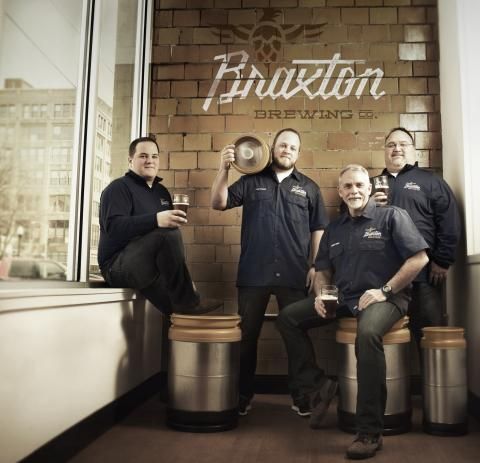 The 1937 structure was originally built as a grocery store on West Seventh Street. The entire downstairs will be renovated to house the new microbrewery while the upstairs will be the new home of MKSK which will move from the floor below.
"We are thrilled and honored to even be considered for something as remarkable as an urban revitalization grant," said Jake Rouse, one of the co-founders of Braxton. "There's truly a renaissance happening here and it's happening because of programs like this."
Braxton received the grant thanks to help from The Catalytic Fund. "It is the mission of the Catalytic Fund to accelerate Northern Kentucky's urban renaissance," said Brandon Sehlhorst of the Catalytic Fund. "We are so lucky in this region to have a forward-thinking entity in Duke Energy who understand economic development."
Schott Grocery Store Building - $22,500
This long vacant building sits prominently at the corner of Sixth & Main Streets in Mainstrasse Village and was recently purchased by Paul & Emily Weckman, the couple that own the popular Otto's restaurant in the neighborhood.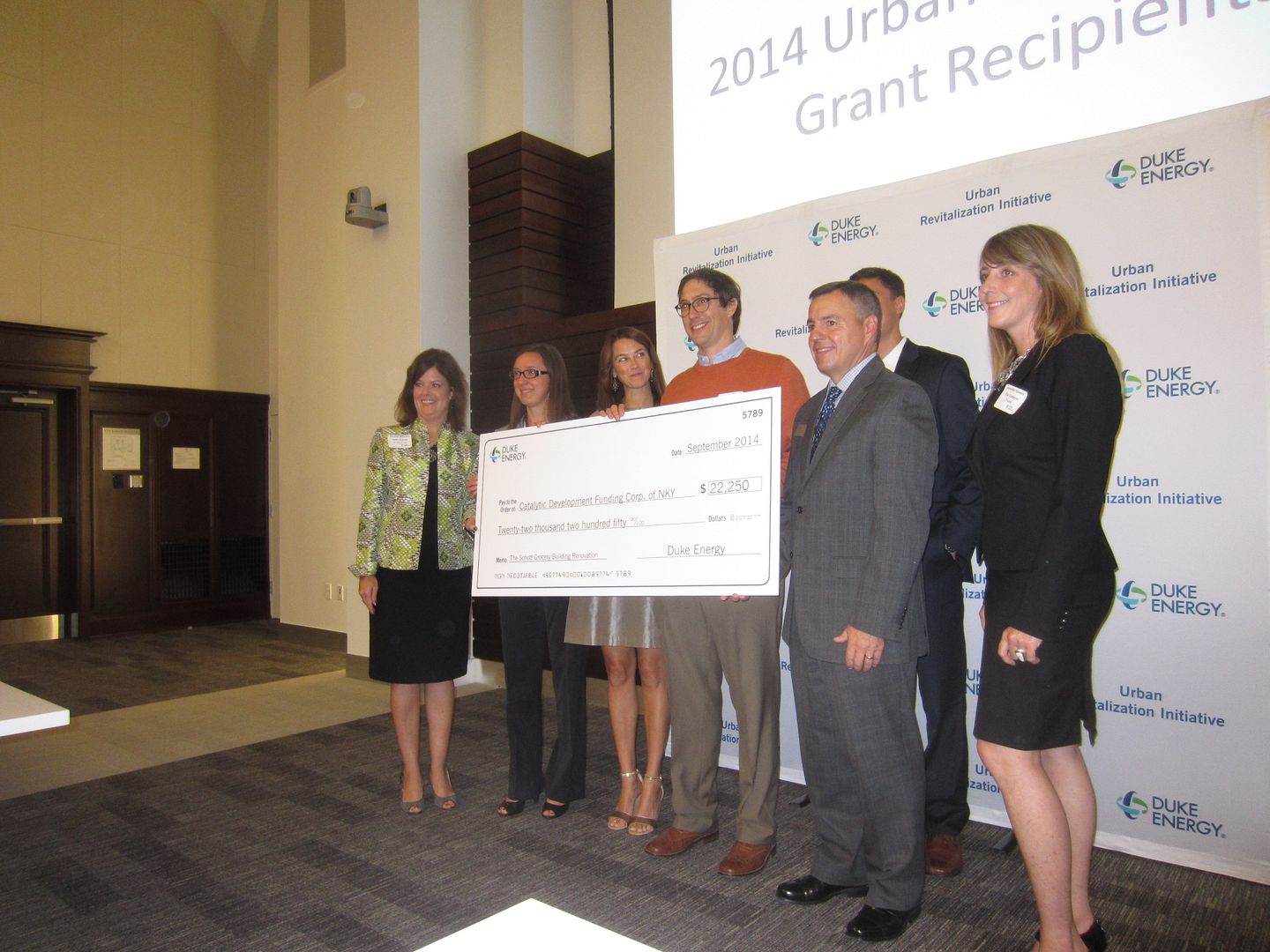 The building was suffering from serious structural deficiencies prior to the Weckmans' purchase. It has been vacant for seven years and the funds from Duke will assist the Weckmans in architectural and structural engineering services as well as historic tax credit consultation.
The building will be home to an upscale full-service restaurant, Duke Energy's Rhonda Whitaker announced.
"We're really excited to be continuing our efforts in Covington," said Paul Weckman. "We love what's going on with the urban redevelopment in Cincinnati and Northern Kentucky and we couldn't be more thrilled to be a part of it. These small gaps can be hard to fix so this program has proven to be invaluable to us."
The Catalytic Fund also assisted the Weckmans in securing these funds. Sehlhorst called the project, "vital to the continued success and future of Mainstrasse Village".
Pike Star Phase II - $9,250
Pike Star Phase I led to the renovation of the building that now houses UpTech and will soon have newly renovated market rate apartments above.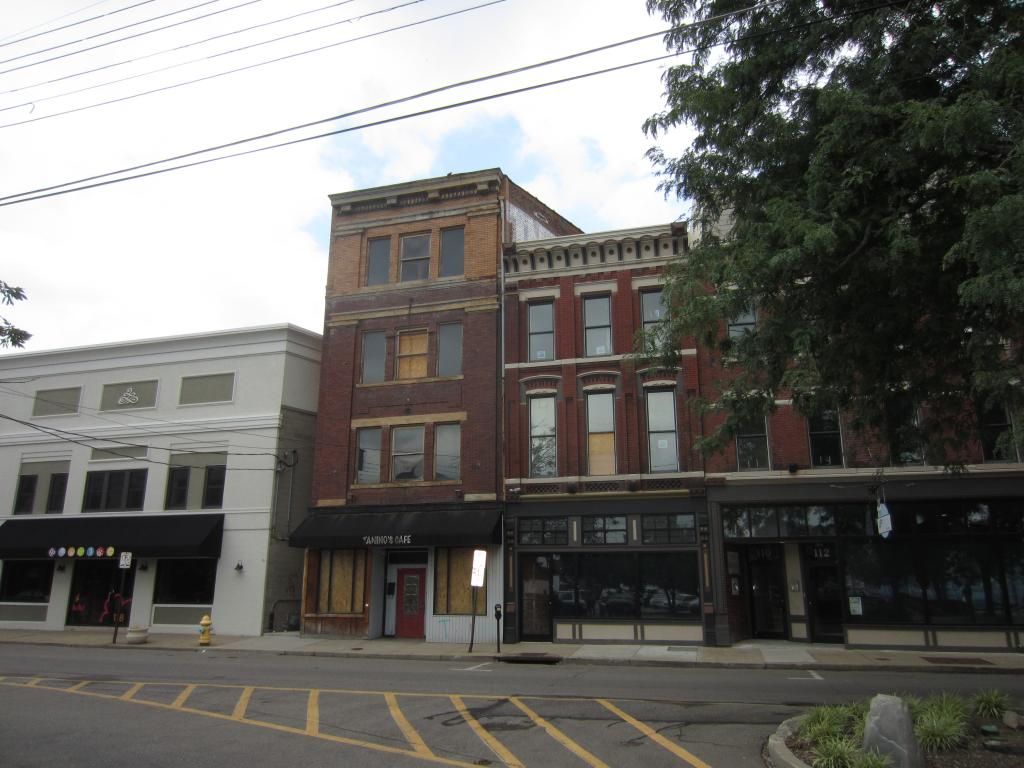 The building next door, commonly referred to as the Tanino's Building, which was recently acquired, will now also be renovated to include new market rate apartments and a commercial space for Bad Girl Ventures.
Orleans Development and the Center for Great Neighborhoods will collaborate on this project as they did on the first phase.
"When we first started Pike Star phase one several years ago, we didn't know if we would get to this point," said Rachel Hastings of the Center for Great Neighborhoods. She added that a planned phase three will include two additional buildings. The apartments in phase one will go online November 1.
Hellmann Lumber Mill - $35,000
This impressive structure has sat vacant for years at 321 Martin Luther King, Jr. Blvd. The Center for Great Neighborhoods acquired it at auction and will be the organization's first entirely commercial, non-residential development.
It will serve as the creative hub of the Center's creative development efforts in the city's Westside. The site will also include a wood shop for The Carnegie.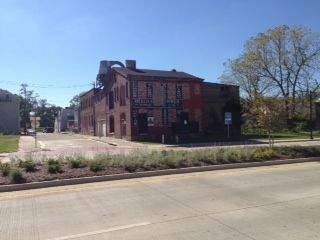 "It will be the keystone of our creative place-making initiative," said the Center's Sarah Allan. She called it "a catalyst for MLK" and promised "a really wonderful celebration when it opens".... we will have a really wonderful celebration when it opens.
SQUARE1, Inc. at bioLOGIC - $20,000
Inspired Partners intend to develop the vacant warehouse space at 632 Russell Street, next to bioLOGIC, the life sciences incubator. The new space will house an open workspace to accommodate scientists, entrepreneurs, and creative individuals.
The design will include several closed office and meeting spaces including a conference room on the mezzanine level. Several flexible lab spaces will also tie into the lab facilities at bioLOGIC. The development may become a small retail center for tenant companies that have a completed product to sell.
The focus of the new space will be on health technology companies.
bioLOGIC's Keith Schneider said that two new programs should launch by the end of the year. "The goal is to help people with ideas get into our accelerator and incubator programs," Schneider said.
bioLOGIC's Dawn Denham said that she is about to turn 40, a significant milestone in years as it relates to keeping an eye on Covington. "My whole life, as long as I can remember, we've talked about Covington and how it's coming back, and it hasn't," she said. "I stand here today and it's finally happening."
"Thanks to Duke for their never-ending support for our community," said Cincinnati Mayor John Cranley, who was present to congratulate Cincinnati recipients of grants in Westwood, Pleasant Ridge, and College Hill. "Obviously my heart is with College Hill and Westwood (and Pleasant Ridge) and their awards today but obviously our region is bigger than that and it is great to see how much Duke puts into our regional partners."
Covington Mayor Sherry Carran was joined by City Manager Larry Klein, assistant city managers Larisa Sims and Frank Warnock, and the city's business development manager Naashom Marx at the ceremony.
"It's sort of icing on the cake," Carran said. "It makes things a little easier for the people who are investing so much in the city. Acknowledging them is a boost. It's a boost to them and a big boost to the city."
Story & photos by Michael Monks, editor & publisher of The River City News