Whoa: Braxton Brewery Raises Tens of Thousands in 2 Short Days
Wed, 10/01/2014 - 19:28
RCN Newsdesk
Think people are just a little bit excited about Braxton Brewery opening in Covington?
The start-up microbrewery is set to open early next year in the former Covington Arts building at Seventh & Washington Streets following extensive renovation. The project is more than a million dollars in investments. The guys behind Braxton -father Greg Rouse, brothers Jake & Evan Rouse, and brewmaster Richard Dube - wanted to give the general public a chance to "invest", too.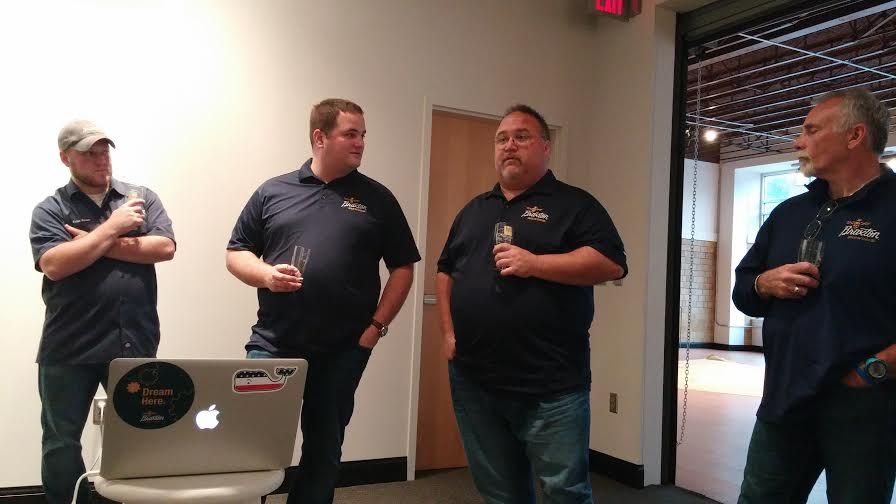 (L-R) Evan Rouse, Jake Rouse, Greg Rouse, and Richard Dube/RCN
So they launched a Kickstarter, the popular go-to crowdfunding site, with a goal of raising $30,000 in a month. That was Tuesday. Less than 36 hours later, Braxton has raised over $27,000 from more than 230 contributors. 
"We wanted to do it from the very beginning," CEO Jake Rouse said of the crowdfunding effort, during a tour of the space a couple weeks ago. "We're passionate about making people a part of this. We want you to walk in here and feel like you own a piece of it."
In an email to supporters on Wednesday, Jake wrote, "I can't begin to share with you how at a loss for words we are this morning... Because of you, we broke the single day funding record on Kickstarter (for breweries)."
"Everything we raise is about creating the taproom of the future," he said during the tour that The River City News was invited to be a part of. "What we're going to do in this space I think is going to re-invent craft beer globally."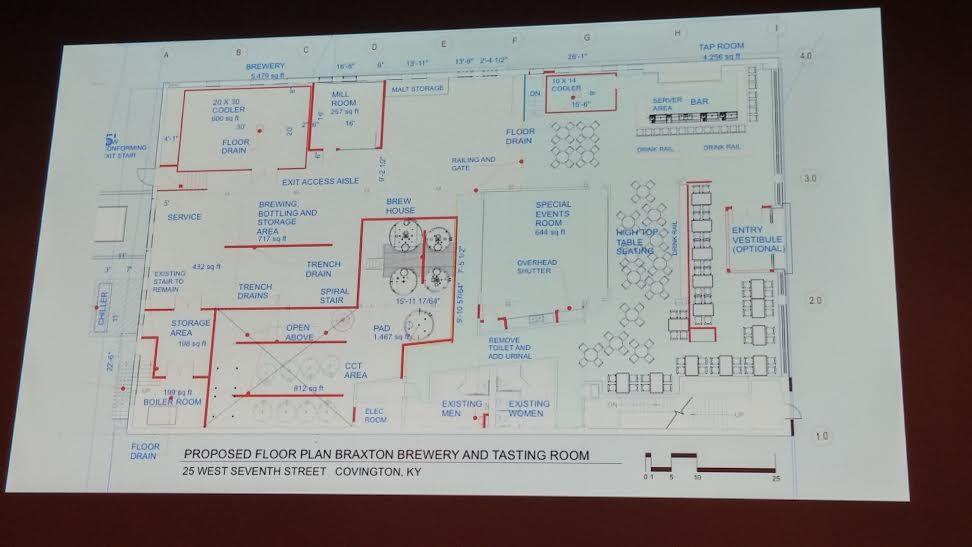 "It's not an effort to raise more money for us," said Evan Rouse, the man whose home brews inspired the company's formation. "It's a chance to have Joe Schmoe who can't write a big check have a chance to be a part of it. We're trying to build a community. We're trying to make this home."
The taproom, which will also be located at the brewery's future location on Pike Street, will be designed as a multi-functional co-working space, which will include free high-speed wi-fi. We're talking 1 GB fast, which the brewery's founders think will be a first for a U.S. brewery.
The taproom will also feature metered taps for private event rental, growler service, and a mobile 
app just for engaging with the taproom.
"If you're going to spend the morning at a coffee shop, why not spend the afternoon at the 
brewery? We'll have the space that allows you to do just that," they say on their
Kickstarter
page.
Backers of Braxton's
Kickstarter
campaign -- known as Braxton Builders -- are privy to a 
number of perks for their donation. For example, anyone who donates $10 or more is invited to 
an exclusive, backers-only event hosted at the taproom, as well as included in annual meetings to 
discuss the brewery's continued growth. Larger donations yield backer-exclusive merchandise.
That includes a partnership with the celebrated Rookwood Pottery in Cincinnati to create special tumblers. The thirty grand will help the guys achieve their entire vision for the tap room. 
Evan Rouse offers details about the brewery space
"This is not a money play," said Greg Rouse. "The brewery opens regardless."
During the tour that included a small number of invited guests, Evan Rouse shared some of his home brews and expert Dube who joined the guys from Cincinnati's Christian Moerlein detailed some of the varieties that will be created in the building. They are passionate about creating a world class product that attracts visitors from all over the country.
They are also passionate about Covington.
"The redevelopment happening in this corridor here, it's going to be an organic Over-the-Rhine," Jake Rouse said, referencing the gentrified Cincinnati neighborhood. "There is a vision for what it looks like and we want to be a part of that. We're very cognoscente about what's happening here."
You can find out more about Braxton Builders, see an awesome video about their vision, and contribute to the cause by clicking here.
-Pat LaFleur & Michael Monks