Beechwood Goes to Cov Cath, Leaves with 28-13 Win
Sat, 10/04/2014 - 20:12
RCN Newsdesk
Even though it was an away game for Beechwood, the Tigers and their fans looked right at home at Covington Catholic as they pushed around the Colonels for an impressive 28-13 win.
It was a painful game for Cov Cath, as they were physically manhandled and suffered numerous injuries throughout the day. The tone was set early when Colonels quarterback Adam Wagner was removed after getting hit with what appeared to be a concussion on the team's first drive.
Backup Ben Dressman looked early on like a capable replacement as he drove the field on the same drive and capped it off with a short touchdown pass to Mitchell Rensing. The Colonel faithful on hand nodded to one another reassuringly, confident in their backup. The extra-point, however, was blocked and little did they know it at the time, it would be the closest their team would come to sticking with Beechwood on the day.
The very next play, Brett Slusher, blasted through an opening and returned the kickoff all the way back for a Tigers touchdown.
Slusher was amazing on the day, standing out in all three phases of the game. To go along with his kick-return score, he also hauled in a jump ball in the end zone that he ripped away from the defender, turning what would have been an interception into a touchdown. He also caught another touchdown on a trick-play halfback pass, and had multiple sacks on blitzes. Oh, and he had a fourth-quarter interception too.
"A lot of people say the reasons we aren't as good as some teams is because we play a lot of guys both ways, but I think it's all about heart," Slusher said. "These guys have so much heart and we would do anything for these seniors and that's what we did out here today. We can't let the seniors play their last Cov Cath game with a loss."
"(Slusher) blitzed a couple of times when I didn't even call it, and I allowed him to get away with it at times, as much as I don't like juniors making decisions," said Beechwood head coach Noel Rash.
The Tigers offensive line established the run from the get-go as they controlled the line of scrimmage and pushed the Colonel defensive front backward consistently throughout the game.
"They're special," Rash said about his line's performance. "This is the group that has had four years in that brand new weight room and it shows."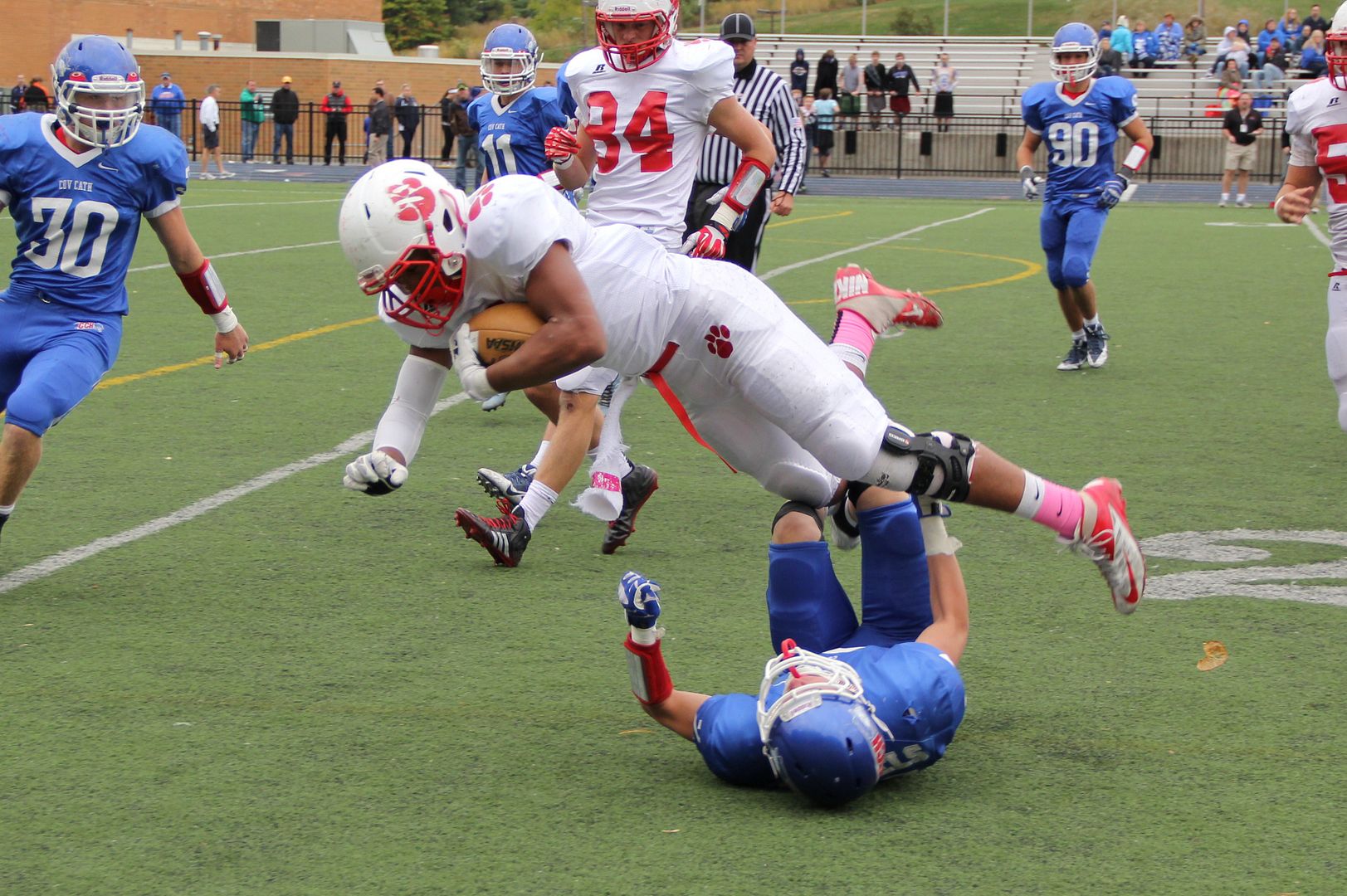 Dressman and his crew, on the other hand, struggled for the better part of three quarters to get much of anything going. Passing attempts to the flats to maximize the speed of the Colonel receivers simply didn't translate to the big play that Cov Cath relies on. When Dressman ran the ball, he was stuffed almost immediately. When he took deep drops in the pocket, he was sacked. When he was forced out of the pocket, he often threw interceptions.
"After watching enough tape, we felt good about our matchups," said Coach Rash about his defense. "Again, I think I have really good players. I didn't do anything different than I've called in any other games. They just play with a lot of confidence."
Also, the Colonels were hit with lots of penalties, often of the pre-snap variety. On one memorable occasion, they had first-and-goal at the three, but two false starts in a row changed it to a first-and-13. Dressman would ultimately be sacked on fourth down and the rare scoring opportunity for Cov Cath was lost.
It was on the ensuing possession for Beechwood where Slusher pulled down the tough grab in the end zone, making the score 28-7 midway through the third quarter. By then, the sizable Beechwood cheering section was in full throat as they mocked the Colonel Crazies who headed for the parking lot with a quarter and a half left to play.
There was an odd play a bit later where it appeared that Beechwood had fumbled and Cov Cath had scooped it up and returned it for score. The officials, however, had ruled the player's forward progress was stopped and the fumble was nullified. It was a lengthy discussion between the referees about the call, and once they decided, the Colonels sideline became irate at the ruling.
Colonels receiver Ryan McGinness was able to score a late touchdown on a long end-around hand off where he turned the corner and made some nice jukes to go all the way, ending the scoring on the day, 28-13.
Beechwood (4-2) hosts Bellevue (4-3) next week, while Covington Catholic (3-3) heads to Ryle (2-5) next Friday night.
Written by Bryan Burke
Photos by Brian Frey