Building's Renovation Expected to Have Big Impact on Covington Block
Mon, 10/06/2014 - 08:35
RCN Newsdesk
The impact of one long vacant building being restored has a significant impact on the surrounding area and the city's bottom line.
220 West Pike Street is a tall, looming structure with a unique facade and a red tint that commands attention, but for the past twenty years or maybe longer, it has been one of several eyesores on Pike Street.
Until now. 
The historic property is now undergoing major surgery and when completed will emerge as an architectural gem in Downtown Covington. It will also be home to Dave Meyer and Marisa McNee in the upper floors and will house a business on the first floor. "The building is beautiful and we have always love it," McNee said. The couple spent two years looking it and thinking about it, and then in December 2012 as the building was going through the foreclosure process, the opportunity arose for Dave and Marisa to acquire it.
"Our top priority was saving the building. We liked it. We've always liked it," Meyer said. Dave and Marisa, who operate a political consulting firm, returned to Dave's hometown after living in Washington, DC and New York. "We didn't quite move back here to fix up the building, but it was a huge factor in the timing and decision."
The most striking feature of 220 West Pike is its unique, detailed facade that even during the worst of its days could be admired. The Covington City Commission approved a $50,000 forgivable loan specifically for the restoration of the facade. The dollars were allocated from the city's economic development fund.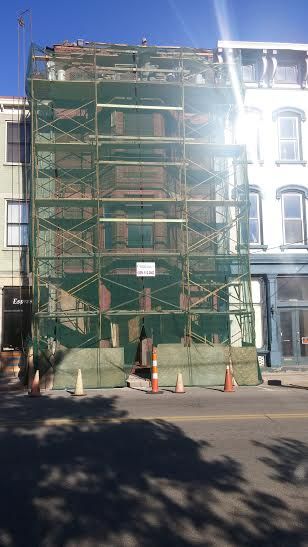 For that $50,000 investment, the city could see a return in the form of a $440,000 property value increase, $1.7 million increase in the cumulative value of nearby properties, $1,320 per year in real estate taxes, $4,840 in city school taxes, 5-14 direct jobs, 12-62 multiplier jobs, $29,000 -$79,000 in payroll taxes, and $65,000-$285,000 in direct spending by employees.
Those figures were presented to the city commission by Jeanne Schroer, president of the Catalytic Fund. 
"I view this as an investment rather than a grant or a subsidy," Schroer said. "This kind of place brings positive foot traffic, entrepreneurs, and density. It does complement and feed existing business. This is the most important part: we have a little bit of a problem in Covington because we are doing a great job attracting entrepreneurial companies and start-ups; UpTech and Gateway are producing great companies and when they graduate, they have nowhere else to go. So we need to have spaces that are flexible like this for these companies to go."
Meyer and McNee hope to have a positive impact on a block where several businesses in the past five years have come and gone. A coffee shop space next door has had three different tenants and is now empty, and most recently, a few doors down, Rituals by Nature closed in the same space that saw the failure of a couple different bakeries.
"It's obviously a guessing game but what our hope is, is that some of the spaces around this area - it's just not commercially viable right now and might as well be off the market," Meyer said. "When we get our building finished, those properties will become viable. We want to have as strong a positive impact as we can in the neighborhood and on local businesses. That is part of what is motivating us here."
The property has also received funds through historic tax credits, Duke Energy grants, and the Catalytic Fund. "We are very strategic and very particular about the projects we support with our funding," Schroer said. "This is a good investment for the city."
The Catalytic Fund also invested in the Market Lofts, the renovated warehouse that now has a dozen occupied apartments inside right across the street. Dave's brother, Chris Meyer, is renovating the building next door for a private residence.
The block is on an upswing.
When originally built, the block was home to some of the city's wealthier citizens, particularly those who worked directly or indirectly in the railroad business. McNee said that their research indicates that the city's first tax collector lived there. "It's a unique piece of Covington history," she said. When finished, McNee and Meyer will live on the second and third floors and there is also a fourth floor usable attic space. The building has unobstructed views of the Cincinnati skyline and also a lightwell, an eight-feet by eleven-feet shaft that runs to the roof. It will have a skylight to fill the building with natural light. 
A rooftop deck may also be in the plans down the road to take advantage of the view. The facade will look as it did in its original state. After that, the next immediate project is the placement of a new roof, and then work can finally begin on the interior where Meyer and McNee have spent months removing debris and unusable elements.
"We've got it down to the bones now and we're beginning the task of putting it back together," Meyer said.

Written by Michael Monks, editor & publisher of The River City News
Photos: 220 West Pike Street/RCN