Gateway Breaks Ground on Next Building to "Transform Downtown Covington"
Tue, 10/07/2014 - 17:24
RCN Newsdesk
Gateway Community & Technical College continues to celebrate its arrival and expansion in Downtown Covington, breaking ground Tuesday on the next building it's redeveloping and giving tours of its renovated Technology, Innovation, and Enterprise (TIE) Building, formerly the Marx Furniture building on Madison Avenue.
That space is four floors of active learning and a ribbon was cut there Tuesday afternoon.
"The grand opening is the culmination of years of planning and teamwork by a dedicated group of community leaders, faculty, staff, students and Gateway supporters, all of whom worked tirelessly to transform a vision into a reality," said Ed Hughes, Gateway president/CEO.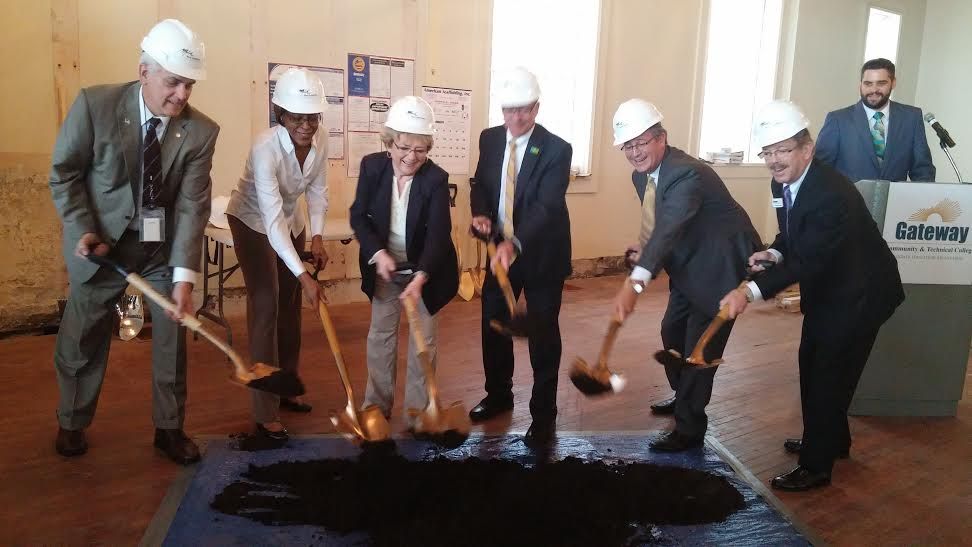 "Today, we dedicate this building to the future – future students, future business and community leaders who will prepare here, and the vibrant economic future they in turn will build."
Lee Flischel, chair of the Gateway Foundation which owns the facility, said, "This afternoon marks the most exciting 60 minutes in Covington in recent memory. It's not often that the city celebrates the opening of a new college classroom building on one corner a mere half-hour after breaking ground for another Gateway facility less than a block away. Covington's renaissance took a giant step forward today, and the Gateway Foundation is proud to play a pivotal role in the process."
Earlier in the afternoon, Foundation, college and local officials broke ground for the renovation Center for Professional Services at 440 Scott Boulevard, formerly the Abode Furniture building. The building will re-open next spring and house the college's cosmetology and massage therapy training programs.
Today's dedication ceremony for the Center for Technology, Innovation and Enterprise at 516 Madison highlighted the facility's high-tech aura as dignitaries navigated tablet computers to perform a virtual ribbon-cutting. The building houses Gateway's computer and information technologies, instructional design and learning technology, and visual communication programs, as well as programs in business administration systems, criminal justice, education, and interdisciplinary early childhood education.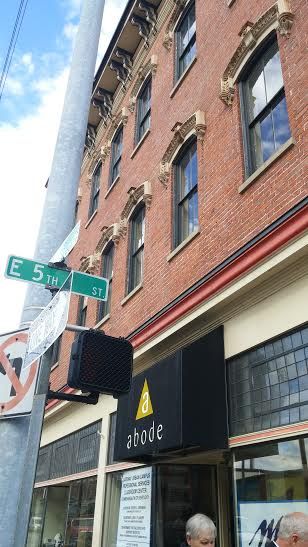 The facility's active learning environments are specifically designed to enhance student success and are a key part of Gateway's Flexible Learning and Exploration space (FLEXspace) project, which garnered a $3.6 million, four-year First in the World program grant from the U.S. Department of Education.
"Brain science indicates learning spaces should be designed to support the ways the brain works," Hughes said. "Evidence also suggests that environments impact behavior and are often barriers to behavioral change. In the Center for Technology, Innovation and Enterprise, we are partnering with Steelcase Education Solutions to implement Steelcase's active learning ecosystem."
The active learning ecosystem emphasizes a multi-sensory approach to teaching and learning that has been shown to increase engagement, promote deeper participation and maximize student achievement.
"The 21st century classroom must nurture collaboration and hands-on learning," Hughes said, "and this facility is specifically designed to achieve that." He added that the FLEXspace grant will enable the college to transform classrooms at the Boone and Edgewood campuses into similar active learning environments.
The Gateway Foundation purchased the space at 516 Madison in November 2012. Renovation began in July 2013, and the Center for Technology, Innovation and Enterprise opened for instruction in August 2014. Century Construction served as general contractor to implement plans designed by EOP Architects.  Many Covingtonians remember the site as the former Marx Furniture Store.
Since 2002, Gateway has been working with a broad coalition of community organizations, entities, and business, government and community leaders to develop a comprehensive Urban Metro Campus with these goals:
·         To provide easy access to higher education for residents of Northern Kentucky's urban communities;
·         To serve as a catalyst for economic development; and
·         To provide a new source of talent for the region's employers.
The center dedicated today is the second building in Gateway's Urban Metro Campus plan. The first, the former Two Rivers Middle School, was leased in 2009, acquired in 2010 and has been serving students since 2009.
Transforming Downtown Covington
As the rain poured on Tuesday, Hughes welcomed guests to the groundbreaking on Scott Boulevard, promising that when completed, the building would house "an urban oasis". "The pot at the end of the rainbow is here," Hughes said. 
The arrival of Gateway and its redevelopment efforts downtown coincide with a renaissance in the city. "Years ago everyone was moving away from the River Cities. You couldn't give it away," said Ken Paul, former Campbell County Judge-Executive and current member of the Gateway Board of Directors. "Now it's priceless."
"This is another step in many steps to come not only for Covington and the urban core of this region, but for Gateway and what it means to this community," said Kenton County Judge-Executive Steve Arlinghaus. He noted that while working on a nearby building that he owns, he saw a lot of students walking by, a stark change from the homeless population that would typically wander by. "It was encouraging to see that happen."
"The Gateway Urban Campus is transformative," said Covington City Commissioner Steve Frank. "We are at the beginning of a build out of six blocks and thousands of young people. It's going to transform the downtown. This wins for us in so many ways."
"A lot of people take for granted how fortunate we are to have Gateway and (Northern Kentucky University) in our region," said State Rep. Adam Koenig, adding that both schools are rising stars.
-Staff report
Photos by Michael Monks, RCN