Large Scale Mural Project by Brooklyn Artists Starts in Covington
Wed, 10/08/2014 - 17:07
RCN Newsdesk
The back of two Downtown Covington buildings are about to be much more colorful.
BLDG, the Pike Street creative refuge, announced Wednesday FAILE: Around The Corner, a large-scale art installation taking place October 9 - 23.
Since its inception in 1999, Brooklyn-based art collective FAILE has garnered global recognition for their pioneering techniques and experimental style in the arena of urban contemporary art. Known for their explorations of duality through a fragmented style of appropriation and collage, their art has been featured on streets and in galleries across the globe.

FAILE will leave their mark in Covington over the next two weeks with a large mural installation that stretches a total of 100 feet wide and up to 60 feet tall.
"FAILE is one of the most significant artists in the urban contemporary movement and BLDG is furthering our mission by adding this large scale installation to Covington's growing collection," said Lesley Amann, partner at BLDG. "This mural puts Covington on a list of cities with New York, Amsterdam, London, Portland and Bethlehem, Palestine. It's history in the making; one wall at a time!" 
BLDG brought The London Police to Covington last year for a mural project across the city.
Classic FAILE characters and elements along with hints of Kentucky culture come together in a torn collage style mural that will span across two adjacent buildings. FAILE describes their inspiration and interest in bringing their work to Covington: "The mural was inspired by our rip style of painting. Given the opportunity to paint two buildings adjacent to each other we wanted the murals to have a conversation and to connect to one another. We're honored to have a chance to bring our work to a few large walls in the city and hopefully have a long-term presence to inspire and excite those who have the pleasure of calling Covington home." 

The mural will be installed on the rear walls of Republic Bank and Donna Salyers' Fabulous Bridal on the corners of Sixth Street and Madison Avenue.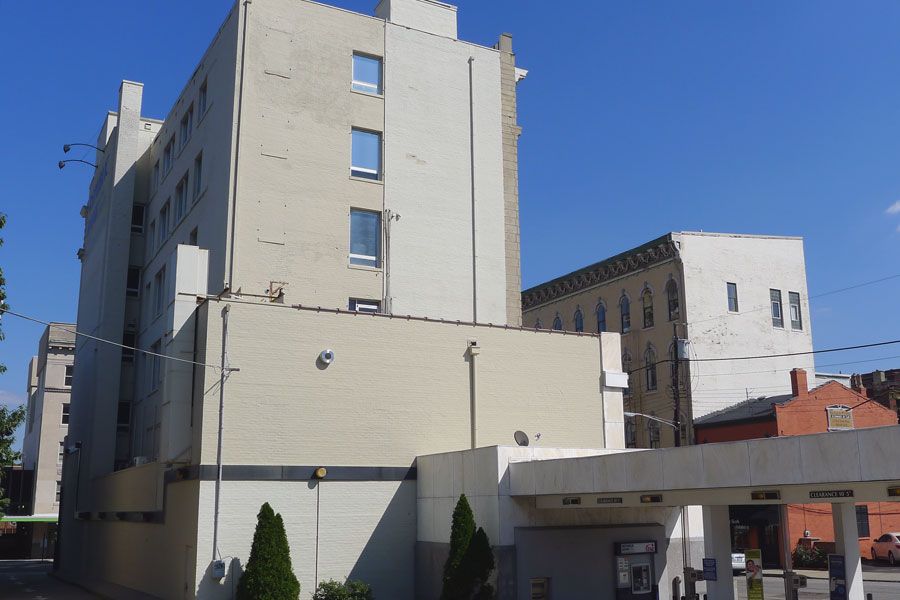 Swing by to check out the mural in-progress over the next two weeks, and stay tuned for details on a special unveiling that will be hosted by BLDG.
 
Follow the mural progress:  #aroundthecorner on all social media. 

About Faile
FAILE is the Brooklyn-based artistic collaboration between Patrick McNeil and Patrick Miller. Their name is an anagram of their first project, "A life." Since its inception in 1999, FAILE has been known for a wide ranging multimedia practice recognizable for its explorations of duality through a fragmented style of appropriation and collage. While painting and printmaking remain central to their approach, over the past decade FAILE has adapted its signature mass culture-driven iconography to vast array of materials and techniques, from wooden boxes and window pallets to more traditional canvas, prints, sculptures, stencils, installation, and prayer wheels. FAILE's work is constructed from found visual imagery, and blurs the line between "high" and "low" culture, but recent exhibitions demonstrate an emphasis on audience participation, a critique of consumerism, and the incorporation of religious media, architecture, and site-specific/archival research into their work.

About BLDG
BLDG is a creative refuge that fosters the inspirational, the visionary and the uncommon. Where copious creatives challenge the norm, stand on the ceiling, change what's possible. Transformation is inevitable, ordinary is unacceptable. 

In addition to branding and graphic design, BLDG is recognized for their commitment to enhancing the value of fine art in the region. They continue to bring internationally-renowned artists, placing the area on the map as a destination for urban contemporary art. Notable artists include VHILS, The London Police, Prefab 77, and now FAILE.